Link Tank: Moonbase 8 Stars Talk Showtime's New Silly Space Comedy
A Moonbase 8 interview, offbeat holidays in November, iPhone 13 rumors, and more in today's Link Tank!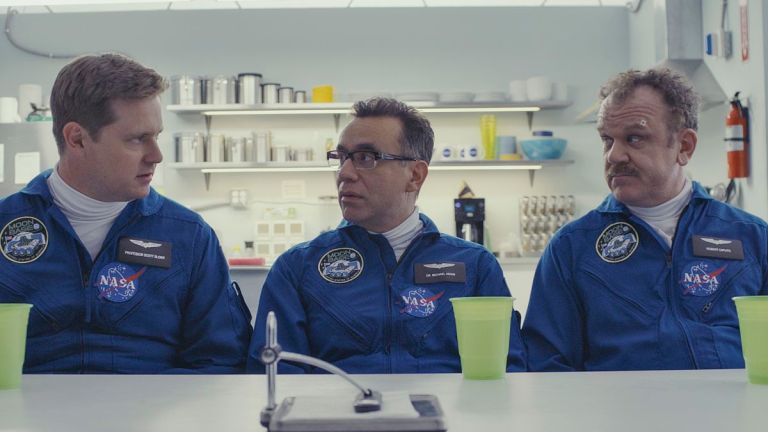 Check out this interview with Fred Armisen, Tim Heidecker, and John C. Reilly about their new space comedy on Showtime, Moonbase 8.
"Going to space is no joke. The astronauts who make it up there go through years of training, endlessly repeating drills and crisis management maneuvers, and must be as intelligent as they are cool under pressure. In other words, they need to be everything the characters in Moonbase 8 are not,"
From World Kindness Day to National Flossing Day, here are some offbeat holidays to celebrate in November.
"While you're busy celebrating Banana Pudding Lovers Month, National Georgia Pecan Month, Peanut Butter Lovers Month, and World Vegan Month, be sure to schedule in these daily celebrations, some of which are seasonally relevant—and some of which are not relevant to anything at all."
iPhone 12 hasn't even begun shipping to consumers, yet iPhone 13 rumors are already abound.
"A research note from reliable Apple analyst Ming-Chi Kuo, cited by MacRumors, suggests that next year's iPhones lineup—we'll call it iPhone 13 for now—will be available in the same four models as this year's phones. This suggests we'd get an iPhone 13 Mini, an iPhone 13, an iPhone 13 Pro, as well as a Pro Max version."
Actor and filmmaker John Handem Piette made a fan edition of the finale of Avengers: Endgame, starring Donald Trump as Thanos and Joe Biden as Captain America.
"As Americans take to the streets in celebration of Joe Biden's victory, it feels as if a massive weight has been lifted off of our shoulders. For four years, we've been held hostage to a relentless, rampaging wannabe dictator who rejected science, decency, and compassion at every turn. This win, against all odds and everything stacked against us, is f-cking huge."
A new Spotify survey going around is hinting that the music streaming platform may be looking to test a premium podcast subscription.
"Variety's Intelligence Platform President Andrew Wallenstein received a survey that went out via the Spotify app that gauged user interest in the potential platform. It would provide access to a variety of original shows or exclusives for a monthly fee."
A new study published in the journal Scientific Reports has found that resistance exercise can ease anxiety.
"New research reveals resistance exercise training can have a life-changing effect on the mind, able to relieve anxiety in young adults. After a whirlwind year that's put mental health through the wringer, these findings give people actionable steps to strengthen muscles — and help their brain too.‌‌"