News
Link Tank: Kylo Ren Returns for SNL Undercover Boss Follow-up Skit
Kylo Ren's Undercover Boss follow-up, the Grammy Awards, can our tech protect us from radiation in outer space, and more!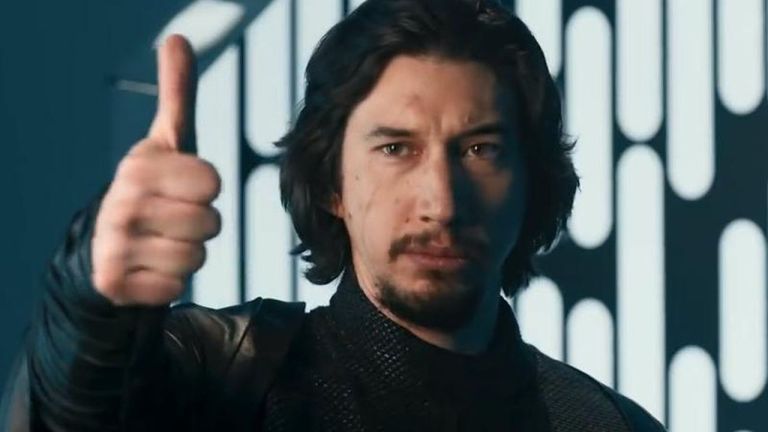 Adam Driver makes a return as Kylo Ren on SNL's follow-up skit Undercover Boss: Where Are They Now?
"Adam Driver returned for his third hosting gig at Saturday Night Live, where he reprised his role as Kylo Ren in a sequel to 2016's 'Undercover Boss: Starkiller Base' skit. The new skit, 'Undercover Boss: Where Are They Now?' picks up with Kylo Ren once again going undercover, this time as Randy the intern."
The 2020 Grammys happened over the weekend, and there were plenty of outrageous moments to revisit.
"It's the Grammys, 'Music's Biggest Night!' All of the pop stars are out, they're taking home awards for the music we couldn't stop listening to last year, and while the Recording Academy rarely honors interesting work that doesn't hit the Top 40, the Grammys are arguably the most entertaining awards show. Because performances take priority, the music only stops when an award winner makes an acceptance speech."
We know that outer space radiation is dangerous to humans, but how much? And can our latest tech really protect us from harm?
"Solar flares are just one form of radiation found in outer space, but the study of space radiation is a relatively new pursuit. The field is still in its infancy, and the full extent of how it affects the health of astronauts — and how much radiation the human body can withstand during long journeys into deep space — is unknown. As we set our sights on a new era of space travel, marked by a human return to the Moon in the year 2024 and planned human exploration of Mars possibly by the year 2030, the question becomes increasingly urgent. Will space radiation be detrimental to these plans or can scientists still find ways to mitigate its effects?"
A second Disneyland park in Asia has closed as the Wuhan coronavirus death toll rises to 81, with over 2,800 cases of infection.
"Hong Kong Disneyland closed indefinitely on Sunday, becoming the second Disney theme park in Asia to shutter its gates in response to a SARS-like virus, which has killed 81 people and sickened roughly 3,000 worldwide. 'As a precautionary measure in line with prevention efforts taking place across Hong Kong, we are temporarily closing Hong Kong Disneyland Park starting from January 26, 2020 out of consideration for the health and safety of our Guests and Cast Members,' the theme park said on its website."
Yes, Avast's antivirus software is free, but at the cost your data being sold to third-parties.
"Your antivirus should protect you, but what if it's handing over your browser history to a major marketing company? Relax. That's what Avast told the public after its browser extensions were found harvesting users' data to supply to marketers. Last month, the antivirus company tried to justify the practice by claiming the collected web histories were stripped of users' personal details before being handed off."
Social media misinformation wins whether you believe it or not, and here's how.
"Disinformation is propaganda. It can also be incredibly effective, even when we know it's not true. Almost 15 years after Stephen Colbert introduced the term 'truthiness' into the modern lexicon, news consumers find themselves awash in a deluge of misinformation, fake news, and alternative facts. The problem is two-fold: if disinformation fits their already established worldview, people believe it. At the same time, if disinformation doesn't fit their worldview, it affects people's views of those sharing it. Either way, it contributes to widespread political divisiveness and pits Americans against each other."