News
Link Tank: Is Mysterio Still Alive in the MCU?
New concept art hints the character may not have perished, Little Caesars has a special The Batman treat, Michael J. Fox almost wasn't Marty McFly, and more in Link Tank!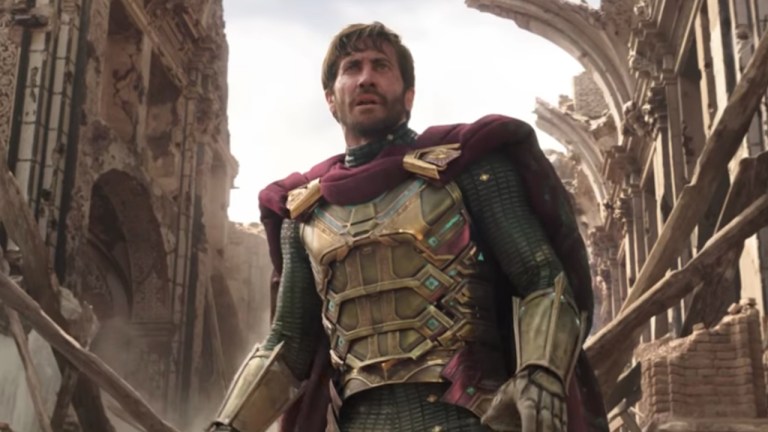 Some concept art for Spider-Man: No Way Home has been revealed, showcasing a fight between Doctor Strange and Mysterio! Does that mean Quentin Beck survived Spider-Man: Far From Home?
"Spider-Man: No Way Home was so full of supervillains some of them barely had anything to do. But was the movie still missing one evil miscreant? Recently revealed concept art reveals the role Mysterio (Jake Gyllenhall in Far From Home) almost played in the movie, and the epic wizard battle we almost got to see onscreen. What was Quentin Beck up to in No Way Home? And what does this mean for Mysterio's future in the Marvel Cinematic Universe? Let's take a closer look."
What better way to celebrate the upcoming release of The Batman than eating a bat-shaped calzone? Wait, it's actually a pizza… No? It's a "calzony" (whatever the heck that is).
"We all know Batman is hungry for justice, but justice rarely delivers. So Little Caesars and Warner Bros. have collaborated on something more tangible to snack on. Meet the Batman Calzony, a pizza-calzone hybrid that now comes in the shape of a Bat. Yes, Little Caesars, the pizza of choice when you're too stoned to use the Domino's app, is combining the delicious powers of melted cheese, pepperoni, garlic white sauce, and a side of Crazy Sauce to bring you this greasy homage to the Caped Crusader. Did you know that the Joker fell into a vat of Crazy Sauce and that's what disfigured him and made him insane? IT'S CANON NOW."
Even though it just came out yesterday, most fans seem to agree Chapter 5 of The Book of Boba Fett was by far the best episode of the series, but in some ways, it shouldn't have been.
"This week's episode of The Book of Boba Fett has an energy quite unlike anything the show has delivered so far. It also has a story quite unlike anything the show has delivered so far. And a cast. And a premise. Because, as strong as it was, it wasn't an episode of The Book of Boba Fett at all—and being as good as it was only served to highlight some of the show's biggest problems."
Lady Gaga says she never met Jared Leto on the set of House of Gucci, as he was in his Paolo Gucci character the entire shoot.
"Lady Gaga's been pretty vocal (get it, because she's also an international pop singer) about the lengths she went to when it came to embodying Patrizia Reggiani in Ridley Scott's House Of Gucci, and it turns out she was in good company during filming with her co-stars. During an interview on Jimmy Kimmel Live!, Gaga says that when she was on set for filming, she never truly met co-star Jared Leto. Instead, she only met his prosthetic-heavy version of Paolo Gucci. Not only that, but Leto never actually met her either. He only ever interacted with the Gaga-fied version of Patrizia Reggiani. It's called acting."
Is Pokémon Legends: Arceus the best game the franchise has made in years?
"Pokémon Legends: Arceus arrives on Nintendo Switch on January 28, but the embargo for press outlets who receive game code ahead of release lifts today–and so far, these assessments are raving about the latest monster collector. Many are calling it the best in the series."
Before Michael J. Fox starred in his career role as Marty McFly, Eric Stoltz nearly played the iconic Back to the Future character.
"It's common for roles to be recast in Hollywood, but few cases are as infamous as the one that impacted Back to the Future (1985). Before Michael J. Fox accepted the part that made him a household name, Eric Stoltz took a crack at playing Marty McFly. You don't need a time machine to see how the alternate history of the movie would have played out—just watch the video below."