News
Link Tank: I Am Groot Marvel Easter Eggs & References
The hidden details in I Am Groot, Trolli has partnered with Rick and Morty, Madame Web set photos continue to leak, and more in Link Tank!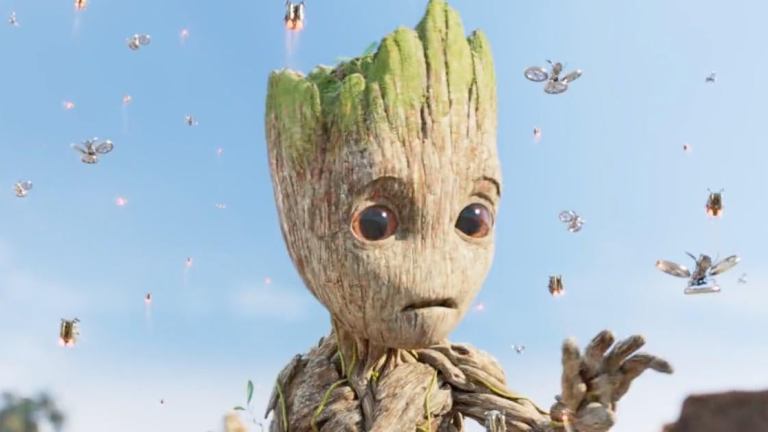 Marvel dropped five shorts for their new show I Am Groot on Disney+ yesterday, and here are all the MCU Easter eggs and references you might've missed.
Trolli Sour Brite Crawlers take on an alternate universe with an exclusive Rick and Morty collector series.
"Boom! Big Reveal! Gummi worm fans can soon get a taste of Rick and Morty's multi-dimensional universe as Trolli, alongside Warner Bros. Consumer Products, introduces an exclusive collector pack series of Sour Brite Crawlers inspired by Adult Swim's hit animated series."
Madame Web set photos continue to leak, this time showcasing Dakota Johnson and Adam Scott wearing EMT uniforms, and we legitimately have no clue what's going on with the plot of this movie.
"I love Adam Scott. That's obvious in every aspect of my life. My cat is named after an Adam Scott character. So when it was announced that Scott was joining the upcoming Madame Web movie starring Dakota Johnson, I felt my soul leave my body. One of my all-time faves in a Spider-Man property? What good energy did I put out into the universe to deserve this? Well, my life has just gotten better because Scott was pictured on set with Dakota Johnson in what appears to be EMT outfits and boy oh boy is my heart not ready for this."
With a significant overhaul coming to the DCEU, we're left wondering: what DC movies are actually still coming out?
"We may never see the recently cancelled Batgirl movie, but it sure has had a huge impact anyway. Since the film's unceremonious dumping over tax write-offs, the whole conversation around DC Films has changed. Some executives were reportedly so angry about the movie, they wanted to leave. Meanwhile, the president and CEO of Warner Bros. Discovery, David Zaslav, said on a recent earnings call that the DC brand would be 'reset' with a new 10 year plan on the way."
Believe it or not, there are still a plethora of Marvel comics characters that haven't made their debut in the MCU. Here are the ones we'd like to see in a superhero flick next.
"The Marvel Cinematic Universe has been expanding ever since Tony Stark first put on his Mark I armor, and it shows no signs of stopping anytime soon. With plans for Phase Five and beyond recently announced at San Diego Comic-Con, the shared universe based on the world of Marvel Comics is set to release multiple films and interconnected Disney+ TV series each year for the foreseeable future. So if you like the MCU, it feels like the ride is still gaining speed."
Shang-Chi and the Legend of the Ten Rings star Simu Liu will be featured as a guest role on this upcoming season of The Simpsons. 
"It seems that after the success of Shang-Chi, Canadian actor Simu Liu is making his way from the Marvel Cinematic Universe to Springfield as a guest star in a key role in The Simpsons storyline. The titular MCU martial artist is slated to bring back Lisa Simpson's 'perfect future boyfriend.' Liu will be voicing adult Hubert Wong and guest star in the forthcoming episode, 'When Nelson Met Lisa.'"