News
Link Tank: First Look at Nicolas Cage as Dracula
Nic Cage is a vampire, a new trailer for The Offer is here, The Godfather is getting restored, and more in Link Tank!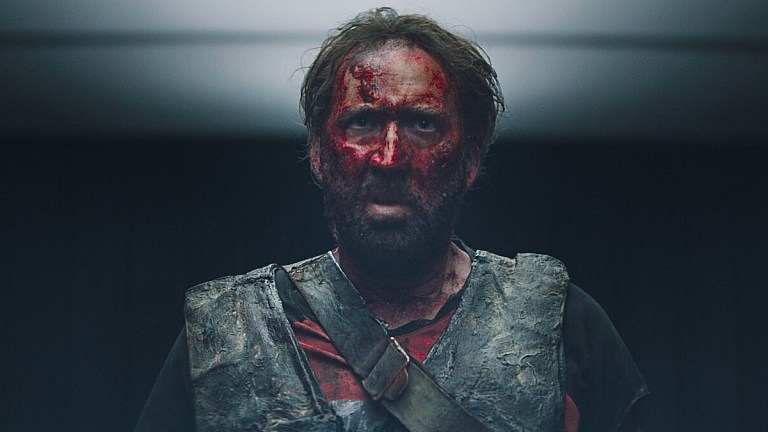 The first set photos from the upcoming film Renfield has been revealed, showcasing Nicolas Cage as Dracula for the first time, and it's pure Nicolas Cage perfection.
"We're still pinching ourselves that 'Nic Cage playing Dracula' is an actual thing that our eyeballs will soon be able to witness. New photos from the set of Chris McKay's horror-comedy Renfield, which stars Nicholas Hoult as the put-upon assistant of a certain famous vampire, now make us even more eager to see Cage in action."
The latest trailer for The Offer, starring Miles Teller and an all-star cast, reveals the true story behind how the legendary film The Godfather was made (but almost wasn't).
"Paramount+ has released a new trailer for the upcoming ten-episode series The Offer, following the mayhem behind the production of The Godfather. The trailer shows Oscar-winning producer Albert S. Ruddy, played by Miles Teller, tasked with adapting Mario Puzo's (Patrick Gallo) best-selling 1969 novel, The Godfather, which follows the notorious Corleone mob family."
Speaking on The Godfather, Paramount has beautifully restored the iconic flick to celebrate its 50th anniversary, and the results are immaculate.
"There isn't a lot about Francis Ford Coppola's The Godfather that hasn't already been said, but Paramount Home Video's new 4K edition of all three Godfather films indicates there's still much more to see. Working from the original materials, the studio painstakingly scanned, repaired, and where necessary recreated the film's original cut to create a vivid, lustrous new presentation."
LEGO Star Wars fans continue to feast with the reveal of the new set called Dagobah Jedi Training, recreating the iconic moments from the swamp planet in The Empire Strikes Back.
"75330 Dagobah Jedi Training has been revealed by Amazon, following the emergence of 75329 Death Star Trench Run yesterday. This set is bigger than its counterpart, including exactly 1000 pieces and costing £69.99 or €79.99. The US price will probably be $79.99."
Sometimes actors make the completely wrong decision, such as Emily Blunt taking part in Gulliver's Travels instead of the MCU. Here are more examples of epic blunders like that.
"Actors can fall in love with a character or a story, only for the movie to be a complete disaster, in the end, leaving them wishing they had agreed to play another part in a different movie. It's the harsh reality of the business and a feeling of regret that many actors share. Here are some factors that turned down now-iconic roles for ones that were less-than-impressive."
And just like that, And Just Like That (the show) has been renewed for another season on HBO Max after setting records late last year.
"And Just Like That… may be terrible, but it has been renewed for another season. The sequel series of Sex and the City will return with its three leads—Sarah Jessica Parker, Cynthia Nixon, and Kristin Davis—reprising their iconic roles for yet another turn."