News
Link Tank: First Look at I Am Groot
Baby Groot is back, Top Gun: Maverick continues to soar at the box office, the MTV Movie Awards had some questionable winners, and more in Link Tank!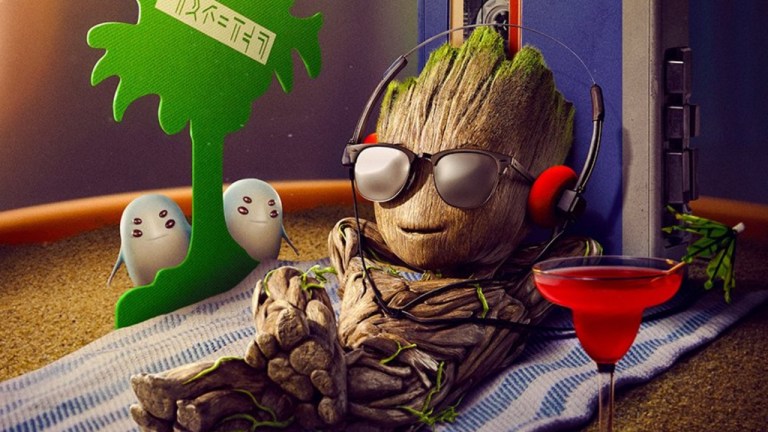 The first poster for I Am Groot takes us back to the days of Baby Groot and Guardians of the Galaxy Vol. 2.
"It's been nearly a full decade since the original Guardians of the Galaxy film blessed us with Groot, the talking tree man voiced by Vin Diesel who can only say three (well, technically four) words. Though Groot later sacrificed himself in that movie and has since re-grown up to the point of being a teenager by the time Avengers: Infinity War and Endgame come around, it was Guardians 2's sickeningly cute Baby Groot that stuck with folks. And because Disney loves itself a cute-looking sidekick thing that can always be used to sell toys, they want to remind you of when he was a wee widdle tree kid."
Top Gun: Maverick continues to fly high at the box office, setting the record for the smallest percent drop ever for a movie that grossed over $100 million in its opening weekend.
"Top Gun: Maverick has earned its second domestic weekend box office victory by earning $86 million in ticket sales, which has ranked it in the top 10 highest-grossing second weekends in domestic box office history. As reported by Variety, Top Gun: Maverick has now soared to $291 million in North America and has officially become Tom Cruise's highest-grossing film ever at the domestic box office. Furthermore, the film only dropped 32% from its $160 million opening weekend and has now seen, according to Comscore, the 'smallest second-weekend decline for a movie that opened to $100 million or more.'"
It looks like internet memes don't translate into box office earnings as Morbius flopped hard in Sony's attempt at a re-release.
"After only receiving a 19% rating on Rotten Tomatoes, Sony's Morbius received a re-release at theaters this weekend. At the time of its initial premiere, the internet turned the film into a meme sensation. Wanting to ride on that wave, Sony decided to release it one more time in hopes of it translating to a bigger box office number."
The MTV Movie Awards happened last night, and some of the winners were interesting choices to say the least, like Euphoria winning an action award over multiple Marvel movies.
"The MTV Movie & TV Awards have always been a weird barometer for the specific subset of society that would care about the MTV Movie & TV Awards, like… the Oscars or Emmys but for people who… watch MTV. And hey, there's nothing wrong with that. It's not like you're going to see Stranger Things actors (but not any of the famous ones) presenting a well-deserved award to Sophia Di Martino for her performance in Loki anywhere else (Loki also won Best Team, which we're going to say was a credit to the performance of Alligator Loki)."
The DC video game Gotham Knights has explicitly stated they are in no way connected to the upcoming tv series of the same name on The CW.
"There's a video game coming out called Gotham Knights. It's about some kids from the Batman universe who band together after Batman is killed. There's also a TV show coming out called Gotham Knights. It's about some kids from the Batman universe who band together after Batman is killed. They have nothing in common."
Marvel fans, prepare to show off your love of Ms. Marvel (if you're lucky enough) with a special edition Xbox, themed just for the show.
"Fans of Ms. Marvel now have a chance to win a one-of-a-kind Ms. Marvel–themed Xbox. This revelation comes less than one week before Disney+'s Ms. Marvel TV series is set to drop. The show will follow Kamala Khan (Iman Vellani), a teenager who struggles to fit in and enjoys fangirling over Captain Marvel. Everything changes, however, when she develops the power to harness cosmic energy and create constructs from a magical bangle. Now, she will have to navigate being a young superhero herself while also balancing her personal life."