News
Link Tank: The Eternals Were Originally Going to Appear in Moon Knight
A broader MCU connection was cut from Moon Knight, Doctor Strange runs wild at the box office, Cobra Kai season 5 is coming, and more in Link Tank!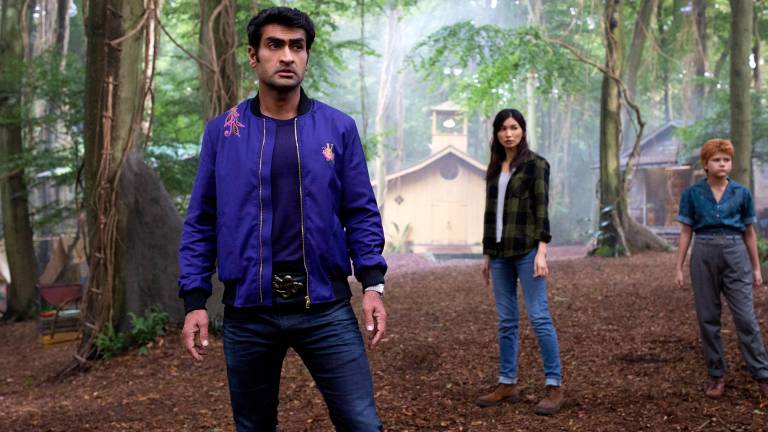 Many Marvel fans were disappointed by the lack of connections to the broader MCU in both Eternals and Moon Knight. Well, it turns out the two properties were originally going to crossover.
"The season one finale of Moon Knight left us with many questions to ponder. What comes next for Marc and Steven? Will there be a season 2? But one thing that struck viewers about the Oscar Isaac series, namely its lack of relation to the larger Marvel Cinematic Universe. Unlike The Falcon and the Winter Soldier and Hawkeye, Moon Knight didn't feature any cameos from other characters in the MCU. Besides a brief reference to Madripoor and to the ancestral plane of Black Panther, no other MCU locations or events were namechecked in the series. But apparently, that wasn't always the case."
In just one weekend, Doctor Strange in the Multiverse of Madness became Disney's highest-grossing film amidst the pandemic era.
"It's blockbuster movie season again, and that means some pretty big box office opens. After Sonic the Hedgehog 2 and Universal's The Bad Guys managed to hold back Nicholas Cage and vikings for a handful of weeks, here comes Doctor Strange in the Multiverse of Madness doing what all Marvel movies do and making a boatload of cash in its first weekend."
Despite constant pitches from the SNL crew, Benedict Cumberbatch's second stint as host this past weekend didn't feature any Doctor Strange-themed sketches.
"Benedict Cumberbatch showed up on SNL's stage for his second hosting stint, ostensibly plugging his starring role in this weekend's blockbuster Doctor Strange 2. Cumberbatch noted that the majority of pitches he'd gotten from writers involved the movie. The show didn't ultimately go there, as foreshadowed by the monologue, which focused on charming, wide-appeal bits about his mother and wife ahead of Mother's Day."
Jedi Outcast, LEGO Star Wars, and more of the greatest Star Wars video games ever created!
"Looking online it seems there have been approximately 64,534 Star Wars games released since the first film hit theaters in the '70s. (Editor's note: That's incorrect.) But, while many of them are good, some are really, really good. These are the kind of games that are so great that even non-Star Wars fans can't deny how excellent they are."
He's getting a biopic later this year, so now is an opportune time to discover more about the zany history of one Weird Al.
"Starting with his first professional recordings and appearances on the Dr. Demento radio show decades ago, 'Weird Al' Yankovic—who was born in Downey, California, on October 23, 1959—has managed to stay on the pop culture map and change with the times, even as so many of the bands and artists he has parodied have faded out of the spotlight. Here are some facts about 'Weird Al' Yankovic and his songs."
An epic new trailer for Cobra Kai season 5 teases all the drama.
"Cobra Kai is heading back to Netflix in September. In a new trailer, the streaming giant has revealed that its highly-popular Karate Kid sequel series will return for its fifth season on September 9. The news was first announced during a panel discussion with the cast during the Netflix Is A Joke comedy festival on Thursday before the trailer was later posted online."