News
Link Tank: Epic Rose City Comic-Con 2023 Preview
Legendary actress Zoe Saldana headlines an exciting lineup for Rose City Comic-Con 2023 and more in Link Tank!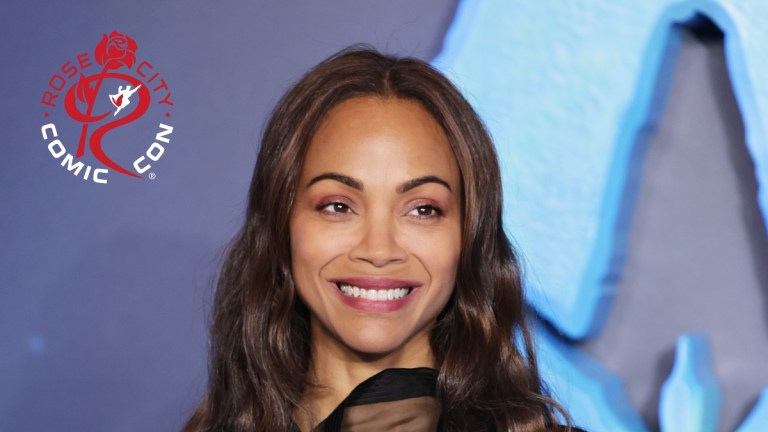 Rose City Comic-Con is coming! Den of Geek is the media partner of Rose City Comic Con, and we hope to see you in Portland!
"PORTLAND'S PREMIER POP CULTURE EVENT, Rose City Comic Con is produced locally with a focus on creating a fun and friendly event for everyone! While our primary focus is comics, comic creators, and the creative process, Rose City Comic Con also provides access to gaming, sci-fi, cosplay, anime, fantasy, and everything in between. Our goal is to provide you with a rewarding, fun, and family-friendly event experience."
Learn more about the event here and secure your badges today
Legendary actress Zoe Saldana of Star Trek, Guardians of the Galaxy, and Avatar is headlining this year's Rose City Comic-Con!
"Leftfield Media is proud to announce that veteran actress Zoe Saldana will be attending this year's 11th annual Rose City Comic Con, in partnership with ACE Universe, and will be making appearances on Saturday, September 23 and Sunday, September 24. Saldana is the star of multiple, record-setting sci-fi blockbusters and multi-billion dollar fantasy franchises. She also holds the record as the only actor to star in the top three grossing films of all time."
Forget Barbenheimer, cult classic Sharknado is in theaters this week to celebrate its 10th anniversary!
"It's the 10 Year Anniversary and SHARKNADO and the creators are bringing on the celebration. The Asylum and Rubey Entertainment present a special theatrical release of SHARKNADO: The 10th Anniversary Edition, featuring an all new remastered version with never-before-seen kills and thrills! Fans can catch the newly restored iconic moments from one of cinema's greatest cult classics for two nights only on in select movie theatres nationwide."
We don't know the full details because of the ongoing strikes in Hollywood, but HBO is rumored to have found their Abby for the second season of The Last of Us.
"As we all know, with the WGA and SAG-AFTRA currently on strike, the production of major TV shows and movies has been put on pause. One of the biggest ones impacted is The Last of Us, the hit HBO adaptation of the PlayStation game which was gearing up for season two. Co-showrunner Craig Mazin said that before the strike, he'd already written the season's first episode, and he may have also done something else hugely impactful to the season: cast its third lead."
Happy Birthday Robert De Niro! The legendary actor has been acting in Hollywood for decades now. Here are some of the greatest roles of his illustrious career.
"Robert De Niro, who turns 80 on August 17, has spent nearly 60 of those years as a working actor, becoming one of the most respected names in his profession in the process. The New York-born son of a noted abstract expressionist painter, the young De Niro was a serious student of the Method, studying at the Stella Adler Conservatory and Lee Strasberg's Actors Studio."
The trailer for the upcoming animated Scott Pilgrim show on Netflix teases a romantic moment the movie missed out on.
"Netflix has released a new teaser for its upcoming Scott Pilgrim Takes Off anime, and it looks pretty good. The eight-episode series will premiere on the service on November 17, and much of the creative team and cast behind the 2010 live-action film Scott Pilgrim vs. The World, which was based on Bryan Lee O'Malley's six-part graphic novel series, is returning. Naturally, fans of the cult classic film (where Michael Cera plays the titular hero and hops around Toronto fighting his new girlfriend's evil exes) are incredibly excited."