News
Link Tank: Did Sonic Frontiers Rip Off Breath of the Wild?
The new Sonic game is open world, Our Flag Means Death is back for another season, Hayden Christensen is open for a Darth Vader series, and more in Link Tank!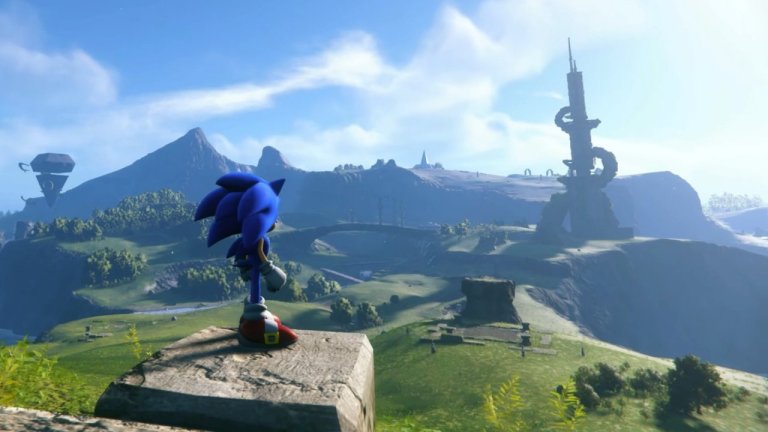 Some new gameplay footage for Sonic Frontiers has dropped, and it looks an awful lot like The Legend of Zelda: Breath of the Wild.
"Sega shared a decent chunk of Sonic Frontiers gameplay this morning, showing off some of the shenanigans the blue hedgehog will get up to in his next adventure. Sonic collects rings. Sonic dashes through verdant fields. Sonic grinds floating rails. Sonic climbs (and then eventually runs up the sides of) ancient towers. Sonic solves simplistic puzzles for collectible knick-knacks."
The announcement came much later than it should have, but Our Flag Means Death has finally been renewed for a second season on HBO Max.
"HBO Max has finally, finally announced the renewal of its word-of-mouth sensation Our Flag Means Death for a second season. After months of speculation, wildly dedicated fan campaigns, and the gnashing of nervous teeth worldwide as we awaited word, the David Jenkins-created pirate romcom starring Taika Waititi and Rhys Darby is officially set to return. We did it!"
Hayden Christensen said he would be open to a spinoff focusing on Darth Vader after his appearances in Obi-Wan Kenobi and Ahsoka.
"Hayden Christensen recently sat down with ET Canada to talk about reprising his iconic role as Darth Vader in Disney+'s Obi-Wan Kenobi and the upcoming Ahsoka spinoff. During the interview, Christensen expressed that he enjoyed returning to the franchise and would 'absolutely' welcome the opportunity of a Darth Vader spinoff in the Obi-Wan Kenobi storyline. When asked about a potential standalone series, he said, 'Yeah, I mean, you know, absolutely. I think this is a character that sort of resonates in our culture and in a very kind of profound way. And there's certainly more there to explore. There are so many other stories that have been told in these other mediums.' The actor added, 'I would love to get to continue my journey with him.'"
After a trial that's dominated the news cycles for weeks, the jury reached a verdict on the case between Johnny Depp and Amber Heard.
"After six weeks of tabloid headlines, the seven-person jury in the Johnny Depp/Amber Heard defamation case reached a verdict on Wednesday. They ruled in favor of Depp, stating they believed that Heard should be held liable for her statements about his alleged abuse. The jury took almost 13 hours to come to the decision and awarded Depp $15 million total ($10 million compensatory, $5 million punitive). Heard received $2 million in her countersuit."
Reading Rainbow and Star Trek star LeVar Burton states that his Jeopardy! audition never really mattered and rigged the entire process.
"LeVar Burton has been in the news of late, as he steps up to lend decades of experience as the face of American reading to a new gig: Hosting the Scripps National Spelling Bee. Understandably, this job as MC for America's most dramatic intellectual bloodsport has brought up questions about that other mental competition gig Burton was purportedly in the running for. And Burton has pulled no punches talking about his efforts to become Jeopardy! host, declaring that he feels like he was never given a real shot, and that 'the fix was in' in regards to efforts to take his spot at the podium."
Netflix is now the biggest name in streaming, but it started as a DVD-rental mail service. But what was the first-ever DVD they sent?
"Netflix was founded in 1998 and the company started by renting DVDs to consumers via mail—a service the company still offers today. The luxury of Netflix DVD and Blu-ray rentals is that you can select the titles you want to watch from the comfort of your home and keep them for as long as you want, with no late fees. Once you ship the disc back, you get the next movie or TV series selected in your queue."