News
Link Tank: You Can Now Build a 900+ Piece Thor's Hammer in LEGO
Another iconic movie prop is getting the LEGO treatment, Tom Holland and Florence Pugh want to team up, Sony bought Bungie, and more in Link Tank!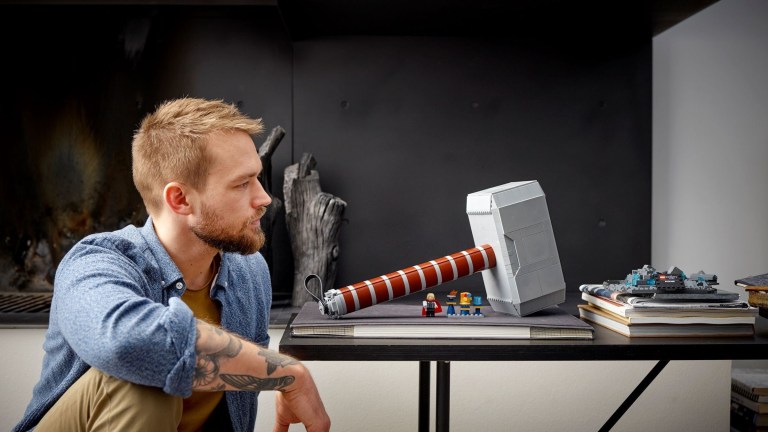 You might have some trouble lifting it, but if you're worthy, you can now recreate Thor's Hammer from the MCU in spectacular LEGO fashion.
"Target has revealed a hitherto unknown set, 76209 Thor's Hammer Mjölnir, which will be exclusive to the supermarket in the USA, although it will of course also be available at LEGO.com and in other countries. It can be pre-ordered from today and I believe that it'll be released on March 1st. The 979-piece kit contains a Thor Minifigure and three small models that can be concealed inside the hammerhead."
Could Natalie Portman's Jane Foster, who makes her return to the MCU in Thor: Love and Thunder, end up getting her own solo project?
"This past weekend, MCU insider @MyTimeToShineHello tweeted that Natalie Portman's Jane Foster 'could get her own project' as The Mighty Thor. Their tweet was responded to by another Marvel leaker, KC Walsh, who tweeted that they've heard it is looking less like Jane Foster 'could' get her own MCU movie, and more like she 'will.' Obviously, make sure to look at these tweets skeptically. As always, it's impossible to predict what Marvel may have planned for its various characters, which means only time will tell how accurate these claims are."
Sony just acquired video game company Bungie, but is this move in response to Microsoft buying Activision Blizzard?
"Sony acquired Bungie on Monday in yet another colossal acquisition between two gaming giants. While the advantages of owning a triple-A developer with a popular IP would seem obvious, the specifics of the deal have led to questions about Sony's strategy in the intensifying war against Xbox."
Tom Holland and Florence Pugh want to team up in the MCU, so why don't we let them?
"While appearing on The Zoe Bell Breakfast Show, Holland shared the news that he had been talking with Florence Pugh about how the two wanted their Marvel characters to meet. '[A Spider-Man and Black Widow II crossover] hasn't been suggested to the big bosses yet, but Florence and I have definitely spoken about it, and hopefully one day we can make that happen. That would be very cool,' Holland said, and it has instantly gotten the gears turning in my mind about where the future could take Peter Parker and Yelena Belova."
Take a deeper look into the incredible costume work done for the Sex and the City revival And Just Like That.
"The Sex And The City sequel series And Just Like That… certainly has had its ups and downs. But, there's no denying that the fashion, as in the original show, is a weekly highlight. Somehow Carrie, Miranda, and Charlotte look just as fabulously stylish in their 50s as they did in their 30s, if not even more so. What's their secret?"
There are many fake memes about The Simpsons predicting the future, but here are some of the best real predictions the iconic cartoon has made.
"The Simpsons has had an impressive track record for predicting future events. A 1998 episode showed the 20th Century Fox logo with 'A Division of Walt Disney Co' beneath it—19 years before Disney reached a deal to acquire most of 21st Century Fox's assets for $52.4 billion. And in 2000, the show presented an alternate reality where Donald Trump was in the Oval Office. Take a look at 12 other times Matt Groening's dysfunctional family peered into their crystal ball—with surprisingly accurate results."