News
Link Tank: Batgirl Begins Production in First Set Photo
We have our first glimpse into the upcoming Batgirl movie, how Shang-Chi got his kicks, Netflix's upcoming slate for 2022, and more in Link Tank!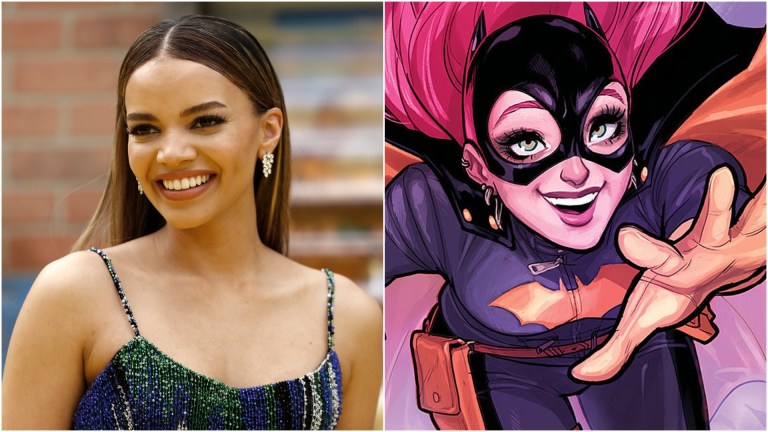 The directors of Batgirl share our first look at Officer Barbara Gordon's desk as the film has officially begun production.
Batgirl is another step closer to making her debut in the DCEU. Co-director Adil El Arbi released an image on Instagram, showing that filming on the upcoming film has begun. Arbi's image shows a clapperboard with the Batgirl logo on it, and also features a desk with a nameplate that says 'Officer Barbara Gordon.; Barbara Gordon is the secret identity of Batgirl (who will be played by Leslie Grace)."
Discover how Simu Liu's Shang-Chi ended up wearing some sleek Air Jordan sneakers throughout Shang-Chi and the Legend of the Ten Rings.
"Even after 2019, when Liu was cast as Shang-Chi for 2021's Shang-Chi and the Legend of the Ten Rings, he never stopped second-guessing the character. One element Liu took issue with? Shang-Chi's sneakers. In Shang-Chi and the Legend of the Ten Rings, Liu's title hero returns home to face his evil father, Wenwu (played by Tony Leung), who wields the power of the Ten Rings. Throughout the film, including the climactic battle between father and son, Shang-Chi wears a pair of Air Jordan Access in the 'bred' (black and red) colorway."
Netflix's slate for 2022 is chock full of geeky goodness.
"I hope you didn't have anything going through, uh, the entirety of 2022. That's because Netflix isn't going to make it easy for you to get anything done for those 365 days. The streaming giant has announced which 19 genre offerings, of the countless projects it has in the works, are slated to come out next year, including The Sandman, Magic: The Gathering, The Witcher: Blood Origin, Cyberpunk: Edgerunners, and more… with somehow more confirmations to follow, apparently."
In honor of the show returning for its 15th season, relive some of the most ludicrous moments from It's Always Sunny in Philadelphia.
"If provocative comedy was an Olympic sporting event, It's Always Sunny In Philadelphia would get extra credit for the degree of difficulty. The series gleefully, and with deceptive skill, cannonballs into the fetid community pool that is Paddy's Pub, the decrepit and improbably still solvent Philly bar from which Dee (Kaitlin Olson), Dennis (Glenn Howerton), Charlie (Charlie Day), Mac (Rob McElhenney), and Frank (Danny DeVito) venture forth and inevitably return. And, sure, the Gang is heading for a COVID-fleeing jaunt to Ireland for much of season 15, but—as they've demonstrated so ably since debuting in 2005—you can take the Gang out of Paddy's, but their collective stink never quite washes off."
League of Legends has a new turned-based game, and it's one of the year's best RPGs.
"The Ruined King: A League of Legends Story is, like many of Riot's recent projects, an effort in translation. League of Legends remains one of the biggest games in the world, despite its rampant community toxicity and the tremendous time investment required from most players—but things like The Ruined King and Riot's recent Netflix series Arcane allow people without a death wish to dive into Runeterra. The results are really promising."
Selling Sunset is back for a fourth season on Netflix, and Christine is carrying around a small chair, or is it a purse?
"Selling Sunset's fourth season might as well have been called We Need to Talk About Christine because that's pretty much all that the Netflix series' cast did. The luxury real estate agents of the Oppenheim Group discussed Christine Quinn's pregnancy (and new baby) in tandem with fixating on all of her various feuds, both in and out of the office. All of which was, you know, fine. But there was one Christine Quinn plot point that went shockingly under-discussed: the bedazzled miniature folding chair she wore as a purse."