News
Link Tank: Artist Tyler Stout Releases New Terminator Poster
Tyler Stout's new Terminator poster, Marvel's Chadwick Boseman mural, the best documentaries on Netflix, and more!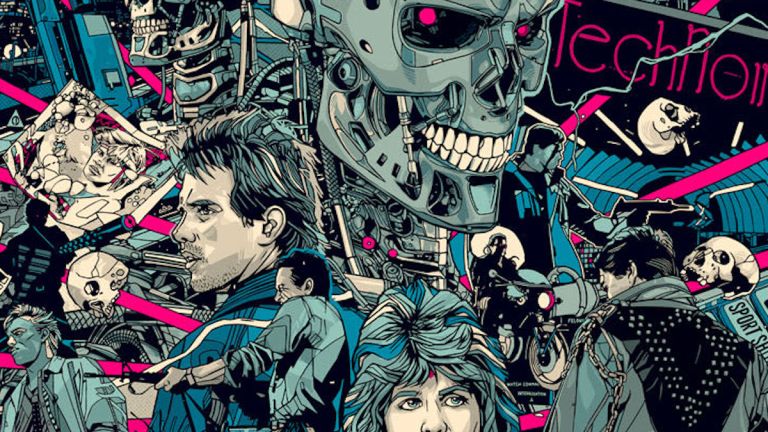 Check out this amazing The Terminator poster by artist Tyler Stout, which spotlights the T-800 and more.
"The release of a new Tyler Stout poster is an event. In the pop culture art world, few artists command as much anticipation and excitement as the one behind some of the best posters ever for Akira, Kill Bill, The Thing, and Star Wars."
Marvel has revealed a mural done in Black Panther star Chadwick Boseman's honor in Downtown Disney District in California's Disneyland.
"We are all still coping with the loss of Chadwick Boseman. The 43-year-old star died of colon cancer on August 28, 2020 to the shock of many fans throughout the world. And now, Disney/Marvel and the rest of the world are finding ways to cope and honor the late star, the latest being a mural in his honor in Downtown Disney District in California's Disneyland."
A man in Massachusetts has died because of excess black licorice consumption. Here's how that happened.
"While we don't often think of food as having the potential to prove lethal in large doses, in rare cases it's certainly possible. Case in point: According to the Associated Press, a 54-year-old man in Massachusetts died last year after consuming an excessive amount of black licorice candy, which is a popular Halloween treat."
Here's how scientists are using a computer to solve the question of life's origin on Planet Earth.
"Life on earth is, as far as we know, an extremely rare occurrence in the universe. It is arguably one of the most astounding and beautiful processes, but scientists know surprisingly little about how a desolate, primordial Earth transformed to support life as we know it."
An ex-Facebook director slams the social media platform for its tactics, claiming that "these algorithms have brought out the worst in us."
"A former Facebook director is accusing the social network of profiting off division and misinformation like tobacco companies have from addictive cigarettes. 'We took a page from Big Tobacco's playbook, working to make our offering addictive at the outset,' said Tim Kendall, who was Facebook's first director of monetization."
Netflix has a library of excellent documentaries to watch. Check out the best of the bunch.
"Netflix is the great equalizer. When you're sifting through zillions of movie options, the traditionally niche art of documentary can go toe to toe with Hollywood blockbusters, which means that previously unheard stories have a more equal opportunity to flourish."