News
Hamilton Trailer Doesn't Throw Away Its Shot
The Hamilton trailer guarantees that with Disney+, you'll be in the room where it happens.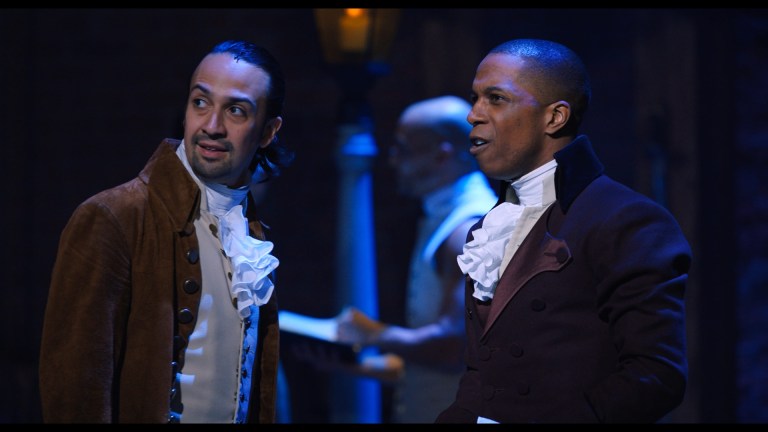 The lights may be out over Broadway tonight, and for the foreseeable future, but the most beloved American musical of the last decade is about to have its biggest premiere yet: inside your living room! And Disney wants you to know about it.
In what amounted to a major win for Disney's young streaming service, it was announced earlier this year that a filmed performance of Hamilton's Original Broadway Cast would not wait until its October 2021 theatrical release date to be screened: it'd go to Disney+ in time for the Fourth of July weekend. This was a major shift of gears for the Mouse House and a signal that they are thinking the current coronavirus pandemic is far from over. It is also something Disney+ needed given the absence of original content—a fact the coronavirus is only exacerbating by delaying all film and TV production.
Still, as the new trailer below indicates, everyone's den can be "the room where it happens" come July 3. And that room will feature the entire original Hamilton cast, including Lin-Manuel Miranda, Daveed Diggs, Leslie Odom Jr., Chris Jackson, and Phillipa Soo, who were filmed in 2015.
Hamilton is of course the Tony and Pulitzer prize winning musical with song and lyrics, and book by Miranda. Based on Ron Chernow's biography on the first U.S. Secretary of Treasury, Hamilton revitalized an interest in the American Revolution for a younger generation while also infusing new blood into Broadway. With an electric songbook that combines old school hip hop rhythms with classical Broadway melody, jazz, and other musical influences, Hamilton raised eyebrows as the "rap musical about the Founding Fathers." It also was an extraordinary work of art that included a diverse multicultural cast who embraced that American history is for all Americans.
Former First Lady Michelle Obama described the musical in 2016 as "the best piece of art in any form that I have ever seen in my life." Hamilton went on to be nominated for 16 Tonys in 2016, winning 11 of them, including Best Musical, Best Book, Best Original Score, and Best Actor for Odom Jr., who played Aaron Burr—the vice president who killed Alexander Hamilton in a duel in 1804. Or as Burr says in the show's opening song, "I'm the damn fool that shot him!"
Hamilton is the rare modern musical that breaks into the mainstream pop culture with a vitality which reminds audiences of the power of live theater. Those only come around about once a decade or two, and for millions of fans who've listened to the musical complexity of the original cast recording but could never afford to see it on stage, this is one shot they will not want to throw away.