News
David Byrne's American Utopia Trailer Gives Reason to Be Cheerful
Spike Lee's recording of the Broadway concert, David Byrne's American Utopia, is a sonic pick-me-up.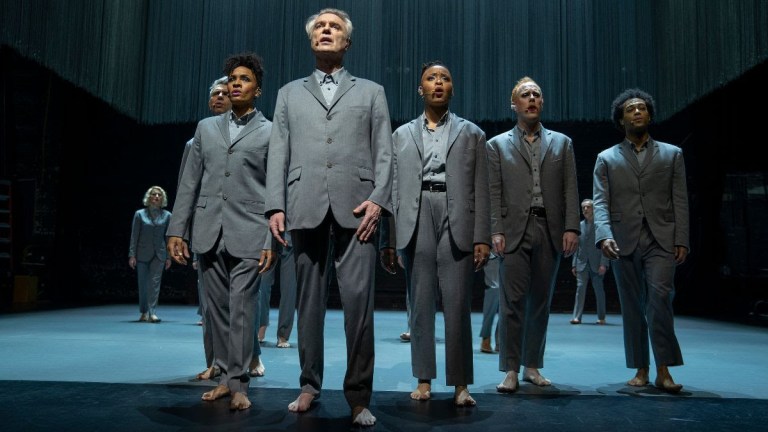 "Despite all that's happened, and despite all that's still happening, there's still possibility," David Byrne tells us in the first David Byrne's American Utopia trailer. Directed by Spike Lee, the upcoming adaptation of Byrne's acclaimed Broadway show premieres on HBO and to stream on HBO Max on Oct. 17.
David Byrne's American Utopia is a "one-of-a-kind, dynamic film that gives audiences access to Byrne's electrifying Broadway show," HBO said in a press statement. The stage show American Utopia previewed at Broadway's the Hudson Theatre on Oct. 4, 2019 and ran until Feb. 16, 2020, playing to sold-out, record-breaking audiences. The show was supposed to resume in the fall, but the coronavirus pandemic put that on hold.
The former Talking Heads frontman and his band of 11 musical artists from around the world perform hits from across Byrne's career in this "unifying musical celebration that inspires audiences to connect to each other and to the global community." The 2018 album American Utopia, produced by Byrne, Brian Eno, and Rodaidh McDonald was Byrne's first No. 1 charting album. It was part of a multimedia project called Reasons to Be Cheerful, which showcases specific reasons for being happy in spite of political strife and environmental problems. The title was inspired by the Ian Dury song "Reasons to Be Cheerful, Part 3."
"As Byrne and company sing, dance, and play their way across the glittering gray stage, they welcome audiences into a joyous dreamworld where openness, optimism, faith in humanity, and social justice are paramount," HBO said.. "Peppering these musical numbers with brief monologues that help communicate his message, Byrne touches on various sociopolitical topics – police brutality, voter turnout, climate change, immigration – and challenges us to come together and grapple with these issues right here, right now."
Spike's joint includes songs from the album as well as classics like "This Must Be the Place" and "Everybody's Coming To My House." It also includes a cover of Janelle Monáe's "Hell You Talmbout." During the performance of that song, Byrne and the musicians called out the names of unjustly killed Black Americans.
The live show was choreographed by Annie-B Parson, who collaborated with Byrne on the Imelda Marcos musical Here Lies Love, along with Tony-nominated Alex Timbers, who is production consultant on the HBO filmed event. David Byrne's American Utopia is produced by David Byrne's Todomundo and Lee's Forty Acres and a Mule Filmworks production companies, and executive produced by RadicalMedia, Participant, River Road Entertainment, and Warner Music Entertainment.
Unlike the James Baldwin quote about America, Spike isn't doing something which has never been done before. Jonathan Demme directed the 1984 Talking Heads concert film Stop Making Sense, to great acclaim.David Byrne's American Utopia premieres on HBO and to stream on HBO Max Oct. 17 at 8pm.