News
Sandman Audio Drama Announces Cast
The Sandman audio drama will star James McAvoy in the title role.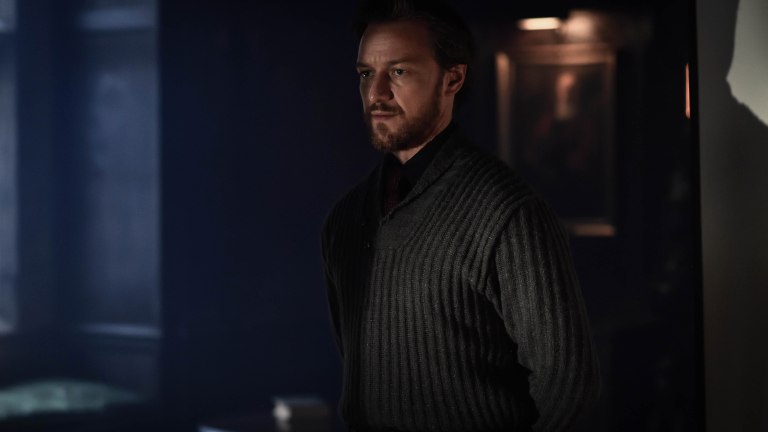 Audible and DC have announced the voice cast for their upcoming audio drama adaptation of Neil Gaiman's The Sandman and it's absolutely stacked. James McAvoy will star in the title role of The Sandman, aka Lord Morpheus. He will be joined by Michael Sheen as Lucifer, Riz Ahmed as The Corinthian, Kat Dennings as Death, Taron Egerton as John Constantine, Samantha Morton as Urania Blackwell, Bebe Neuwirth as The Siamese Cat, and Andy Serkis as Matthew the Raven. The narrator will be voiced by Gaiman himself.
Rounding out the cast in supporting roles includes Arthur Darvill as William Shakespeare, Justin Vivian Bond as Desire, William Hope as Doctor Destiny, Matthew Horne as Hob Gadling, Reginald D. Hunter as J'onn J'onzz, Sue Johnston as Unity Kinkaid, Paterson Joseph as The Demon Choronzon, Josie Lawrence as Mad Hettie, Anton Lesser as Doctor John Hathaway, Joanna Lumley as Lady Johanna Constantine, and Miriam Margolyes as Despair.
If you know nothing of the Sandman story but recognize some of the character names in that roundup, then you're in for a wild ride. The graphic novel on which the Audible drama is being based tells the story of Dream/Morpheus, one of the seven Endless (you've also got Destiny, Death, Desire, Despair, Delirium, and Destruction). Morpheus rules over the world of dreams (as you do). In The Sandman, an occultist captures Morpheus when he is actually trying to nab his older brother Death. Morpheus is imprisoned for 70 years but eventually escapes, at which point he goes on a quest to reclaim his lost objects of power and rebuild his realm, running into some familiar faces (or, in this case, voices) on the journey.
The audio drama will feature "an unprecedented cinematic soundscape," says Audible and DC, featuring an original musical score by British Academy Award winner James Hannigan. In addition to his role as narrator, Gaiman is serving behind-the-scenes as creative director and executive producer, and narrator on the project. Dirk Maggs, who has worked on audio adaptations of Gaiman's Neverwhere, Stardust, Good Omens, and Anansi Boys, will serve as executive producer, scriptwriter, and director. The Sandman audio drama will be available exclusively on Audible in summer 2020. It is now available to pre-order here.
"Almost 30 years ago, Dirk Maggs approached DC about adapting The Sandman into audio form" said Gaiman in a previously-released statement about the project. "It didn't happen (although it was how Dirk and I first crossed paths) and I'm glad it didn't happen, because we are in a Golden Age of audio drama right now, and Dirk and I are much better at what we are doing."
Gaiman continued: "This is a rich audio adaptation of The Sandman Graphic Novels, brilliantly crafted by Dirk Maggs, with an all-star cast. I've loved being there to talk casting, there to read the scripts and offer occasional advice, and there in the studios, watching magic get made and recording the narration. I can't wait until the world hears what we've done."
More news on the Sandman audio drama as we hear it.