News
Star-Lord Is Now Canonically Bisexual and Polyamorous
In a new Guardians of the Galaxy comic from Al Ewing for Marvel, Peter Quill embarks on a century-long polyamorous relationship.
Marvel Comics has officially signed off on making Peter Quill, aka Star-Lord, canonically bisexual and polyamorous.
Al Ewing's new Guardians of the Galaxy #9 story 'I Shall Make You a Star-Lord' reveals that Quill has survived after apparently being killed during an explosion back in issue #2, but has been catapulted into a parallel reality. He then meets two blue-skinned humanoid companions there called Aradia and Mors, and eventually enters into a relationship with both of them that lasts for over a hundred years. Unfortunately, Quill unwittingly stole power from The Gods of New Olympus to survive the aforementioned explosion, and this forces him to return to his own reality, which means saying goodbye to his long-time loves.
Ewing's story has started an interesting conversation online between Marvel fans, because actor Chris Pratt, who plays the character of Star-Lord in Marvel's blockbuster Guardians of the Galaxy films, was publicly accused of continuing to attend an "infamously anti-LGBTQ" church by Umbrella Academy actor Elliot Page last February. Pratt later refuted this.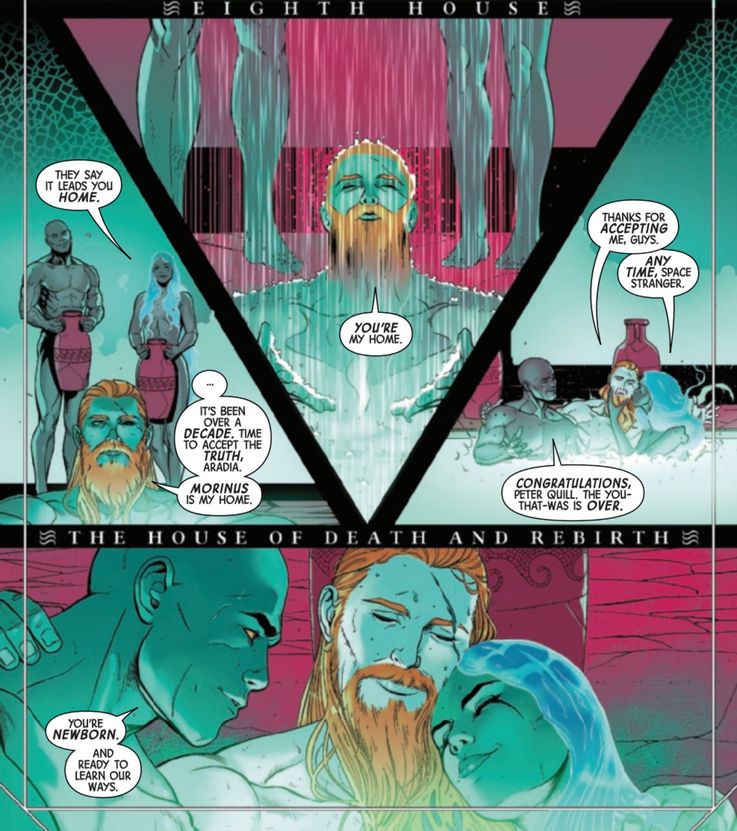 "If you are a famous actor and you belong to an organization that hates a certain group of people, don't be surprised if someone simply wonders why it's not addressed," Page wrote. "Being anti LGBTQ is wrong, there aren't two sides. The damage it causes is severe. Full stop. Sending love to all."
Pratt shot back with a post on his personal Instagram, saying "It has recently been suggested that I belong to a church which 'hates a certain group of people' and is 'infamously anti-LGBTQ.' Nothing could be further from the truth. I go to a church that opens their doors to absolutely everyone."
Pratt has not yet passed comment on Ewing's latest Guardians of the Galaxy revelation, but Twitter is certainly ready to hear a response from the Jurassic World actor.
Despite Twitter's eagerness to cancel Pratt online for the kajillionth time, it doesn't look like he'll quit playing Peter Quill for Marvel anytime soon. He recently closed a deal to reprise the role in Taika Waititi's forthcoming fourquel, Thor: Love and Thunder, and will later lead the closing part of James Gunn's Guardians of the Galaxy trilogy for the studio, opposite returning co-stars Zoe Saldana and Dave Bautista.
When we last saw Star-Lord in the closing moments of Avengers: Endgame, he had been reunited with his lover Gamora (Saldana) after finding out she had died at the hands of the villainous Thanos on Vormir in exchange for the Soul Stone. He soon realised that this new version of Gamora was from a previous time, and didn't know him yet. Along with Thor and his fellow Guardians, he set out on a mission to find her again.