Features
Spider-Man and Deadpool: Their Smart Alecky History
Deadpool and Spider-Man have a long history, and Wade has been getting on Peter's nerves for years.
Spider-Man and Deadpool are like two sides of the same coin. Their outfits look a lot alike, they have similar builds, they both like to joke endlessly as a front to hide their personal issues, etc.
Plus they both have a tendency to annoy Wolverine on a regular basis.
But for a while, they weren't really compatible outside of that. Spider-Man has upstanding morals and despite living a tragic and surreal lifestyle as a superhero, he at least juggles it with something resembling a normal life. Deadpool is stuck in his tragic and surreal lifestyle with no real normalcy mixed in. He's also responsible for a kill count that's somewhere in the triple digits (at least) and that is NOT something Spider-Man's cool with.
Peter Parker is simply a grounded man and is constantly taken out of his comfort zone when dealing with a guy more out there and sillier than him with less of a grasp on what it means to be a good human being.
It used to be that Deadpool sharing the page with Spider-Man was a rarity as making jokes about Deadpool's similarities seemed to be a better fit, and boy, did we get a lot of those. Still, over the years, the two have crossed paths more and more and only recently have we reached the point where Marvel has decided they should probably have an actual relationship for once. Something that goes farther than, "Spider-Man would rather team up with anybody else right now. Even D-Man."
Here are their various fights and team-ups throughout the years.
WITH GREAT POWER COMES GREAT COINCIDENCE
DEADPOOL V.1 #11
Joe Kelly and Pete Woods, 1997
Not only is this the earliest meeting between the two, but it's also one of the best Deadpool issues of all time. After fighting with the Great Lakes Avengers (temporarily calling themselves "The Lightning Rods" to piggyback on the Thunderbolts' success), Deadpool and his captive mother figure Blind Al accidentally get sent back in time. They end up in a 1960s Amazing Spider-Man issue, which I guess means ten years earlier in comic book time. Specifically, it's Amazing Spider-Man #47, where Spider-Man fought Kraven the Hunter and saved the life of Norman Osborn.
Using an image inducer, Deadpool is able to pretend to be Peter Parker while he gets Blind Al to pass as Aunt May. The actual interaction between the two characters is minimal and is mainly just Wade getting Peter out of the picture. The rest of the issue is all about Deadpool fighting Kraven and acting completely horrified at the genetic weirdness of Harry Osborn and his father's hair style.
DEADPOOL ALMOST DESTROYS THE MARVEL UNIVERSE
J. Calafiore, circa 2000
Artist J. Calafiore was tasked with doing a fill-in comic for Deadpool's first ongoing, just in case one of the regular issues was hit with delays. While it got as far as being inked, the one-shot was deemed unnecessary and outdated after a while and never got released or even finished. Calafiore ended up posting the pages online along with a Word document of the dialogue and narration. Someone added word bubbles to make it a bit easier to read and it's been floating around the internet for years.
read more: Spider-Man: Into the Spider-Verse Review
The issue is about Deadpool accidentally causing an alien invasion and needing to gather Earth's heroes to help defend New York City. While they're successful, he spends the pages annoying the likes of the Avengers, Thunderbolts, Captain Marvel (Genis Vell), and so on. Plus the book is told in reverse order for very little reason.
Deadpool briefly comes across Spider-Man in the melee and the two don't appear to step on each other's toes. Deadpool asks about his doctor, which is explained at the end of the book. Since the end of the book is the beginning of the story because of the Memento storytelling, Deadpool complains about catching a cold and wonders aloud where someone like Spider-Man goes when he gets sick.
EXILES: ANOTHER ROOSTER IN THE HENHOUSE
EXILES #12-13
Judd Winick and Mike McKone, 2002
Exiles, the comic about a bunch of Marvel characters from alternate realities teaming up and fixing other realities, featured a more violent offshoot "Weapon X" team. Briefly, this team included Deadpool and the Spider. Deadpool didn't appear to be too different from the mainstream one we all know and love, but the Spider is certainly unique. He's Peter Parker having bonded to the Carnage symbiote.
Even though they are teammates, the two don't really interact in any notable way. Then they're shortly killed off, so that's that.
AN AGE OF APOCALYPSE
CABLE/DEADPOOL #15
Fabian Nicieza and Patrick Zircher, 2005
Cable has gone missing from reality and due to Deadpool's biological link to him (long story), he's used as a conduit to find him. Joined with Cannonball and Siryn, Deadpool goes from world to world in search of his on-again/off-again pouch-buddy. In this issue, the three of them cross paths with 3/4 of the Four Horsemen in a world where Apocalypse successfully conquered the planet.
The Horsemen include Archangel as Death, Blob as Famine, and a mutated Spider-Man as Pestilence. Although Cannonball is able to save Deadpool and the good guys win the battle, Cannonball's still rather taken aback by the idea that Spider-Man of all people could be corrupted as Apocalypse's puppet.
Things get more horrifying for the trio when Cable appears, revealing that he's this world's Horseman of War…
STICKY SITUATIONS
CABLE/DEADPOOL #24
Fabian Nicieza and Patrick Zircher, 2006
Here's the first meaningful crossover between our two heroes. In a story that's way too complicated to explain because it's Fabian Nicieza and that's his thing, Deadpool is looking for a Daily Bugle reporter who happens to be driving with Peter Parker on a bridge. Not really thinking about his actions, Deadpool tears Parker from the car and flings him off the bridge, realizing a moment later that – whoops – he probably just killed that innocent man.
Naturally, Spider-Man shows up and fighting happens. What's great is that Deadpool keeps referring to Spider-Man's "Tobey Maguire teary doe eyes," although Spidey has no idea what he's talking about.
read more: Everything You Need to Know About the X-Force Movie
Cable watches the whole thing go down from afar (via staring into the internet, basically. It's complicated) and doesn't like the fact that Deadpool appears to be using innocent people as human shields. Without Deadpool knowing, Cable helps diffuse the situation and Spider-Man is practically forced to let Deadpool go.
He's pretty steamed about it too, since Deadpool claims he knew Spider-Man was around to rescue Parker from the fall.
ULTIMATE SPIDER-MAN: DEADPOOL
ULTIMATE SPIDER-MAN #91-94
Brian Michael Bendis and Mark Bagley, 2006
So even though Deadpool has rarely ever crossed paths with Spider-Man by this point, his only real Ultimate Marvel appearance is in the pages of Spider-Man's book. To be fair, it is mainly because at this point in Ultimate Spider-Man's continuity, Peter Parker is dating Kitty Pryde and therefore he gets roped in with one of the X-Men's adventures.
read more: The Many Spider-Men of the Spider-Verse
Said adventure involves the team and Spider-Man being kidnapped by the Reavers and placed on the island Krakoa, where they're to be hunted down with their deaths broadcast across the internet. The Reavers are anti-mutant cyborgs who had their bodies augmented to make them a match for the X-Men. Their leader is Deadpool, otherwise known as Sgt. Wadey Wilson. While he's not as goofy as his regular self, he does have some sick sense of humor and is even more hideous.
Spider-Man unmasks him to reveal a fleshless face covered in a clear, plastic dome. Thanks to Kitty, Deadpool's body is blown up, but the epilogue reveals that he's still in one piece. Not that the comic would ever follow up on that.
SYMBIOSIS MITOSIS
CABLE/DEADPOOL #50
Fabian Nicieza and Reilly Brown, 2008
Cable had been written off into his own solo series where he traveled through the future, so after a while they kind of had to put an end to the Cable/Deadpool team-up series. The final arc involves a bunch of time travel and in the final issue, Deadpool accidentally brings a bunch of dinosaurs with him into New York City. That's bad enough on its own, but this is during the time when Bendis' Avengers comics are dealing with a symbiote outbreak.
Now we have symbiote dinosaurs. Yikes.
Immediately, Spider-Man gets involved and blames this on Deadpool, although he's only half right. The two work together briefly as Spider-Man gives the lowdown on how to hurt the creatures, since symbiotes are his thing. Spider-Man then swings off and tells Deadpool to stay out of trouble or else.
Deadpool does eventually get rid of the dinosaurs and momentarily gains the respect of the superheroes, but Spider-Man's not around to react to that.
DEADPOOL: SUICIDE KINGS #3-5
Mike Benson and Carlo Barberi, 2009
Suicide Kings is a miniseries about Tombstone framing Deadpool for an act of terrorism. That causes Deadpool to be hunted down by vigilantes and he crosses paths with Daredevil, the Punisher, and eventually Spider-Man. Prior to their current series, it's easily the most true-blue Spider-Man/Deadpool team-up in their history, since there's very little conflict.
Well, other than the two spending their energy making fun of each other's lame rogues galleries to the point that Daredevil loses his patience and walks away.
read more: Venom Comics Reading Order
The two red-clad heroes work together against the Wrecking Crew and stay on the same page long enough for the Punisher to appear and help tip the scales. This is during the unique time in the character's history where Frank has an armory of random superhero/villain gear at his disposal, so he freaks Spider-Man and Deadpool out quite a bit by being armed with a Goblin Glider, Klaw's sound gun hand, and Unicorn's head thingy.
THIS MAN, THIS [EXPLETIVE DELETED]
AMAZING SPIDER-MAN #611
Joe Kelly and Eric Canate, 2010
In an issue that should feel like a prelude to the recently-ended team-up series, Joe Kelly has Deadpool appear in Spider-Man's comic to pester him as part of his mercenary job. After Deadpool assists with helping Spider-Man take down the criminally-underused Lady Stilt Man, he geeks out and asks him for an autograph. Spider-Man gives in, only to discover that the pen is a bomb.
read more: Complete Guide to Marvel Easter Eggs in Deadpool 2
The two have a pretty great fight scene that leads to an even better "yo mama" joke-off in front of an audience of excited teens. It's one of the few times when Spider-Man's sense of humor remains intact when faced with Deadpool, as he's too often shuffled into the role of straight man. Right as Deadpool is about to let loose with some kind of atomic mama joke that will turn any victim suicidal, he realizes that he has distracted Spider-Man for as long as his contract states and moves on.
Though before leaving, he does warn Spider-Man about how he's going to take him down in Deadpool #19…
WHATEVER A SPIDER CAN
DEADPOOL V.2 #19-21
Daniel Way and Carlo Barberi, 2010
"Spidey! What up, baby boy? I haven't seen you since Amazing Spider-Man #611!"
In the last leg of Daniel Way's Deadpool run before it became unreadable, Deadpool visits New York City to find Spider-Man because he wants his help in becoming a real-deal superhero. Coincidentally, Way's pet character Hit-Monkey starts pulling off hits on the corrupt and Spider-Man initially blames Deadpool. Once it becomes apparent what's really going on, Spider-Man figures out the real reason Hit-Monkey's in town is to eliminate Deadpool.
Spider-Man becomes increasingly frustrated with having to work alongside Deadpool, especially when he could just let Hit-Monkey shoot him to oblivion, heal, and move on with his life. Deadpool refuses because that would fucking hurt like hell! Regardless, Deadpool still gets shot in the head and then tossed in Rikers until Spider-Man breaks him out and tells him to get the hell out of his city.
SPIDER-MAN: SHATTERED DIMENSIONS
Beenox and Activision, 2010
The video game Shattered Dimensions tells the story of four different Spider-Men working together across the multiverse. You have the regular 616 Spider-Man (known as Amazing Spider-Man), Spider-Man Noir, Spider-Man 2099, and Ultimate Spider-Man. To keep Ultimate Spider-Man's play-style different from his mainstream counterpart, he's given the Venom symbiote, albeit with full control over his facilities.
read more: Spider-Man 2000 is the Most Underrated Superhero Game
Ultimate Deadpool appears in that section of the game, now running his own death sport reality show called Pain Factor. Other than his appearance and the mention that he's somehow not dead from his original appearance, there's not much connection between video game Ultimate Deadpool and the comic version. He's honestly just the regular version of Deadpool only more antagonizing. Nolan North – the guy who voices Deadpool 90% of the time in anything where Deadpool talks – doesn't really differentiate him in any way.
Not that there's much to be done with the original Ultimate Spider-Man version of the character. His beef and existence were about the X-Men and mutant race with Spider-Man being a bystander. Writing him more in-character would probably have stuck out like a sore thumb.
MARVEL UNIVERSE VS. THE PUNISHER #1-4
Jonathan Maberry and Goran Parlov, 2010
The Marvel Universe Versus trilogy is an underrated series of stories that improves on the concepts introduced by Marvel Zombies and its many sequels…though the third installment is kind of pointless and lame. In this initial story, we see a world where people have been randomly and gradually reduced to cannibalistic savages. Frank Castle, the man responsible for the apocalypse, is the only one completely immune and chooses to wage war on the former heroes.
While most are primal shells of their former selves, Deadpool seems to be almost like his usual self outside of being even more raving than ever. Frank has killed him many times, but no matter what he tries, no matter how thorough, Wade always comes back.
Spider-Man is Patient Zero in this world, having been the first known mutation. As chaos has reigned supreme and the world has fallen apart, the infected have taken to forming tribes. Spider-Man is the alpha and Deadpool is one of his top flunkies. The fact that Deadpool can speak relatively normal makes him a perfect messenger, even if Frank tends to open fire on him on a regular basis.
MARVEL VS. CAPCOM 3: FATE OF TWO WORLDS
Capcom, 2011
The fighting game Marvel vs. Capcom 3 and its update Ultimate Marvel vs. Capcom 3 feature both Spider-Man and Deadpool. While simply having them in the same game shouldn't be enough to give it an entry on this list, it is worth noting the specific interactions they have. The fighters in the game (at least those who can talk) have a collection of audio quotes for pre-fight intros, audio quotes for post-fight wins, and a few lines of text after that. There are tons of instances where characters will say certain things based on their partners or opponents, such as Captain America bringing up Civil War to Iron Man or having Akuma tell Thor that it's fun to kill a god.
When Spider-Man defeats Deadpool, his victory text states: "Hey, Mister WIIIIIIIIIIIIIIIIIIIIIIILLLLLL-SON! …You suck."
When Deadpool is about to fight Spider-Man: "Gonna rough you up like a Broadway musical!"
When Deadpool defeats Spider-Man, he audibly says: "Aw, that was too easy! Maybe it would have helped if you'd turned off the dark! Hahaha!"
And in his post-fight text, he references the similarities between Spider-Man and Albert Wesker's super attacks with: "Hey, did you know that Wesker guy stole your Maximum Spider move? You were doing that back in Marvel Super Heroes! So… Gonna go kick his ass? Can I watch?"
IDENTITY WARS
SPIDER-MAN ANNUAL #38, DEADPOOL ANNUAL #1, INCREDIBLE HULK ANNUAL #1
John Layman, Lee Garbett, Juan Doe, and Al Barrionuevo, 2011
This neat, under-the-radar crossover takes place over the course of three annuals and tells the tale of a group of bad guys who try to ransack a dimensional portal being worked on at Horizon Labs. Deadpool is brought in to help, but the criminals betray him. Meanwhile, Bruce Banner is working at the lab, so we end up having Hulk, Spider-Man, and Deadpool all sucked through the portal into an alternate reality.
Our three heroes end up meeting their alternate selves and have to clean up their messes. Spider-Man comes across The Amazing Spider, whose life appears to not only be perfect by Peter Parker standards, but he's also Superman level and is feared by all criminals. Too bad he gets that power because he and Uncle Ben steal Spider-Men away from other worlds and suck their powers out, killing them.
read more: Complete Guide to Marvel Easter Eggs in Spider-Man: Homecoming
Then there's Deadpool, who meets his non-healing counterpart, the green-and-black-wearing mercenary, Deathwish. Only it turns out Deathwish is Victor Von Doom. In this reality, Reed Richards experimented on Wade Wilson's tumor and rather than just get a healing factor, it also enhanced his intelligence and turned him into the armored dictator Deathmask.
As for Hulk, Bruce Banner became Sorcerer Supreme and was able to exorcise the Hulk into Hell. Mephisto eventually sends the beast back, more vicious than ever.
The three do indeed not only thwart their corrupt doppelgangers, but leave the world in a better place than when they found it. Plus Deadpool takes all of Deathmask's occult spell books and draws mustaches and giant wangs on all the demons.
WHAT IF VENOM POSSESSED DEADPOOL?
Rick Remender and Shawn Moll, 2011
Originally, this story appeared fragmented through a handful of What If issues one year, but it was later released as a complete one-shot.
It's a strange beast that takes place across various decades. In the '80s, Deadpool is hired by Galactus to kill the Beyonder, but Deadpool foregoes it to become his BFF instead. The two enjoy champagne and women, but their flying limo is soon accosted by Spider-Man, angry about his living black costume and blaming the Beyonder for it.
read more: Every Marvel and Spider-Man Easter Egg in the Venom Movie
The driver, musician "Bobby Oceanic," blasts Spider-Man out of the car and to his death. The symbiote then jumps onto Deadpool, possesses his '80s jheri curl and then things get really weird.
THE DEADPOOL KILLOGY
DEADPOOL KILLS THE MARVEL UNIVERSE #2, DEADPOOL KILLUSTRATED #1
Cullen Bunn, Dalibor Talajic, and Matteo Lolli, 2012
The Deadpool Killogy is a trilogy of stories by Cullen Bunn based on an alternate reality Deadpool – one who looks like he's wearing a red diaper – being driven nihilistic from becoming aware of being a fictional character. In Deadpool Kills the Marvel Universe, he wipes out all the heroes and villains. In Killustrated, he tries to destroy the original literary archetypes in order to destroy fiction at its source. Then in Deadpool Kills Deadpool, the mainstream Earth 616 Deadpool finds himself targeted and tries to save the multiverse from his evil self.
read more: Deadpool Comics Reading Order
The second issue of the first series begins with Spider-Man clowning Deadpool pretty hard, all while admitting that he used to find him funny. Letting his guard down, Spider-Man allows himself to be shot in the head at point-blank range. Deadpool moves on to other victims, namely the Avengers.
The opening pages of Killustrated show that Deadpool has killed the heroes of various worlds, including countless Spider-Men. There's some kind of cosmic failsafe that keeps him from being able to kill the same character the same way twice, so we see him setting one Spider-Man on fire, then later strangling another Spider-Man to death.
AVENGING SPIDER-MAN #12-13
Kevin Shinick and Aaron Kuder, 2012
In this two-parter from Spider-Man's short-lived, extra ongoing, Deadpool enters Peter's mind to prevent him from being taken over by an outside threat. The first issue is a rather bizarre take on Inception where Deadpool casually shoots up the bullies at Peter's high school while an underwear-clad Peter keeps yelling at him to stop.
read more: Deadpool vs. Deathstroke – An Inter-Promotional Rivalry
As it turns out, Deadpool is playing Spider-Man as part of a plot with the Hypno Hustler. Deadpool has a deal where the Hustler will be able to hypnotize Deadpool's heart into no longer beating, thereby giving him the sweet release of death. Deadpool then has a change of heart when he's tasked with actively killing Spider-Man, though the webbed one isn't exactly as forgiving as Wade would have hoped.
Though at least the story gives us a quick look at Spider-Ham's mercenary counterpart Deadpork!
MARVEL THEN!
DEADPOOL V.3 #7
Gerry Duggan, Brian Posehn, and Scott Koblish, 2013
Every now and then, the Duggan/Posehn run of Deadpool would go back in time to an earlier era of Marvel Comics. These "lost issues" began with a trip to 1980s Marvel, based around Tony Stark's bout with alcoholism. The opening moments feature Peter Parker being ignored by his Bugle bosses and then being disgusted with Flash Thompson stealing a handicap spot.
"Pfft. I'm only going to be a few minutes. Besides, why should the legless people get all the good spots?"
Deadpool, wearing his ridiculous, yet accurate, '80s superhero threads, steals Flash's car and drives off. At first, Peter is okay with letting him go, but then has the realization that by letting the thief go, Uncle Ben is somehow going to get shot a second time.
I've mentioned that Duggan/Posehn is the best Deadpool run ever, right? Good!
THE OTHER ULTIMATE DEADPOOL
ULTIMATE SPIDER-MAN SEASON 2, EPISODE 16
Roy Burdine, Man of Action, and Ed Valentine, 2013
Otherwise known as "They Canceled Spectacular Spider-Man for This Crap?!?" the Ultimate Spider-Man animated series is a more cartoony take on Spidey, basing it on his teenage years with constant Family Guy cutaways and a status quo where he and his fellow young heroes are being trained by SHIELD. The episode "Ultimate Deadpool" features Deadpool, who is surprisingly okay to mention by name.
No, really. Saying "dead" is a big no-no on these shows, usually. Hell, Deadpool's shown up in some Marvel all-ages comics and they weren't allowed to say his name.
Deadpool is played off as basically being the dark Spider-Man. And not in the cool Venom way. More that Deadpool was in Spider-Man's position as a superhero cadet, but lost interest and went off to become a mercenary. The two of them work together at first, trying to hunt down Taskmaster, but – surprise, surprise – Deadpool betrays Spider-Man in the name of the almighty dollar and they have a wacky and rather unfunny fight.
read more: The Strange History of Deadpool in Other Media
The comic tie-in series Ultimate Spider-Man: Web-Warriors has an issue based on it, but it's really the same exact story retold with the same art. Nothing worth talking about.
THE INFERIOR DEADPOOL
DEADPOOL V.3 #10
Gerry Duggan, Brian Posehn, and Mike Hawthorne, 2013
That aforementioned flashback issue laid the seeds for a story in the present where Deadpool would take on a high-ranking demon from Hell. In one of the issues, he goes after a crime lord who sold his soul to said demon in order to get some precognition powers. Deadpool stumbles into a team-up with Spider-Man, only it's the infamous era of Superior Spider-Man. It's not the hero Deadpool knows, but rather Doctor Octopus inhabiting Peter Parker's body.
Deadpool's target, Daniel Gump, has hired a group of hired guns to stop the red-clad duo. Outside of Batroc and Taskmaster (who throws in the towel as his heart isn't into it), it isn't the most impressive roster. In fact, fittingly enough, Lady Stilt Man shows up for another Spider-Man/Deadpool fight!
While Spider-Man is usually very annoyed by Deadpool's antics, the Ock-minded version hates him even more. Especially when Deadpool starts ranting about how Spider-Man has the worst villains, such as that Elton John lookalike Doc Ock. Deadpool briefly steals a webshooter and succeeds in murdering Gump, but Spider-Man gets him back by punching him out and webbing him up for the police.
SPIDEYPOOL
DEADPOOL ANNUAL #2
Christopher Hastings and Jacopo Camagni, 2014
Oh man, this issue is so much fun. Fixed from the whole Doc Ock situation, Spider-Man's been driven insane due to Chameleon constantly stalking and stabbing him. It's enough that when Deadpool checks in on him, Spider-Man's acting like a paranoid nutcase. The Chameleon strikes again and although Deadpool is able to ward him off, Spider-Man's completely knocked out from a syringe to the neck.
Deadpool figures he'll beat the Chameleon at his own game via switching costumes with Spider-Man. What follows is an enjoyable romp where Deadpool goes around pretending to be Spider-Man, totally excited about using webbing and fighting dumb, animal-themed villains.
By the time the Chameleon shows up to stab some more, Spider-Man-dressed-as-Deadpool arrives, well-rested, and helps out his fellow chatterbox. The two end up coming off as allies by the end of the story, though Spider-Man's rather annoyed that Deadpool's hour or so in the webbed tights somehow did wonders for his PR.
THE MONK WITH A MOUTH
AVENGERS & X-MEN: AXIS #7
Rick Remender and Adam Kubert, 2014
Axis was a big mess of a story. When a Carnage miniseries is somehow the highlight of your big comic event, you know you messed up. The meat of it had to do with a bunch of heroes and villains becoming morally "inverted," an idea that works better with DC's Crime Syndicate stuff than it does in the Marvel Universe where nearly everyone is shades of gray as is. In other words, the good guys are bad and the bad guys are good.
Deadpool goes under a personality change where he's still a good guy, but he's more zen and less stabby. Spider-Man wasn't in the area when the inversion spell happened, so he's his usual friendly neighborhood self. As for others, the X-Men – led by Deadpool's son figure (or whatever the opposite of "father figure" is called) Evan Sabahnur – are going to wipe out humankind because that's now their thing.
While the heroes and inverted-villains are distracting the X-Men outside, Spider-Man and Deadpool sneak into Evan/Apocalypse's complex. Remender writes Inverted Deadpool differently from how he's portrayed in his main book, making him just as wacky as his normal self. Despite not being a murder-happy psycho, Deadpool's antics still find ways to bemuse Spider-Man.
The two take on Inverted Evan themselves and get split up in the melee as Spider-Man teams up with Inverted Carnage and Deadpool gets literally torn to pieces by Evan.
But you know Wade. It's only a minor setback.
THE ROAST OF DEADPOOL
DEADPOOL V.3 #45
Gerry Duggan, Brian Posehn, and Scott Koblish, 2015
There was that big fake-out "Death of Deadpool" issue that ended a previous Deadpool volume. In the main story, Deadpool died via the Secret Wars final incursion after making peace with the fact that he has loved ones who care for him and he can actually be happy. There's a series of backup stories, including one where Deadpool steals the Infinity Gauntlet from Thanos and uses it to hold his own roast in his honor with an audience of heroes and villains from beyond time and space.
This includes Spider-Man as one of the main presenters, who proceeds to completely bomb. Later, Spider-Man joins in with everyone else, laughing uncontrollably at Deadpool's ending monologue because he's literally forcing them to with the Gauntlet. Deadpool then freezes time and explains his bitterness to the reader, blaming us as the source of his constant suffering. The reason he never explains the fourth wall to his fellow heroes is because he simply doesn't want to ruin their lives.
DEADPOOL'S SECRET SECRET WARS #1-4
Cullen Bunn and Matteo Lolli, 2015
Even though Deadpool was created in 1991, did you know that he was involved in the original Secret Wars? The one from the mid-80s? Yeah, he was there! We just don't remember it because of cosmic magic and a disastrous fling with Janet Van Dyne.
Deadpool's Secret Secret Wars is a retelling of the classic crossover event, only with Deadpool there helping the good guys. That leads to him getting up in Spider-Man's business twice. One is the scene where Spider-Man is able to singlehandedly fight off the entire X-Men by himself because the '80s was a very different time. Deadpool gives chase and takes him on one-on-one, but he doesn't do much better than the mutants.
The other bit, which is way funnier, has Deadpool come across the machine that produces the black alien costume. Deadpool wears it for a moment and digs it, but then realizes that it's a living being trying to become one with him and the experience is like torture for the symbiote. He puts it back and wonders if connecting with his mind damaged the creature in any way. As he's leaving, he passes Spider-Man and gives him directions to the machine, telling him that "black is slimming."
AN IMPERFECT UNION
UNCANNY AVENGERS #1
Gerry Duggan and Ryan Stegman, 2015
After the events of the other, more modern Secret Wars story, a couple new Avengers teams were created. One of those teams is Steve Rogers' Unity Team, yet another attempt at putting humans, mutants, and now Inhumans on the same side. This has introduced conflict twice over. Not only are mutants and Inhumans not on the best of terms, causing lots of friction between Rogue and Synapse, but there's also the big deal that Deadpool's hanging around.
Not only is Deadpool an Avenger, but his celebrity status and royalty earnings are currently funding the team. This doesn't sit well with Rogue and Spider-Man. ESPECIALLY Spider-Man. As the first issue begins, they've been a team for months, but a fight against the Super-Adaptoid ends up being the last straw. Spider-Man can't deal with Deadpool's annoying and dangerous behavior, and quits the team.
Well, the joke's on him. He's going to be stuck in a comic with Deadpool whether he likes it or not!
BACK IN BLACK
Deadpool: Back in Black #5
Cullen Bunn and Salva Espin, 2016
Hey, remember when I was talking about Deadpool's Secret Secret Wars a few entries ago? Well, this here's the sequel. As it turns out, prior to Eddie Brock, the rejected goop that used to be Spider-Man's black alien costume went back to using Deadpool as a host. The miniseries shows Deadpool going up against various 80s-themed heroes and villains. While the symbiote is mostly helpful, it does have its drawbacks, such as its rage and hunger.
read more: How do You Put the X-Men in the Marvel Cinematic Universe?
A group of aliens hunt down the costume and end up hunting down Spider-Man. Although Deadpool saves the unconscious Spider-Man's life, the symbiote attempts to take over and kill the prone hero. Deadpool ends up putting his foot down and briefly prevents the creature from taking its violent revenge on Spider-Man. The two go their separate ways and Deadpool puts the wheels in motion that cause Eddie Brock to enter the church and become the host for Venom.
SECOND VERSE, SAME AS THE FIRST
Deadpool Kills the Marvel Universe Again #2
Cullen Bunn and Dalibor Talajic, 2017
Once again, Bunn does a story about Deadpool killing all the heroes and villains singlehandedly. This time, the story is a lot better than, "Deadpool notices the fourth wall and becomes an extreme nihilist." Deadpool is mentally messed with by the villains of the world, led by Red Skull. Thinking he's having wacky adventures, Deadpool is actually killing his allies with only the occasional moment of lucidity breaking through. All he can do is hope that someone can stop him.
read more: Why You Should be Thankful for X-Men Origins: Wolverine
As a callback to Back in Black, Deadpool hunts down Eddie Brock and kills him with lots of airhorns and heavy artillery. He proceeds to wear the symbiote as he hunts down and overpowers Spider-Man. In Deadpool's head, he and Spider-Man are in a Hostess Fruit Pies ad, being challenged in an eating contest by the Blob. The symbiote, on the other hand, knows the truth and devours Spider-Man's brains. Briefly remembering their old history and friendship, Deadpool spares the costume and tells it to leave him be.
Deadpool spends the rest of the issue eliminating the other spider heroes such as Spider-Woman, Miles, and Spider-Man 2099.
SPIDER-MAN/DEADPOOL
Spider-Man/Deadpool #1-22
Joe Kelly, Ed McGuiness, and various fill-in teams, 2016-2017
As part of the fall-out of both being on the same Avengers team, Deadpool pesters Spider-Man and tries to win him over by showing that he really does need a mentor in being a better person. Over time, Spider-Man does see Wade for his positives, but he's still regularly annoyed with his antics and they have a brief falling out based on Deadpool temporarily murdering Spider-Man's "boss" Peter Parker for supposedly being an evil villain.
Broken up by various one-shot fill-ins (including the two of them helping out on a Deadpool movie, meeting up in the 1970s, teaming up with Penn and Teller, and saving Christmas from the god Saturn), the main story has to do with a doomed mastermind named Patient Zero, who gets killed by his creation before he can explain who he is and why he blames Deadpool and Peter Parker for his problems. His creation is Itsy Bitsy, a half-woman/half-spider with the powers and abilities of Spider-Man and Deadpool.
read more: Complete Schedule of Upcoming Marvel Movies
Longtime readers of Deadpool shouldn't have too hard a time figuring out who Patient Zero truly is. Especially when you focus on the Joe Kelly aspect. But who he's working for? Well, you'll have to think a lot bigger.
The main story ends in the eighteenth issue, followed by more fill-in issues.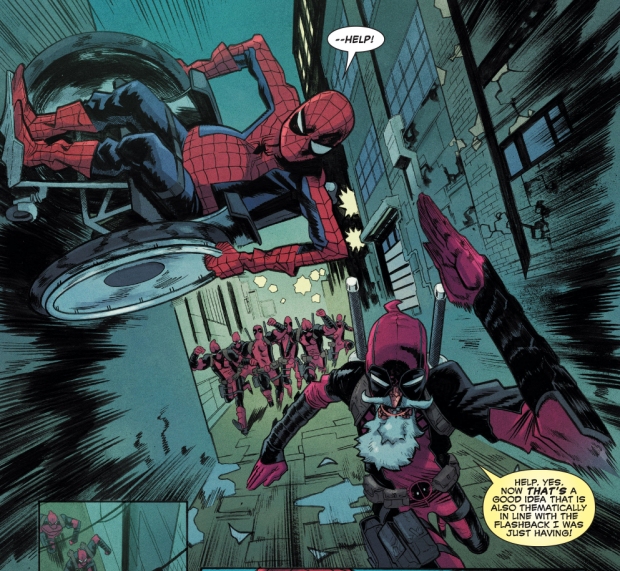 SPIDER-MAN VS. DEADPOOL
Spider-Man vs. Deadpool #23-40
Robbie Thompson, Chris Bachalo, Scott Hepburn, Elmo Bondoc, Matt Horak, 2017-2018
In Deadpool's main book, things have been falling to pieces thanks in part to him murdering Agent Phil Coulson. Long story. While the main series has the general fallout to that, his Spider-Man team-up series gets rebranded as Spider-Man vs. Deadpool to play up how Spider-Man really wants to bring his quasi-friend to justice. Regardless, the two end up on the same side again and again in a storyline revolving around an army of LMD androids while the Chameleon acts like a jerk.
read more: The Best Marvel What If? Moments
The book constantly bounces back and forth to show us years into the future, where our heroes have become elderly and put on their costumes one last time to fight an evil Deadpool doppelganger. Lots of crazy stuff, including the Fantastic Four of the future (Venom Vision?!).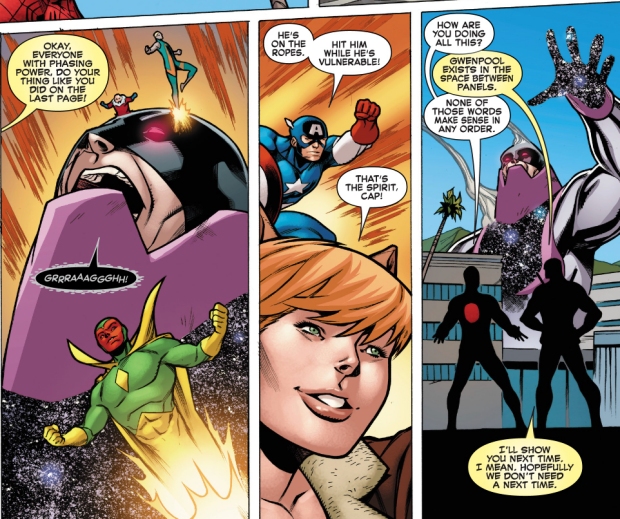 INFINITE HOUSE OF CIVIL YET SECRET CRISIS WAR INVASION
Spider-Man/Deadpool #41-50
Robbie Thompson, Matt Horak, and Jim Towe, 2018-2019
The series is retitled back to its original name as the two become friends again. So much so that Deadpool finally explains the fact that they're comic book characters, not that it does him any good. Deadpool also finds that even when Spider-Man unmasks and says his real name right in front of him, Deadpool can only see a blank face and hears it beeped out, as if Marvel won't allow this major development to take place for him. Regardless, the two go on a road trip that causes them to cross paths with Bug and the Eternals. I guess that latter part will be a big deal in retrospect once the movie comes out.
Anyway, the series ends with the two returning to Earth a year after the fact to discover that a major event has been going on. Deadpool uses his self-awareness knowledge to help figure out what's going on, but when he's unable to break the fourth wall, he realizes that the situation is connected. The big endboss villain the Manipulator appears to have some kind of meta significance, but what is he and what exactly is it he wants?
Yeah, I'll miss this series.
It really is fascinating to see the history between Spider-Man and Deadpool. It used to be a rare novelty that they'd usually shy away from. Then it became a semi-regular thing. Now we're at the point where they've interacted enough and Deadpool's become important enough in the grand scheme of things that they might as well make money off of it. Who knows where this bromance will go next?
Gavin Jasper writes for Den of Geek and wouldn't mind if the rumors of Deadpool showing up in MCU Spider-Man's third movie were true. Read his other articles here and follow him on Twitter @Gavin4L