News
New Green Lantern Graphic Novel Reinvents Classic Villains
Get ready to meet the new Yellow Lanterns in Green Lantern Earth One Vol. 2 from DC Comics.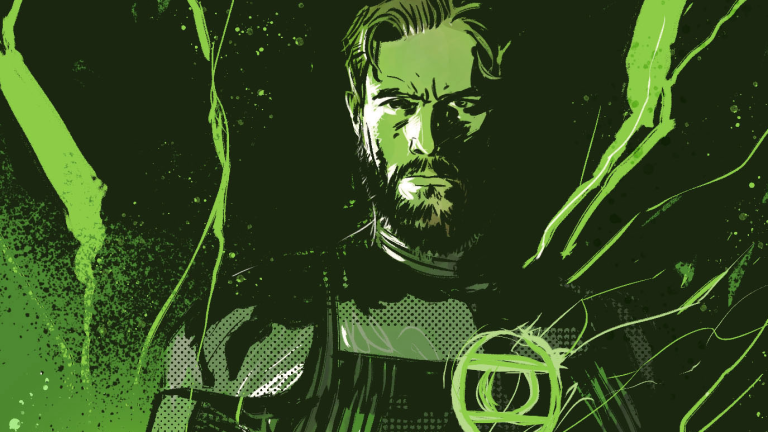 Green Lantern Earth One was an exciting introduction to the Hal Jordan of that portion of DC Comics' multiverse, and it's finally getting a follow up this summer. Gabriel Hardman and Corinna Bechko are back on Earth One with July's Green Lantern Earth One Vol. 2, and they're making the Green Lantern Corps and their villains even bigger. 
The story picks up three years after the events of the first book, with Hal trying to turn Earth into an intergalactic player after discovering just how vast the universe beyond our solar system is. In Volume Two, a new threat emerges from beyond the edges of the galaxy: Yellow Lanterns. 
These Yellow Lanterns are from Qward, the planet where the Guardians fled to after losing control of the Manhunters, and the Yellow Lanterns look like their replacements. They're weirdly rigid and united, Hal's first clue that something's wrong. They are also joined by John Stewart. 
This version of John Stewart is a physicist working on interstellar propulsion systems who gets trapped on a ship that drops him in the middle of a space fight. He studies energy systems, and recognizes the energy of the yellow rings as not from this universe, which gives him a leg up when he gets his hands on one and apparently uses it to help Hal. Joining them are some of the cast of the first volume, including Arisia, the leader of the Green Lanterns who is, in this universe, a vastly less problematic age. 
Hardman and Bechko are the team behind the first volume of Green Lantern: Earth One, as well as the Hugo-nominated Invisible Republic and a run of apparently great Planet of the Apes comics. Volume one of Green Lantern Earth One was an amazing first look into this Green Lantern universe, with a hard sci-fi look that strongly resembled an Alien movie in the best ways possible. If volume two is anything like the first (and from the looks of John Stewart's design, it will be), this should be one of the best comics of the year. 
For more on Green Lanterns, from Earth One to Earth Prime to the DCAU to the early reader graphic novels, stick with Den of Geek!