Features
Marvel's New Captain Carter Isn't Who You Think She Is
"In the elevator scene in The Winter Soldier, Captain Carter wouldn't ask the Hydra agents if any of them wanted to get out first."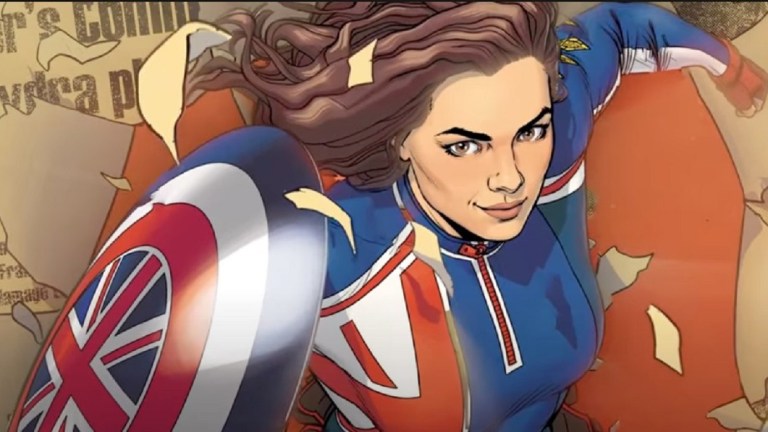 MI5 agent Peggy Carter (played by Hayley Atwell) became such a Marvel Cinematic Universe fan favorite upon her introduction in Captain America: The First Avenger that she ended up getting her own spinoff show on ABC in 2015. Sadly canceled too soon, Agent Carter wouldn't be the last we saw of Peggy: she later popped up in Avengers: Endgame. But Marvel wasn't done with Peggy just yet, and she returned triumphantly last year in Marvel's What If…? animated series as a multiverse Variant who took the Super-Soldier Serum instead of Steve Rogers, transforming into the superheroic Captain Carter.
Marvel fans who loved seeing this badass version of Peggy in the Disney+ series are definitely going to want to keep an eye on stands come March 9, because Captain Carter is getting her very own 5-issue comic book run courtesy of Jamie McKelvie (Young Avengers) and Marika Cresta (Star Wars: Doctor Aphra).
In Marvel Comics' Captain Carter, Peggy's journey has played out a little differently, with a "cascade of consequences" opening up all kinds of narrative avenues. This is not the Captain Carter of What If…?, but yet another alternate version of the character ripe for exploration, and if you look closely at the newspapers on the cover of the first issue, you'll see that this Peggy also went through a unique version of WWII.
"Peggy wakes after nearly 80 years in suspended animation to a very different world than the one she left behind," McKelvie tells us. "She returns to the UK to try to adapt to the 21st century, but is almost immediately thrown into action by the appearance of a new enemy with links to her past."
It's a story the writer describes as a "superhero spy-thriller" with a threat that will force her to work alongside a security agency called STRIKE as she struggles to find her place in a new world.
"I was already a fan of the character in both MCU incarnations," McKelvie says. "Once we established that the book should take place in the modern day, I saw all sorts of possibilities spill out of it. In the original comics, Steve Rogers returned after 20 years. For Peggy, it's almost 80. That's a huge difference. Everyone she knows and loves is long dead. London's architecture is almost unrecognizable. There have been entire cultural movements she has missed. Even compared to the Captain America of the MCU, a lot has changed in the last decade!"
Though the experiment that gave Peggy her super soldier abilities was conducted in the United States and she spent the war working largely with the U.S. Army, she's still undeniably regarded as a British superhero. This has informed McKelvie and Cresta's spin on Captain Carter, even down to her new costume.
"Obviously it has to have elements of an army captain's dress, while also clearly belonging to a superhero," McKelvie says. "Peggy is very direct and practical, so it has to reflect that, too. But it's also a costume put together by the British government in the book, who are very keen for her to take up the mantle of Captain Carter once again. So it reflects that too, drawing inspiration from design such as modern Team GB athletics outfits."
How WWII is thought of in popular British memory vs. the reality of the war are key components of the story.
"'Keep Calm and Carry On' has become ubiquitous now, but that poster was never actually used at the time," McKelvie says. "There WAS one that carries a similar sentiment ('Your courage, your cheerfulness, your resolution, will bring us victory') so the question is, if everyone was keeping calm, carrying on being cheerful and resolute, why did they need posters to tell them to do so? For Peggy, the war was last month, and she remembers it very clearly. Bringing that into 21st-century Britain is oddly relevant, as we find the country attempting to reinvent itself."
Marvel teases that everyone with an agenda is keen to get Captain Carter on their side and that Peggy must decide what she stands for as the wielder of the shield, but those who are familiar with the Captain Carter of Marvel's What If…? will know that compared to Steve Rogers, she certainly likes to do things her own way, and this series will continue to display her often brutal fighting style and the "morally complex, even questionable" choices she makes in the name of good.
"There's a line I wrote in the pitch: In the elevator scene in Captain America: The Winter Soldier, Peggy wouldn't ask the Hydra agents if any of them wanted to get out first," McKelvie reveals. "She has a lot of the same ideals as Steve, but she's much more direct and willing to get straight into what she sees as needing to be done."
Captain Carter #1 hits stands on March 9.