News
MAD Magazine Gives an Exclusive Preview of Music Issue
The world turns to music during times of stress. Meanwhile, MAD offers alternatives in this exclusive preview of MAD Mocks Music.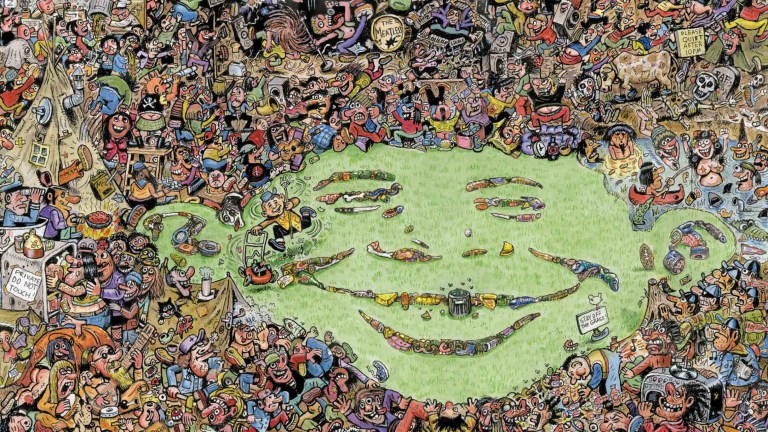 The usual gang of idiots at MAD will put MAD Magazine #13 on sale next week and it might be the saddest thing to happen to music since Eminem replaced Marilyn Manson as America's Worst Nightmare. The issue is called "MAD Mocks Music," and it is filled with spoofs and comedic cartoons about the esteemed and infallible music industry, bless the very steady rhythms of its heart.
Mad's had it in, and out, for music since neither of their Musically Mad LP or Mad 'Twists' Rock 'n' Roll records charted in the late 50s and early 60s. But this isn't just about moldy oldies, contemporary artists like Billie Eilish are also relegated to scary babysitting duty in the pages of the upcoming issue. Alfred E. Newman's What Me Worry Band continues to rebuke the Beatles musical progression with a tone-deaf alternative.
Meanwhile, the people at Mad presented us with an exclusive page reveal for the upcoming "MAD Mocks Music" issue. Written by Ian Boothby and Illustrated by Pia Guerra, "Meanwhile" isn't so much about alternative music as it is about alternatives to music. Fiddlers you have a problem with? They're the tip of the iceberg, and we're not talking about the heartbreaking problems of aging Elvis impersonators. Think about busking bagpipers, no matter how good they are at it, they sound like they're practicing. But one of the panels shows how much foresight David Jones of the King Bees had when he decided not to name himself David Swiss.
You can see the four-paneled exclusive reveal here:
The rest of the issue pokes fun at the whole musical spectrum, with some classic throwbacks offering filler music for new material — some as perennial as whether metal singers grab their groins to remind them what they're singing about or sneak a quick scratch on the itch of their crab lice. And if you need music festival life hacks, the issue takes a special glee skewering music festivals. This also is personal.
The issue was originally planned to be on-sale the same week as Coachella, but the festival has been delayed until October and MAD is stuck with all these issues. "The show must go on," they swear, and with all the recent virtual concerts happening, the theme is as relevant as MAD is irreverent.
"Don't blow your whole wad on Coachella tickets this year-Mad #13 is making (fun of) music for $5.99 (cheap)," reads the official press release. "Laugh at acts you'd never pay to see…from the comfort of your own toilet (no porta-potties necessary)! Sure, we may not have the sad crooning of Thom Yorke, but we could have a hilarious cartoon of him! Enjoy classic Mad music spoofs, plus an all-new Spy vs. Spy, "A Mad Look at…", and more!"
The bathroom humor in that quote refers to "A MAD Look at…Port o Potties," which Sergio Aragonés presents as a way to avoid those lines. The issue also gets into investigative music journalism as former Federal Reserve Chairman Alan Greenspan earns his street cred checking out the hip hop world of Eminem. The issue also contains a flashback to Woodstock, which leads to a bad trip with Lawrence Welk and a whole lotta boys who want to be George. Even Black Spy and Whte Spy cut in on the dancefloor.
MAD Magazine #13 will be available on April 22.