Features
Luke Cage Season 2: Complete Marvel Universe Easter Eggs and Comic Reference Guide
We're tracking down every Marvel Comics reference and easter egg in Luke Cage Season 2! Help us out!
This article contains nothing but Luke Cage Season 2 spoilers.
It finally happened. Marvel finally delivered a second season of a Netflix show that was superior to the first. Luke Cage Season 2 is not only better than its first, but it's one of the best seasons of any of the Marvel Netflix efforts.
And of course, it has plenty of Marvel Comics lore packed into it. Although, to be honest, it seems to have eased off a little in that regard. I noticed this in Jessica Jones Season 2, as well, where the show was comfortable enough in its own mythology now that it no longer has to nod to the wider MCU at every opportunity. Admittedly, I don't know my Luke Cage lore quite as well as some of the other Marvel stuff, so I'm bound to have missed some important stuff.
And that's where you come in.
Did you see something I missed? Did I just get something wrong? Drop it in the comments or hit me up on Twitter. If it checks out, I'll update this and give you a shout!
Now let's get to work…
Luke Cage Season 2 Episode 1: Soul Brother #1
"As Luke adjusts to his growing fame and tries to shut down the flow of heroin branded with his name, someone from his past reaches out."
– The African American College Alliance hoodie Luke is wearing in the show's opening is the first of this season's countless nods to '90s hip-hop culture (provides "too big a target" ala Batman)
Speaking of clothing, D.W. is pushing a yellow Luke Cage t-shirt, which is, of course, one of many references to the "classic" comic book costume that we will never see actually worn on this show (other than in that origin sequence from season one).
– I'm rather fond of the shirt that has "Luke Cage" written like the old Run DMC logo. Marvel should get on those.
– This talk of Luke needing "sponsorship" is another step on the road to him becoming the "Hero for Hire" of the early comics.
– We've seen Atreus Plastics pop up around these shows before, notably on Daredevil, but even using them to drive a secondary story here is the most we've gotten with them.
– Speaking of fictional Marvel companies, we also get a mention of Hammer Industries here, but that's hardly an easter egg, right?
– Luke is reading Ta-Nehisi Coates, which is usually a good idea on its own. But there's a fun Marvel connection here, too. For the last couple of years, Coates has been writing Black Panther for Marvel Comics, and he's about to kick off a run as writer on Captain America.
– Dontrelle "Cockroach" Hamilton first appeared in Power Man #28. He's more of a crime boss in the comics, whereas here he's kind of a mid-level soldier. By the way, HiNorth down in the comments pointed out that his shotgun didn't just come out of nowhere, either…
– Bushmaster first appeared in an issue of Iron Fist, believe it or not. Iron Fist #15, to be precise. The Bushmaster of TV is definitely cooler, certainly from a personality, clothing, and soundtrack standpoint, than the one of the comics.
His fashion sense here is way better than that in the comics…
– Remember when we all thought Rosario Dawson was playing Night Nurse? Well, the song that Luke and Claire dance to is none other than Gregory Isaacs' "Night Nurse."
Luke Cage Season 2 Episode 2: Straighten it Out
"Luke tests out his abilities on the ballfield, Misty ruffles feathers at the precinct, and Mariah plans a reunion to boost her image."
– Yes, that's really New York Jets coach, Todd Bowles. Yes, the Jets could really use a player like Luke Cage. No, it ain't gonna happen. Yes, the Jets will be terrible for the rest of my life.
– Luke runs a 3.72 40 yard dash. That's a full half second faster than the record, and I'm pretty sure that would also put him on pace for an Olympic record 100 meter run, too.
– Tilda Johnson is the comic book villain, Nightshade. It's a drastically different take on the character here, starting with the fact that TV Tilda is Mariah's daughter. Nightshade first appeared in Captain America #164 in 1972.
We have more details on Tilda Johnson right here.
– We get a killer Gary Clark Jr. performance at the Paradise. This is Clark's second superhero connection in the last year, as he also performed that version of "Come Together" that was used in the trailers for Justice League.
– We also get the return of Wilson Fisk's lawyer, Ben Donovan, in this episode. He's a lot of fun, and it's not a spoiler to say that he's around a bit more this season.
– HiNorth was kind enough to point out that the sweet old lady who invites Luke in for "coffee" is Venida Evans, who's character on HBO's Treme was known for telling people to "have a blessed day."
Luke Cage Season 2 Episode 3: Wig Out
"Worried Luke is headed down a dark path, Claire pays a visit to his father. Bushmaster makes a bid for Mariah's guns."
– Raymond "Piranha" Jones first appeared in Power Man #30 in 1976. He's far less respectable in the comics, and has sharpened, knife-like teeth. I…don't think that would work on these shows…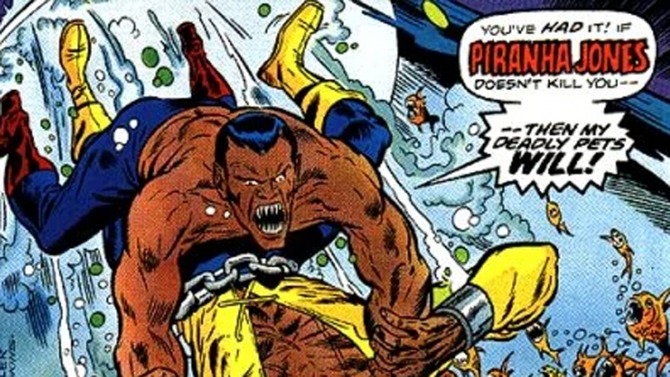 – This episode mostly plays like a pilot for a Daughters of the Dragon series with Misty Knight and Colleen Wing. For the record, I am 100% okay with that. When the pair go for drinks after their workout, they're even rocking the appropriate color scheme with their outfits.
– When Bushmaster knocks Luke the fuck out, they add that cool dancehall reverb to his voice to indicate that Luke is reeling. Nice touch.
Luke Cage Season 2 Episode 4: I Get Physical
"As footage of his fight with Bushmaster goes viral, Luke struggles with the aftereffects and follows a trail of clues to Tilda's shop."
– Misty says "I was 5" when Tyson lost his first fight (to James "Buster" Douglas). That puts her age as roughly 33, as that fight took place in 1990.
– The song being performed at the Paradise here is a pretty great version of BB King's signature tune, "The Thrill is Gone."
– The line about being "dead/frozen in ice" is one of the only acknowledgments of an Avenger we get this season, I think. Which is nice, considering how hard the early seasons of all these shows worked so hard to remind us at every turn that this all takes place in the Marvel Cinematic Universe.
– In the comics, Misty Knight's bionic arm was designed not by Rand Enterprises, but by Stark Industries. Of course, Danny himself didn't design this. What I didn't know is that in Uncanny X-Men #264, tech-savvy mutant Forge revealed that he "worked on the designs."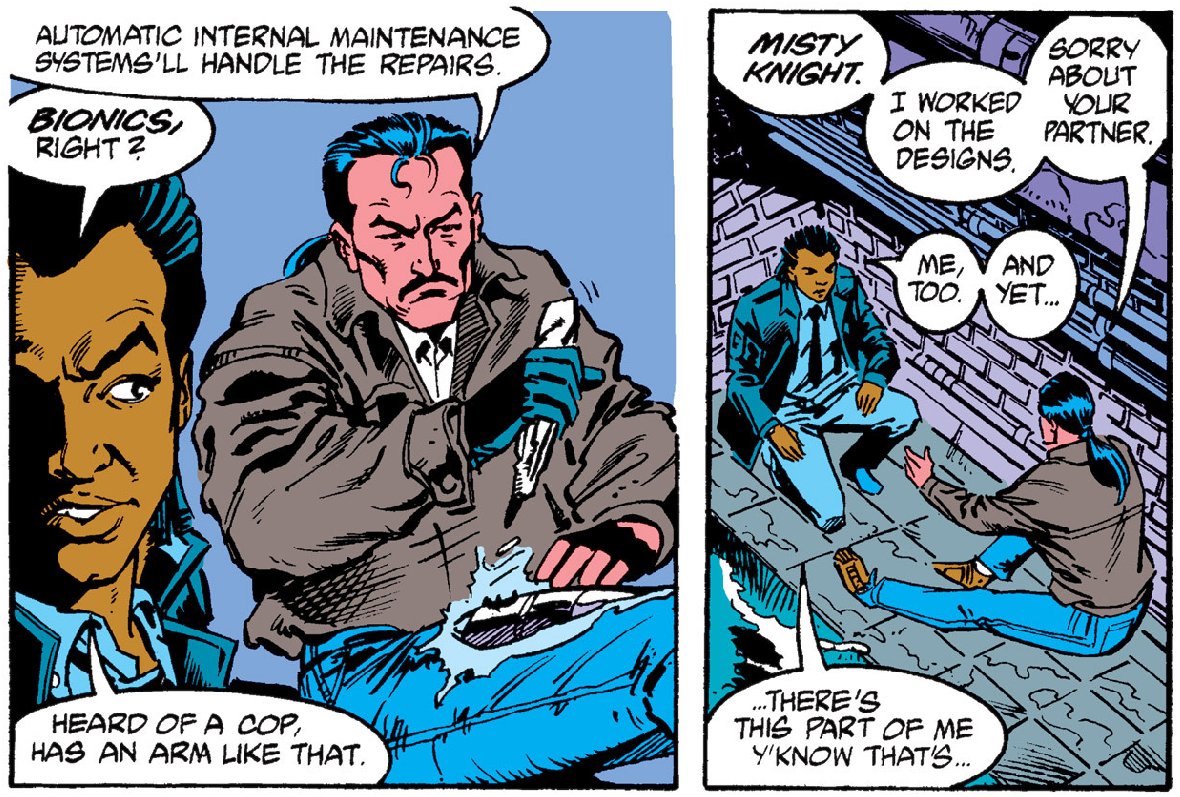 For, ahem, legal reasons, that's not the case here, but that's still a cool little fact (thanks to Bright Moments for bringing that to my attention!)
Luke Cage Season 2 Episode 5: All Souled Out
"Desperate to drum up quick cash for a lawsuit, Luke weighs an offer from a superfan. Mariah invites Tilda to join the new family business."
– Putting Foggy Nelson and Ben Donovan together is such a great move, and really, it's the kind of thing I want to see more of in these shows and the wider MCU. The real beauty of a shared universe isn't that everything has to culminate in some world-shaking team-up, but rather that secondary characters can zip in and out of other shows or movies as needed. It enriches the overall world, gives fans something to look forward to, without derailing the telling of an actual, primary story.
– "Hire this hero." You see where all this is going, right?
– Is that a brand new Luke Cage themed tune from Ghostface Killah? I believe it is!
– One of the financial bro dickwads at the party refers to "the big green guy" during the party, marking the only other mention of an Avenger in this season that I can think of. What's cool about this, though, is what it reveals about public perception of the Avengers in general. In this case, it's that "Hulk" isn't a recognizable name to the general public. His presence on the team is something of an anomaly (especially compared to Cap/Iron Man/Thor).
But what's more, we have to remember that this whole season takes place BEFORE the events of Avengers: Infinity War, which means that on top of everything else, Hulk has been completely missing from Earth for at least a year or two. And a potentially destructive force like that isn't really "missed." It's like "missing" a cold when you don't have one.
Anyway, that's a lot of words to say that this is a cool, revealing moment about "normal" culture in the MCU.
Luke Cage Season 2 Episode 6: The Basement
"As a wave of violence rocks Harlem, everyone races to connect the dots between Piranha, Mariah, Bushmaster and the grisly find at the clinic."
– We get our obligatory WJBP TV sighting in this episode, the MCU NYC's local news station. Is this even an easter egg anymore?
– Luke hides out with Piranha in a movie theater. In his early comics, Luke set up his "hero for hire" offices above an old movie theater (that's also where D.W. came from). That theater was in Times Square, not Harlem, back when Times Square was far, FAR weirder than the neon nightmare it is today.
– Luke says that a more chill, domestic life "sounds good to me." In the comics he (kinda) pursues that with Jessica Jones. These shows are definitely playing a very long game with getting them together on a long term basis, and that's just fine, but I feel it's appropriate, and I don't think this line is accidental.
– But the better line is when Luke asks Piranha, "where's my money, honey?" That's a direct quote from Luke Cage, Hero for Hire #9 when Luke went after Dr. Doom of all people. This actually happened…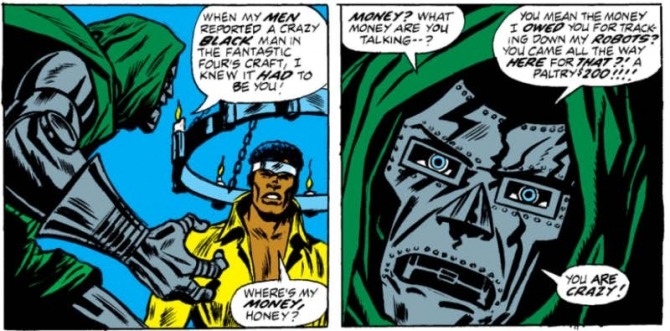 Luke Cage Season 2 Episode 7: On and On
"Reeling from the showdown on the bridge, Luke teams up with Misty to find Piranha. The hunt for the snitch heats up. Bushmaster reveals his endgame."
– You might remember in my season one guide how I went on and on about all of the Superman parallels with Luke. Everything from his personality to certain imagery all reminded me of very specific moments in Superman history. This season has dialed that back a little, but the way Luke surfaces in the water after his defeat at the hands of Bushmaster reminds me of when Supes nearly drowns with a Kryptonite rock around his neck in Superman: The Movie.
Other than that, this episode was pretty light on comics references that I could find, but if I'm wrong, hit me in the comments!
Luke Cage Season 2 Episode 8: If It Ain't Rough, It Ain't Right
"While Shades, Mariah and Misty comes to terms with the previous night's events, Bushmaster searches for a way to boost his strength."
I didn't notice anything specifically Marvel-related in this episode, but the crime scene photos kind of gave off a vintage Martin Scorsese vibe.
Luke Cage Season 2 Episode 9: For Pete's Sake
"Hunkered down in a makeshift safe house, Luke and Misty butt heads over how to handle Mariah. Meanwhile, long-buried family secrets come to light."
Again, I didn't spot any Marvel stuff, but please correct me in the comments or on Twitter! But there's plenty in the next one, so…
Luke Cage Season 2 Episode 10: The Main Ingredient
"Danny Rand insists on helping Luke hunt for Bushmaster — the Iron Fist way. Mariah sets out to reclaim her empire. Misty pursues a traitor."
– OK, now we're into it. This is the real deal "Power Man and Iron Fist" team-up episode. They get this right even more than they did in The Defenders (which, admittedly, had to introduce/establish Luke and Danny's friendship).
It says a lot about how good this season is overall that they manage to bring Danny Rand, a character who has been mercilessly roasted by fans and critics, and it feels…right? Iron Fist was a mess of a show, Danny was a remarkably unlikeable character there, although there was some growth The Defenders. Here, it feels like Danny has adjusted to the modern world, and is generally less up his own ass. This seems like another good sign for Iron Fist Season 2.
In fact, Danny's eagerness to be seen as cool by Luke and his friends gives him an almost endearing quality, even though he tries too hard. Their interaction here reminds me a lot of the recent Power Man and Iron Fist comic series by David F. Walker and Sanford Greene. Worth noting that in those stories, Jessica Jones still finds Danny impossibly irritating.
Anyway, if Netflix decides they have too many shows, I think this season proves that an ongoing Luke/Danny/Misty/Colleen show would work just fine.
– We see Danny wearing a "Sweet X-Mas shirt." That is, of course, Luke's catchphrase, but the green and yellow color scheme is comic book Iron Fist costume colors. Maybe he'll get a proper costume in his second season.
– I love, love, love the fact that Turk Barrett has gone legit by working in a head shop.
– The Power Man/Iron Fist action scene is set to "7th Chamber" from the first Wu Tang Clan album, which consists of nothing but perfect tracks. But you already knew that.
– That massacre scene is really, really hard to watch. But I have to wonder is the "drinking bird" moment supposed to be an homage to the "origin" scene in Sam Raimi's Darkman?
Luke Cage Season 2 Episode 11: The Creator
"Shaken by Mariah's latest act, Luke combs the city for a witness. Flashbacks reveal a fateful encounter between the Stokes and McIver families."
– Season one used a flashback episode to tell Luke's origin. Here, we get it for Bushmaster, although I have to say…this one is much better.
What's more, Bushmaster's screen origin has virtually nothing to do with his comic book one, which is a little more convoluted than I feel like getting into here. But again, like almost every villain this show has chosen to adapt for TV, they're doing it better here.
Luke Cage Season 2 Episode 12: Can't Front on Me
"Luke teams up with an unlikely ally to combat a new strain of heroin. As Shades plows ahead with his plan, a massive party draws everyone to the club."
– We get another cool Luke Cage t-shirt design, this one with chains on it, referencing his first ever comic book cover (and the chain belt he used to wear).
– This episode introduces Annabella Sciorra as Rosalie Carbone. Rosalie is a fairly minor character in Punisher history, and I have to wonder if we'll be seeing her in The Punisher season 2.
Rosalie refers to Mariah as a "pebble in my shoe." I feel like this is a historical reference. Carlos Marcello, a New Orleans mafia kingpin, was suspected of involvement in the assassination of President Kennedy. He reportedly once said in regards to JFK, "take this stone out of my shoe." So Rosalie's line here feels like a statement of intent.
– Shades says they beat Luke down "Billy Batts style." Billy Batts was the street name of William Bentvena, a Gambino family mobster whose murder at the hands of Tommy DeSimone was immortalized in a notoriously brutal scene in Martin Scorsese's Goodfellas. And if you didn't already know this, then "go get your fuckin' shinebox."
– Another classic Wu-Tang track from Enter the Wu-Tang (36th Chambers) makes its appearance here. Between both seasons of Luke Cage and The Defenders' use of "Protect Ya Neck" I feel like half this album has now made it into the Marvel Universe. I'm not complaining.
– The final fight with Luke and Bushmaster, with Luke putting him in a headlock, well…I'm getting more Superman vibes here. This feels like the end of Man of Steel, where Superman infamously (and controversially) killed General Zod. But leave it to Luke Cage to understand Superman better than actual Superman stuff has from time to time, as he won't kill his enemy here.
Luke Cage Season 2 Episode 13: They Reminisce Over You
Mariah adapts to her new circumstances and goes to extremes to cover her tracks. Luke takes a new approach to protecting Harlem.
– Luke listening to "The Payback" while he takes down a bunch of mafia goons is just priceless.
– As far as I know, Luke has never taken over the role of "crime boss" in the comics. Matt Murdock, on the other hand, has run crime in Hell's Kitchen once or twice, but this is new for Luke, even though his intentions (and reasoning) seem pretty sound.
– Just a reminder that Tilda Johnson bears absolutely NO resemblance to her comic book counterpart of "Nightshade." And just like all the other changes the show makes, this one is also for the better.
But Tilda definitely makes her transformation into someone who could very well become a supervillain in this episode, and I expect she'll be back for Luke Cage season 3.
His choice of that Thomas Hoepker photo portrait of Muhammad Ali for The Paradise seems appropriate. Like Luke, Ali was the toughest man around, an icon, a symbol for a generation. But he was also deeply flawed and human, was outspoken about matters of politics and race, and generally didn't give a damn about what the establishment thought of him. Even with his new wardrobe, Luke is far less flamboyant than the Champ ever was, and I can't imagine his personality becoming so boisterous (despite the dabbing video he allowed himself to shoot back in the first episode). But there's a sense that Luke is now less conflicted about how others perceive him. This is going to make one hell of a season three.