Features
Harley Quinn Destroys DC Continuity in Anniversary Issue
Harley Quinn is messing with the DC Multiverse in Harley Quinn #50. We have the inside scoop.
It's Harley Quinn's world, we just live in it. Harley Quinn is everywhere. From movies to animation to video games to comics to cosplay, Harley Quinn rules the world of pop culture. As if that's not enough, it's almost time for Harley to celebrate the 50th issue of her comic book series.
Here to guide everyone's favorite wackadoo siren through this milestone is writer Sam Humphries and an all-star team of artists. I mean, take a deep breath and check out this line up: Whilce Portacio, Babs Tarr, John McCrea, Scott Kolins, John Timms, Dan Jurgens, Tom Grummett, Brett Booth, Kelley Jones, and more. And with that who's who of artists, you know this isn't just any 'ol Harley story.
Harley Quinn #50 is "Harley Saves the Universe!" and features just about every DC character you can imagine. We're not kidding, in issue #50, Harley goes cosmic and must navigate the DC Multiverse to save her mom. Along the way, Humphries satirizes every DC icon, era, and genre as he celebrates this Harley milestone. It was our pleasure to sit down with Mister Humphries to discuss the fiftieth issue, his views on Quinn and her world, and his love of the entirety of the DC Universe.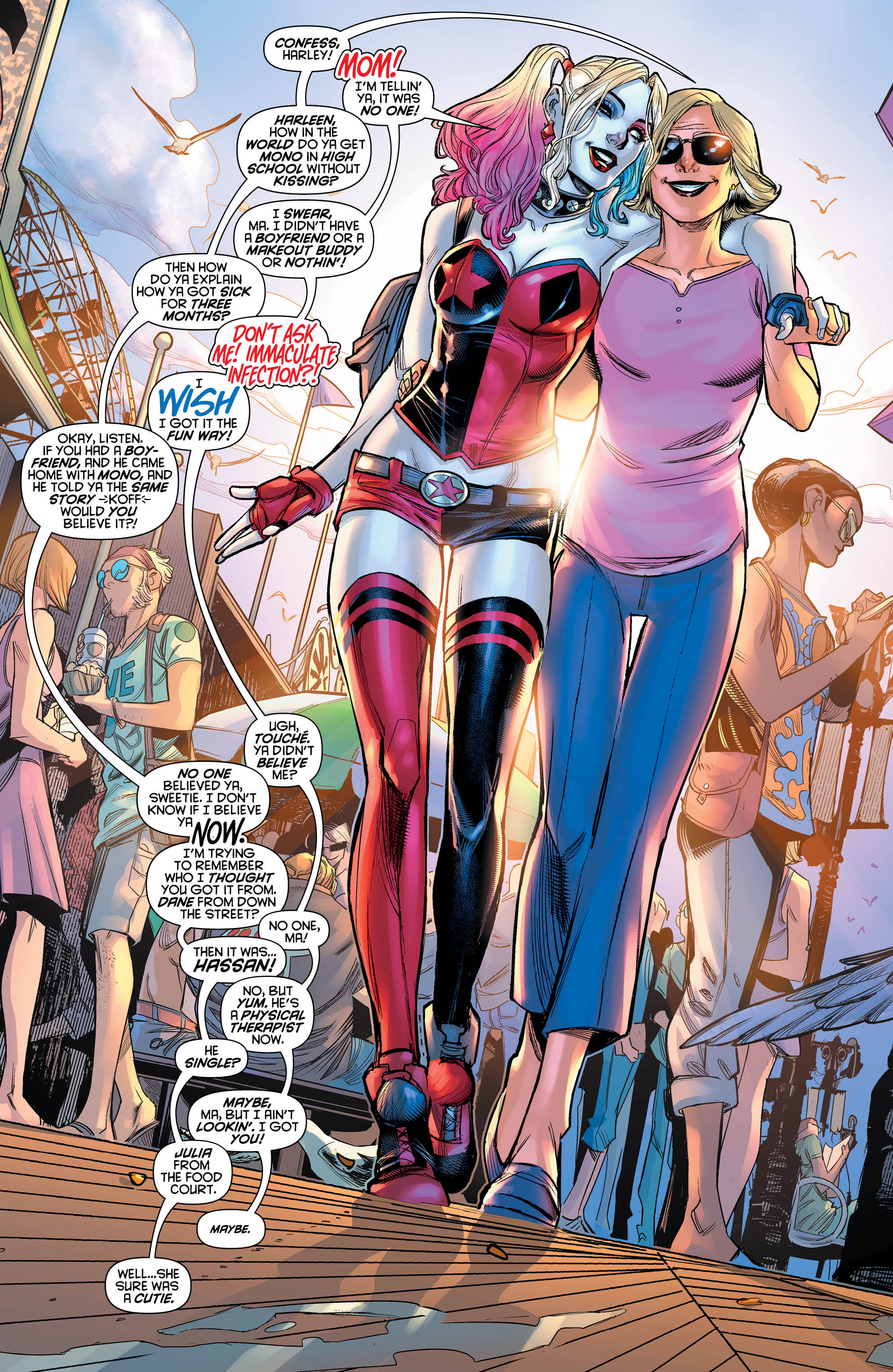 Harley is certainly one of the most versatile of DC's pantheon. What makes her fit any genre?
Great question! Issue 50 is a giant-sized answer. "HARLEY QUINN DESTROYS DC CONTINUITY!"
No one has EVER read a comic like this before. Nearly every art jam sequence in the issue illuminates what you're talking about, but Dan Jurgens' sequence in particular is a crystallization of this.
further reading – Justice League, the Legion of Doom and the Nature of Evil in the DC Universe
Harley can be true to herself in any situation. She doesn't feel like she has to hold her true self back. She can always be 100% Harley Quinn. Which makes her incredibly versatile. She can go anywhere, fight anyone, team up with anyone, and always be who she is. She can ping pong through any genre, any iconic story, any twist of continuity and, because she's always herself, we get to see all those things through her POV, we get to see it all in a new light. 
And that's Ms. Quinn, thank you.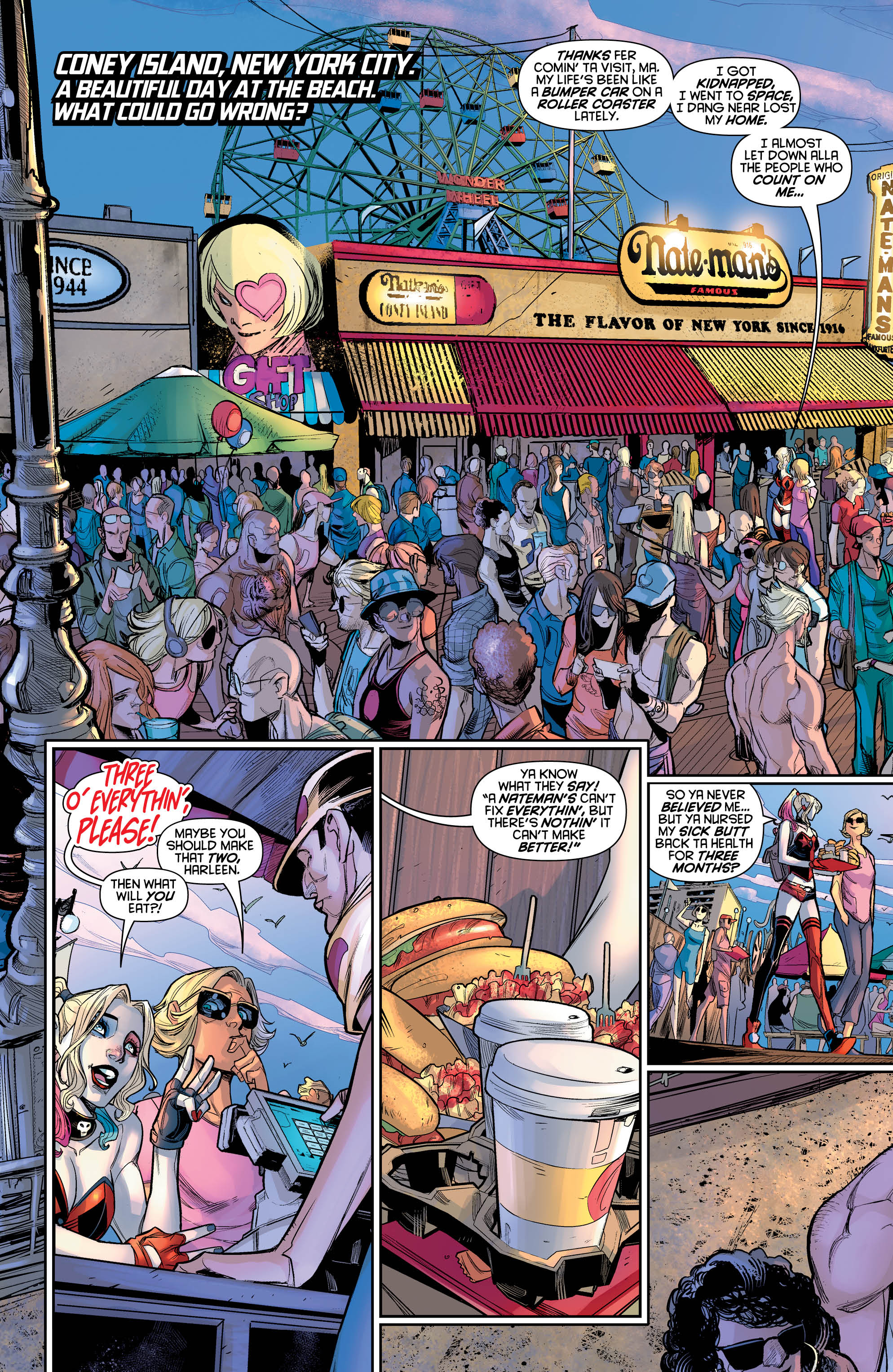 Speaking of genre, what led to Harley Quinn #50 becoming a big cosmic blowout rather than a Gotham-centric anniversary?
Gotham ain't big enough to contain Harleen the Queen. We had to destroy continuity itself to tell a Harley story worthy of a giant-sized anniversary art jam! And we had to get the biggest artists to draw it, too! Starting with Tremendous John Timms. He's been drawing Harley for awhile, but his work on the framing sequence of this issue is just outstanding. Some of his best work, especially with the colors of Alex Sinclair!
Harley Quinn #50 is more than a love letter to Harley; it's a love letter to the DC Universe. It feels like you had some unscratched itches when it comes to certain DC characters and other DC genres.
We drove the DC Universe like a stolen car. I made a series of lists, I guess you could call them "wishlists." One was a LONG list of characters I wanted to write or include in some way. Some were obvious, like Wonder Woman. Some were not, like Waverider. Then I also had a list of genres I wanted to play with, everything from "pirate adventure" to "game show." And then the third list was classic DC stories/titles we could twist or build on, like The Death of Superman or The Sandman. Once I had those, I started playing mix and match until I had concepts I couldn't believe. I even had the Six Flags roller coaster The Riddler's Revenge in there, although it didn't make the cut. 
further reading: DC Universe Streaming Service Review
Even though we're DESTROYING continuity, this is also a LOVE LETTER to continuity! No, not just a love letter, but a LOVE SONG, one of those slow funk jams from D'Angelo that you turn up when the lights go low. Continuity is such a weird, singular thing – what is REALLY at the core of continuity? What MATTERS about continuity? The amount of energy in the universe is constant. But every Wednesday, continuity keeps growing without end. HOW?? And finally, why do we love continuity so damn much? These are the questions at the center of Harley Quinn #50.
If only you could have been a fly on the wall during conversations with editors Alex Sinclair and Andrea Shea. You'd understand all the crazy ideas we built on to get to the final insane product of issue 50, a comic where DC continuity is deadzo. Every other page you're gonna say to yourself, "I can't f***ing believe they got away with that!"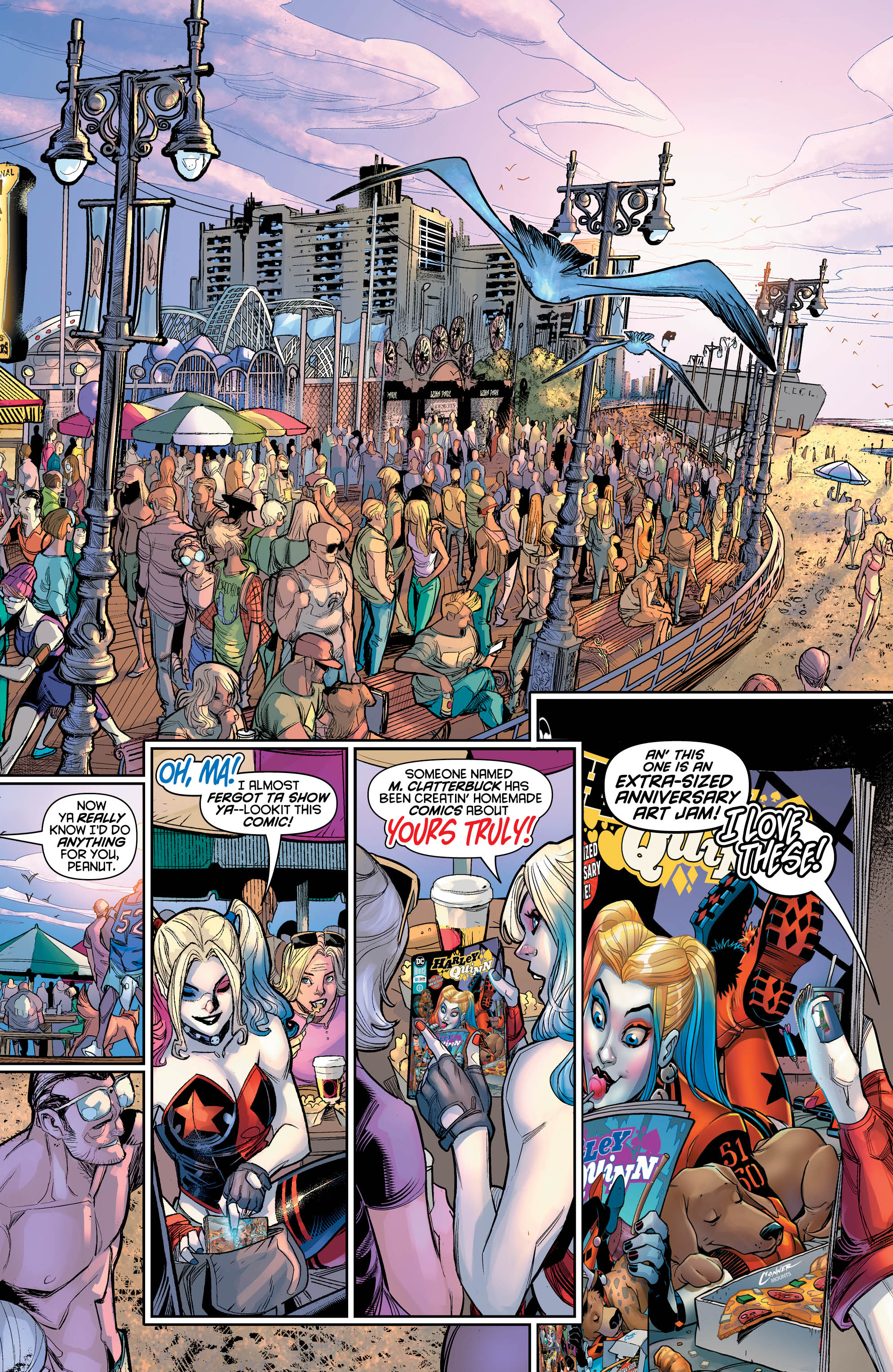 Harley Quinn #50 is also an all-star jam session with a ton of top notch artists. Did you come up with the concepts of the issue first and then find an artist for each one or did you have the artists on board first and then tried to find story directions to match each artist's strength?
All of the above. It was a really complicated process. We didn't just have an all-star line up of artists, we also had an all-star line up of editors in Alex and Andrea. They put in amazing work to corral everyone, keep the issue on schedule, and keep this wild-ass story straight. 
Above everything else, I wanted three things: I wanted a mix of stylistically diverse artists, I wanted all the artists to have fun, and I wanted them to do something we've never seen them do before. And every single artist grabbed onto the crazy, anything goes spirit of this issue in a gigantic bear hug of love. The Easter Eggs alone will curl your toes! This whole issue is full of surprises. 
Sometimes matching artists with concepts was a no-brainer…like, of course we're going to have Kelley Jones do some spooky, horror-inflected stuff. But he surprised me with the humor he put into it, he's a real stealth comedy artist! Sometimes it was a matter of playing to an artist's loves. I know Babs Tarr has a deep and unyielding love for shojo manga. So I created a sequence where she could let her inner shojo fan run wild. Sometimes it was a bit of personality match. John McCrea is a delight to talk to, a bit of a mischievous guy – I felt like a pirate adventure would suit him, you know? Like he might have been a pirate in a past life!
And other times, we just got lucky. Who knew Brett Booth is not just a dinosaur freak, but an astounding dinosaur artist? Well, Alex knew. But I didn't know when I came up with that sequence! 
It's completely unlike any comic you've ever seen before. It's a writer's dream to be in a huddle with a group of artists like this. They all have my gratitude.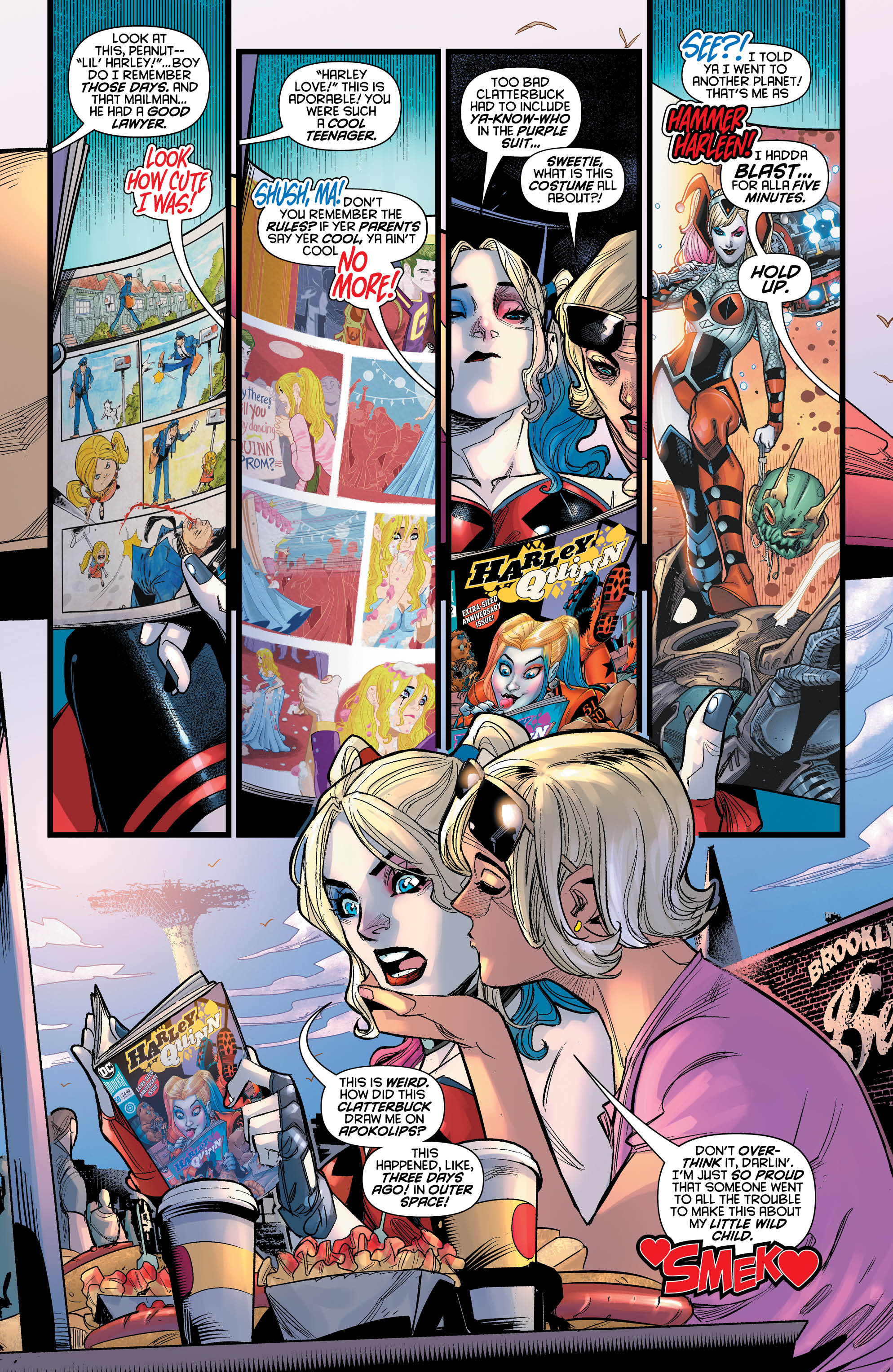 I really, really need to see your Adam Strange concept come to life on a monthly basis. I just think you should know that.
HA! Thank you. Yeah, Jon Davis-Hunt just did an incredible job on that, didn't he? I am so thrilled he's in this issue – I think The Wild Storm is the finest comic being published by DC right now. So I'm a fan, but I knew we're both WildStorm nerds, so I knew we'd find some common, creative ground together. I'd love to do more work with him, but Warren Ellis would figure out some way to poison me from orbit or something. No thank you!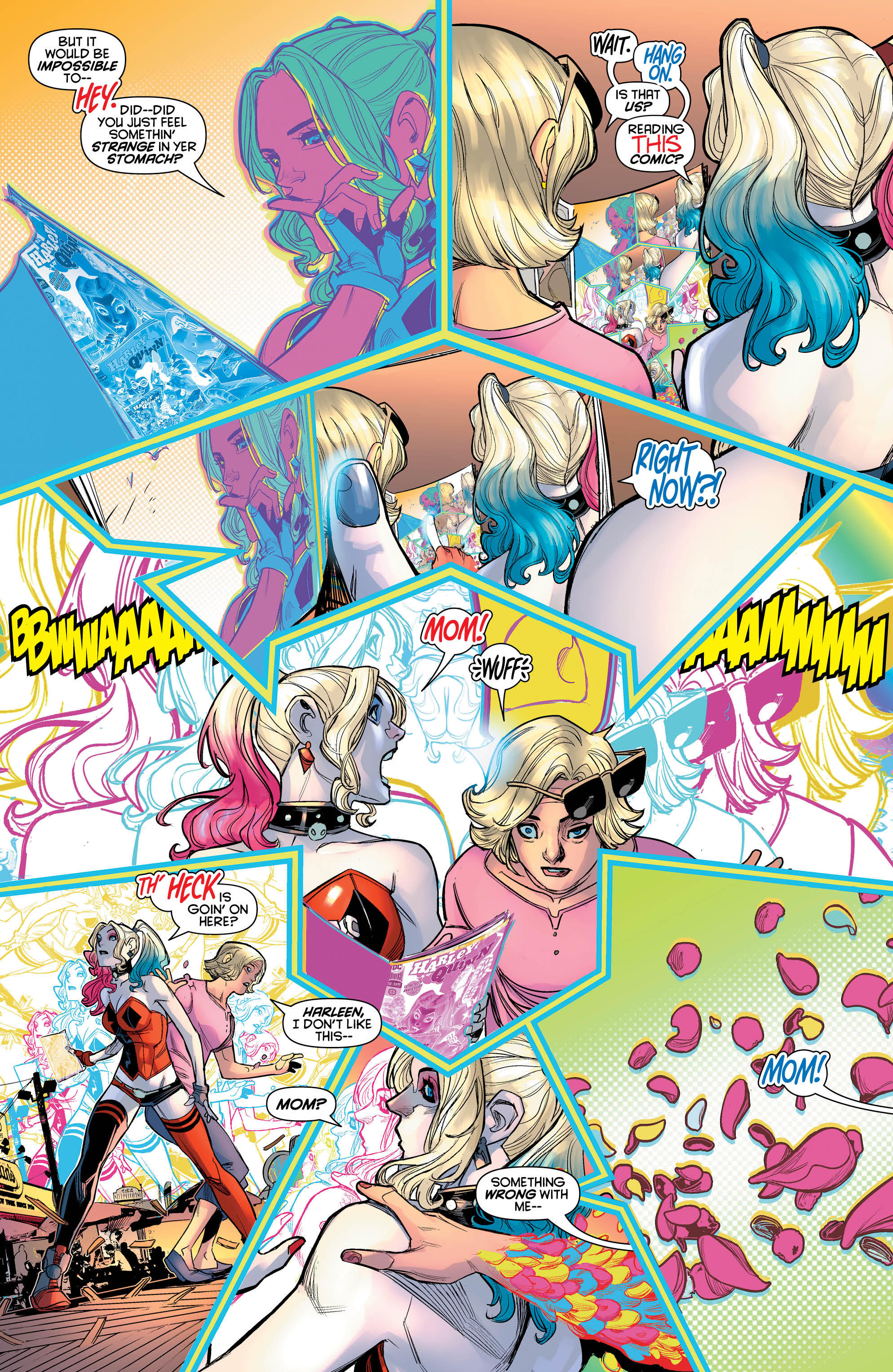 Talk about the legacy of Amanda Conner and Jimmy Palmiotti. This version of Harley by way of Little Annie Fanny has certainly found a lasting direction for the character. 
Well, any milestone like issue 50 is an achievement. But I've been writing Harley for the past five issues, Amanda and Jimmy were writing her for the past FIVE YEARS. So the lion's share of the achievement belongs to them. I tried to pay tribute to Amanda and Jimmy's run by making it a spectacular art-jam issue (something they did a couple times) and by making it as wild and funny as I possibly could. It's a victory lap for them in absentia. Me? I'm just revving up the engines.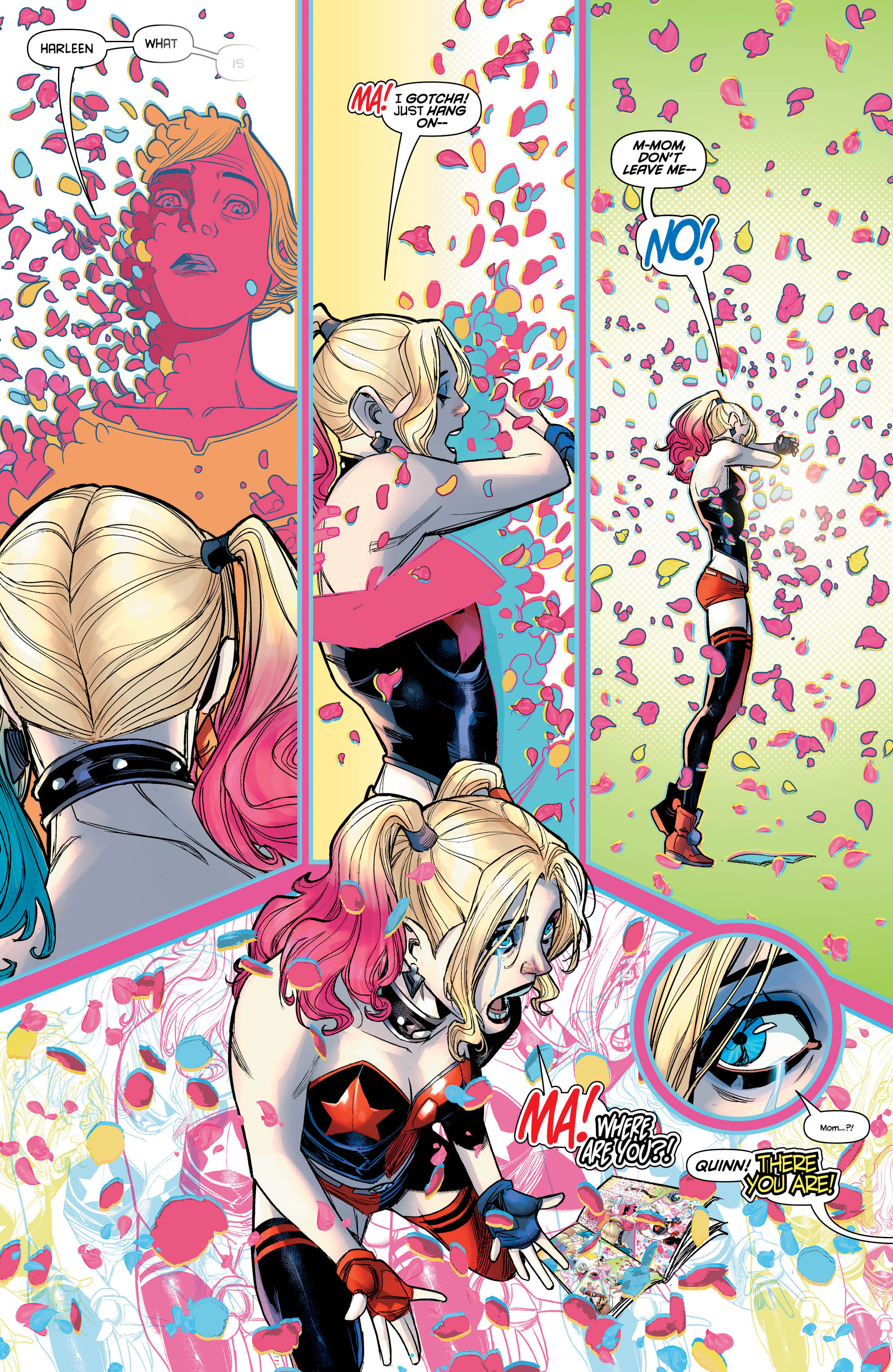 Were there any parodies that didn't make it into the final issue? The Lobo by way of Gaiman was just brilliant.
Oh yeah. Tons. I've got lists of concepts and stories and characters and genres I was hoping to include. A lot of them were too difficult to pull off in two pages, or too obscure, or too hot, or too cold, or whatever. A lot of them sounded like a riot in my head, and then ended up falling flat on the page. So it goes. I'm going to keep the leftovers to myself for future use, but there's one I'll spill the beans on. I wanted to do a Three Musketeers-style sequence with Booster, Beetle, Guy Gardner, Martian Manhunter, Fire, and Ice. But that would have been too much historical research and detail to expect out of an artist for a two page gig. Luckily, Mirka Andolpho was game to include it as an Easter Egg on her pages!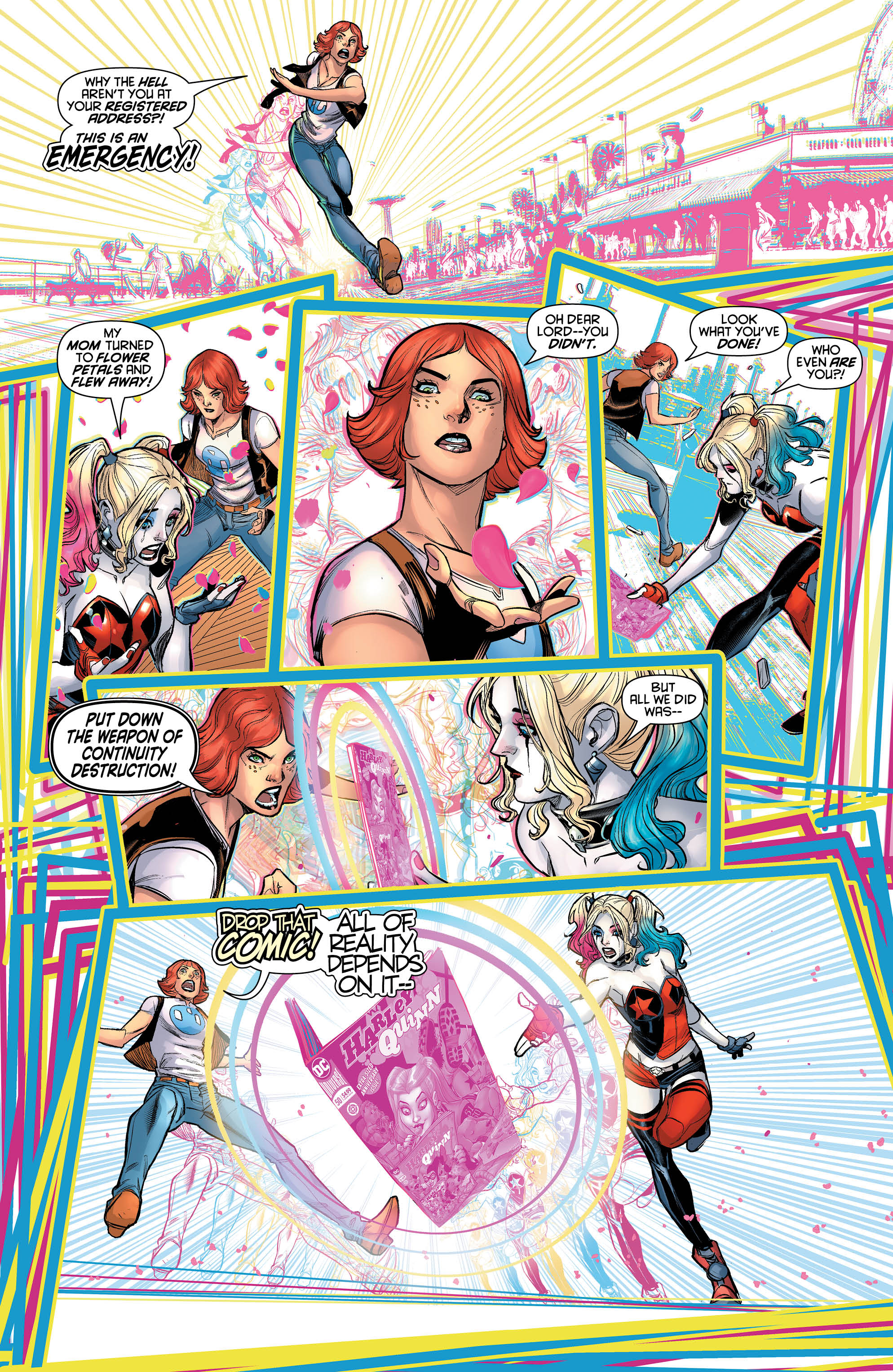 So, the issue ends with a reveal of a very obscure Golden Age character. Why that character?
He's only appeared like six times since World War II. No, not in continuity-time. I mean, he's literally only been in a handful of published comics since the 1940s. I thought, let's shake him up, let him shine in 2018.
So why no Mister J in the final issue?
I've got a Harley/Joker story I really want to tell – a big one, a story that would rewrite the rules of their relationship. I pitched it to DC and they loved it, but for a lot of reasons the time isn't right. All good. You can't rush a story like that. One day…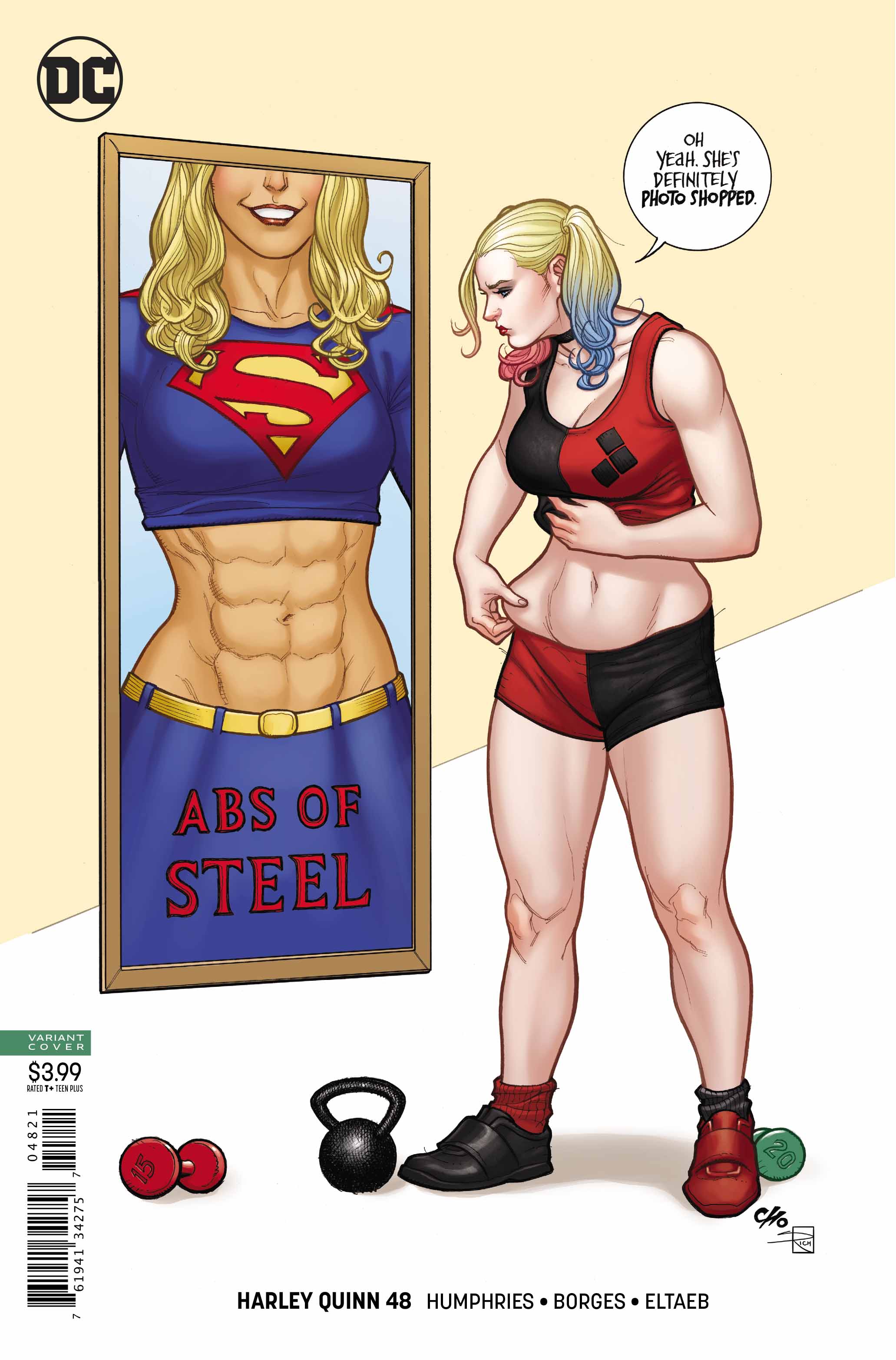 Where is Harley going next?
After issue 50, she's gonna need a nap. But she's not gonna get one. In brief, here's what's coming up:
– Captain Triumph
– Minor Disasters
– Christmas with the Quinns
– Batman
-THE SEVEN TRIALS OF HARLEY QUINN
To you, who is Harley Quinn?
HARLEY QUINN IS LIFE!!!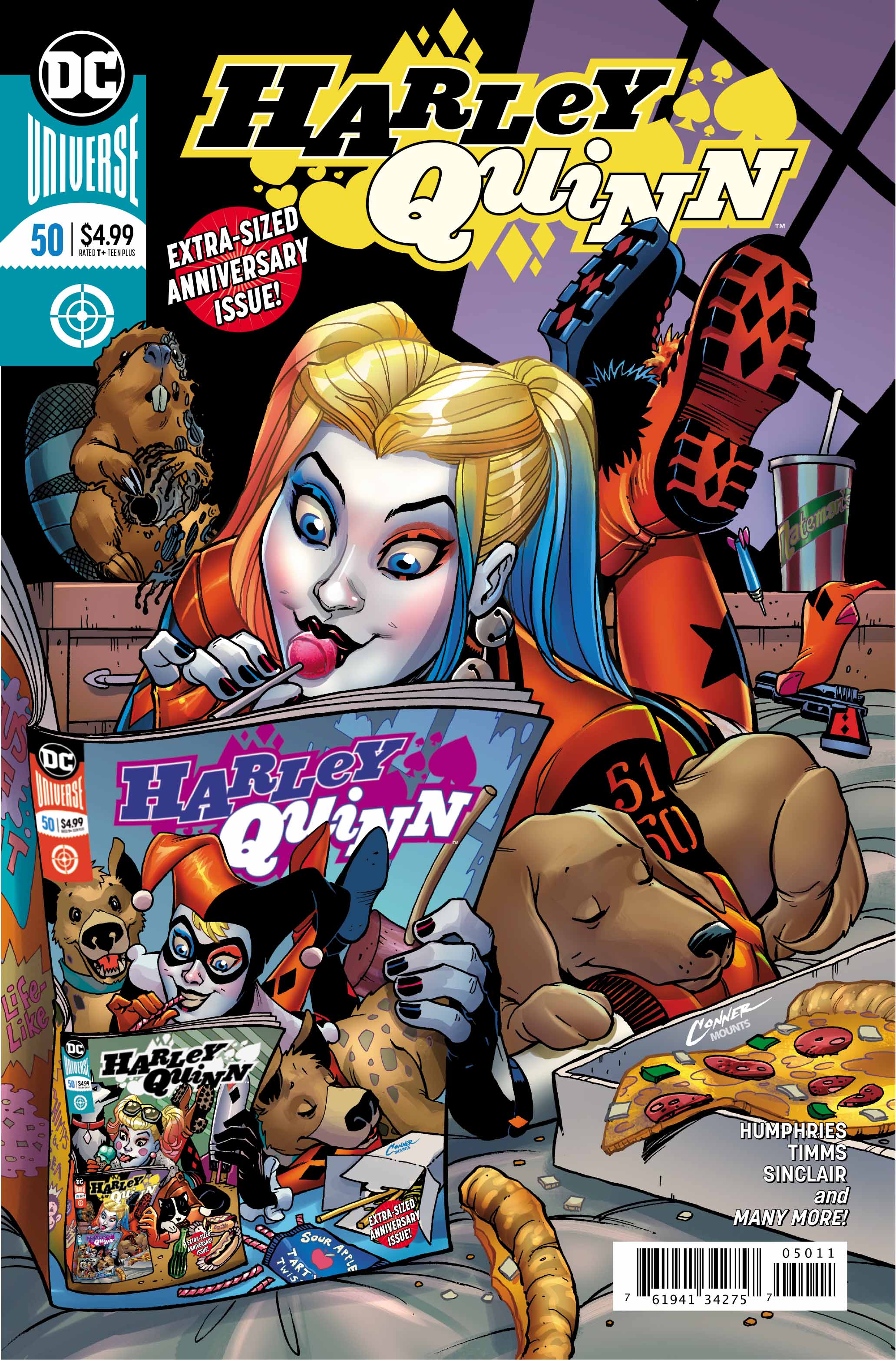 Harley Quinn #50 hits stores like an oversized mallet on Wednesday, September 19.