Features
Best Black Panther Comics: An Essential Reading Guide
Wondering where to start with Marvel's Black Panther comics? We've got you covered.
The unstoppable hype train has finally made the station: Black Panther is here, in what is maybe the most highly anticipated and certainly the best reviewed Marvel movie since the universe was created a decade ago. Ryan Coogler's epic draws from a lot of sources from T'Challa's sixty years of comics history, and fortunately for you, we've read most of it! 
But where do you start with a character who has over 50 years of comic book history? We've got a guide for you…
Black Panther (2003)
This is probably the definitive run of Black Panther. This is where Wakanda stopped being backstory and started being a living, breathing place, with geography and politics and history that all contributed to its depth and beauty. It's also where a bunch of what's going on the screen started: Priest introduced Everett K. Ross and the Dora Milaje almost immediately in his first issue.
Priest had been separated from Marvel for several years before coming back to write this book under a separate, independent line within Marvel as the rest of the company went bankrupt around it. So he was given a lot of leeway to write the story he wanted to, and what came out was one of the greatest runs on any comic ever. Priest's Black Panther was funny, complex, smart, timeless and yet very much of its time.
This run contains what could be my favorite single scene in comics history. After game playing by Klaw and a Deviant Eternal living outside of Atlantis brought Wakanda close to war with Atlantis, T'Challa heads to New York to meet with the UN. While there, he ends up in a tiny apartment, arguing realpolitik with Namor, Dr. Doom and Magneto. The interactions between the four of them, and the subtle character development of each that grew out of putting them in positions they didn't normally occupy (Namor was actually fleetingly considering diplomacy! Doom was NOT trying to kill anyone for being Richarrrrrrdddds! Magneto actually saw he was the least powerful in the room so he turned peacemaker!). I'll be chasing this scene in comics for the rest of my time reading them, I think.
Black Panther (2005)
Reginald Hudlin and John Romita Jr. dig into Wakandan history during their time on Black Panther. Wondering how previous Panthers interacted with the Marvel Universe? Want more detail on how and why Wakanda has never been conquered? This is your book.
Also, if you're looking for the definitive modern Klaw/Klaue vs. Panther story, this is it. Even the MCU's spelling of Klaue was taken from a historical sequence in this series. As the series went on, Shuri played a more crucial role, too…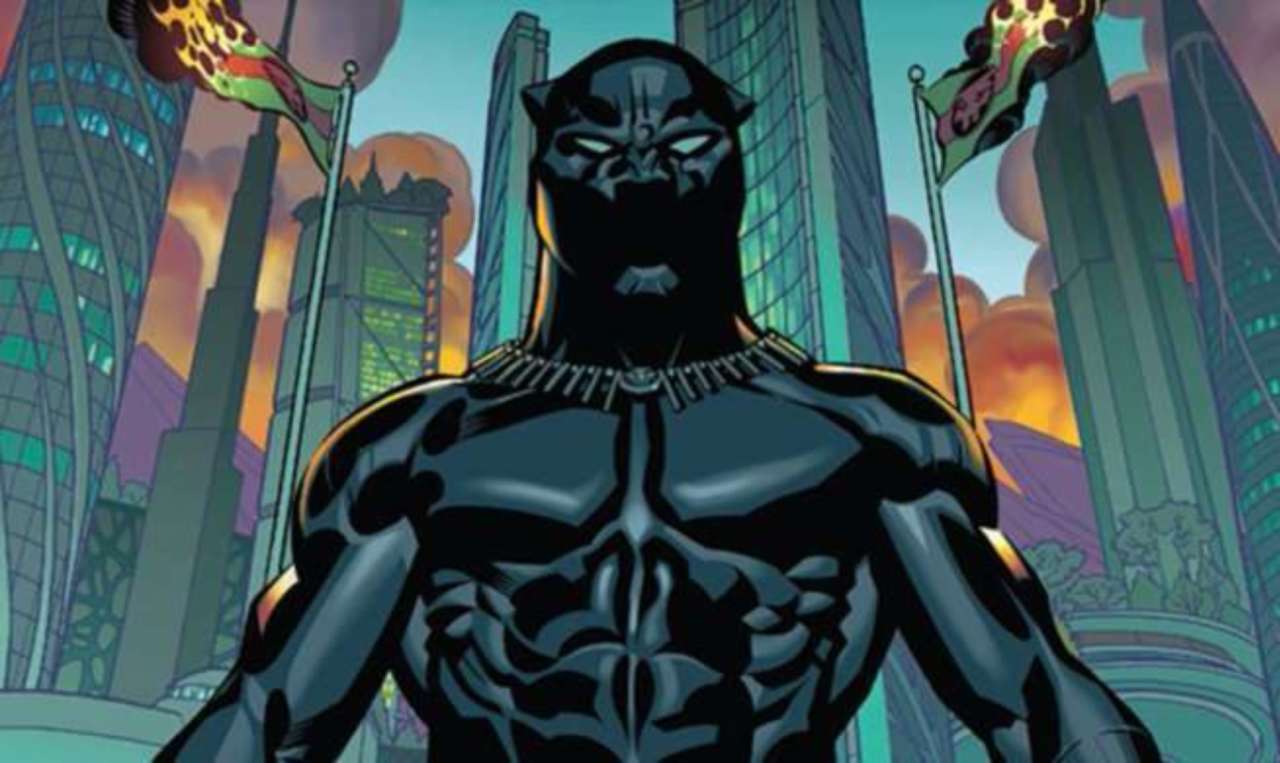 Black Panther (2017)
If Priest was the first to give Wakanda a geography, and Hudlin a history, Coates is the first to make Wakanda a character in the story.
Ta-Nehisi Coates was a huge splash when he was hired. He was known mostly as a political thinker before he joined Marvel, dissecting issues of race and racism for broader audiences in the pages of The Atlantic or The New York Times. He brought the same level of thoughtfulness to his comics work: it's obvious from reading that he hasn't just thought about how T'Challa interacts with the world around him, but how Wakanda fits with the nations around it, how cultures overlap, or what cities go where according to Wakanda's geography.  
That's not to say he's giving us a geography textbook. It's ALSO a politics textbook, with questions about the consent of the governed and an internal argument about why an advanced nation like Wakanda is stuck with a hereditary monarchy. That internal argument is carried out by two rogue Dora Milaje in mech suits, by the way.
Coates has been paired with stellar artists from the first issue, and has given us reunions of The Crew; a villains team of Obadiah Stane, Dr. Faustus, Klaw and Coates' two new villains; and had T'Challa, Shuri and Manifold fighting the snake-headed byproduct of wars between the old gods. This book is outstanding.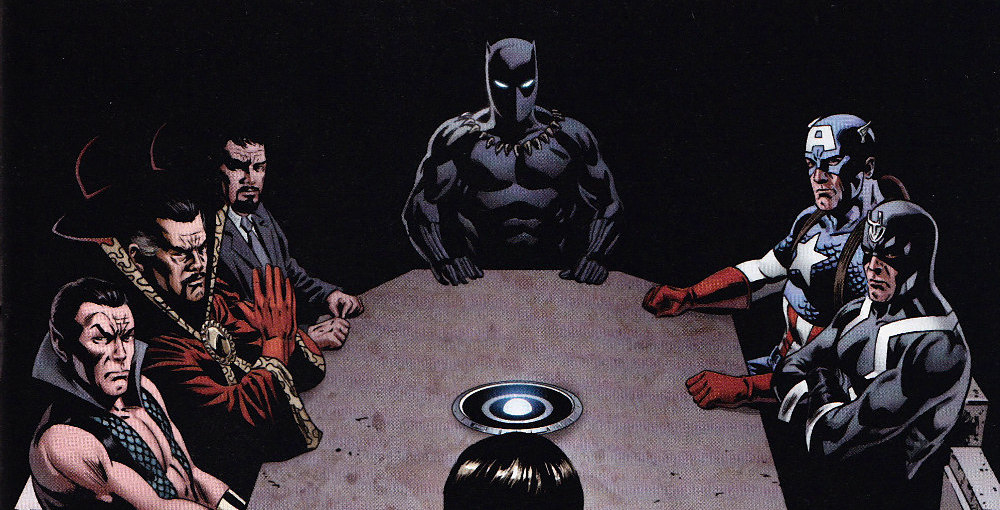 NEW AVENGERS
Make no mistake: this ends up being a Reed Richards/Dr. Doom story, but it's also very much a Black Panther story. It starts in New Avengers #1 in Wakanda, and ends with Secret Wars #8 in the same place.
While the main strand of the story follows Iron Man and Mr. Fantastic as they fail to figure out why the multiverse is collapsing, the second storyline looks at Black Panther and Namor as they try and make the hard decisions to protect the others from having to make them. In this case, the hard decisions involve blowing up Earths full of people.
This run came on the heels of the dreadful Avengers vs. X-Men, where Namor, all hopped up on the Phoenix Force, destroyed huge chunks of Wakanda. Their conflict simmered through this whole story before finally resolving itself on Battleworld in one of the best battles in comics history. This Black Panther story is absolutely worth reading.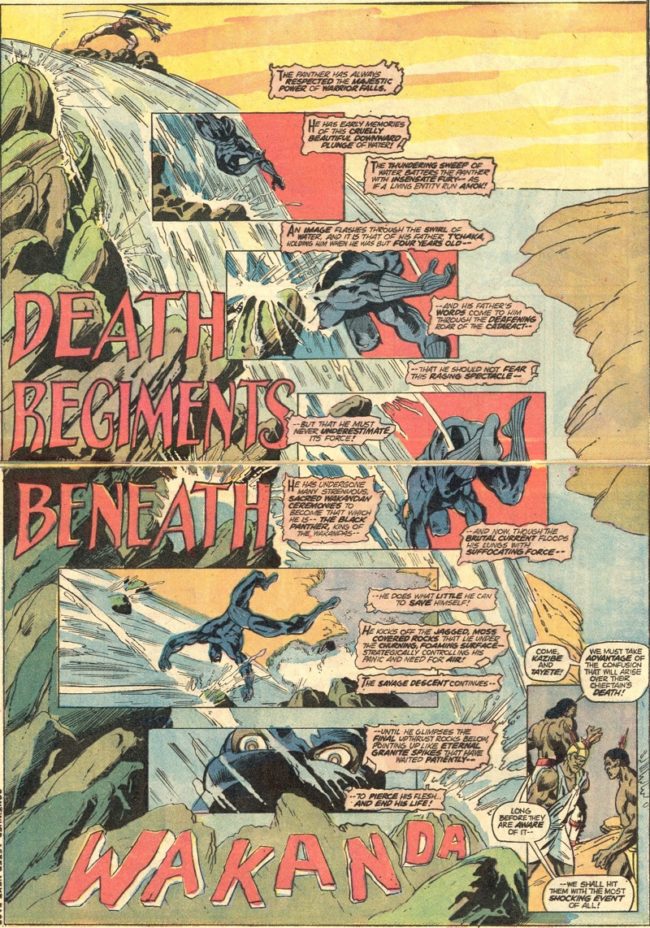 Dig a little deeper…
Movie fans wondering where Erik Killmonger came from might want to check out Panther's Rage. The first truly great Black Panther solo story is a little beholden to 1970s comic book style, but Don McGregor told what was a genuinely epic T'Challa solo adventure, and began to flesh out Wakanda in new and inventive ways. And don't forget about Panther co-creator Jack Kirby's return to the character in the mid-70s, which might feel a little odd for movie fans, but it's still the King working on the King.