Sponsored
Batman Collectibles: A History of Caped Crusader Merchandise
This article is presented by: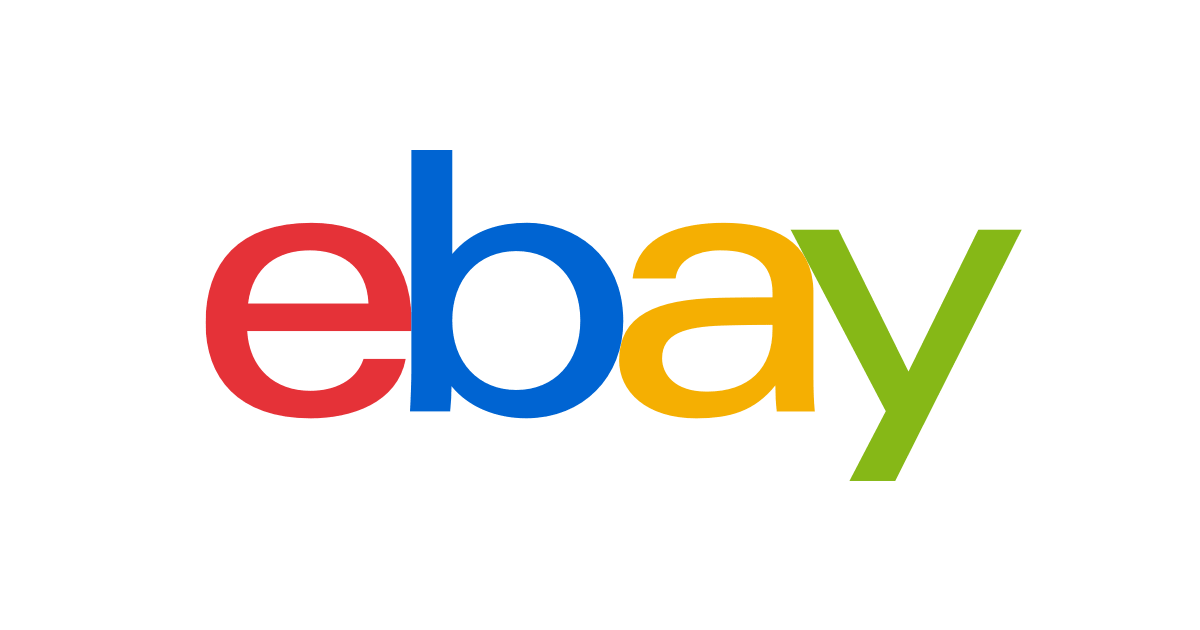 "Criminals are a superstitious cowardly lot, so my disguise must be able to strike terror into their hearts. I must be a creature of the night." Those were the words uttered by Bruce Wayne mere seconds before a bat fortuitously flew in his window, making him decide to take on the persona of a winged mammal to fight crime. In the process, he ushered in a new kind of superhero: One who is just an ordinary man without powers who utilizes his wealth, intelligence, and physicality to bring evildoers to justice. 
The Caped Crusader's origin is so firmly embedded into our cultural landscape that even those only vaguely familiar with comics lore could easily recount it for you, so I won't waste time recapping it here. What I will say however is that Batman – created by Bob Kane and Bill Finger in 1939 – is a DC Comics powerhouse whose longevity is matched by his continued popularity.
With The Batman bringing another cinematic adaptation of the Dark Knight's exploits to the big screen, we thought we'd present this overview of noteworthy Batman collectibles over the years. Viewed together, they paint a portrait of how Batman merchandise has evolved and reinvented itself…just as the character has himself.
Detective Comics #27
While owning the first printing of Batman's debut is a rich man's game, there have been a variety of reprints over the years that will set you back anywhere from $10 to hundreds of dollars. But can you really put a price on comic history? Yes. Unless of course you actually are Bruce Wayne, and that would just be weird.
Buy Detective Comics #27 here!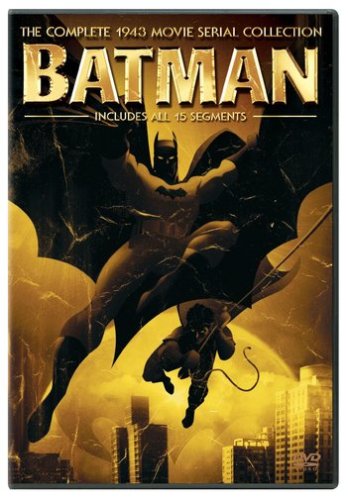 Batman 1943 Serial
Batman historians and curious fans alike should make some time to seek out the 1943 movie serial, which was the first time the character was featured on the big screen. Although it suffers from cultural insensitivity due to it being released against the backdrop of World War II, it does give a fascinating glimpse into how Batman was seemingly born to be a movie star.
Batman Shooting Arcade
The golden age of Batmania coincided with the Caped Crusader's campy 1960s TV series, one that launched a merchandise craze that was even bigger than the consumer onslaught heralded by Tim Burton's 1989 films. As such, the era gave us a variety of cool, head-scratching playthings like this shooting gallery from Marx Toys – one that is especially bizarre due to Batman's refusal to use guns.
Buy Batman Shooting Arcade here!
Topps 1966 Trading Cards
Widely considered to be the greatest non-sport line of line of trading cards ever, Topps' 1966 Batman range featured gorgeous illustrations of Batman and his foes by legendary painter Norman Saunders. So popular are these cards that even the 1989 reprint set is a much-demanded (and pricey) collectible.
Batman and Robin LP
We could easily do an entire list full of quickie LPs pushed to market as a response to the success of the Batman series. A particular favorite is this fun and funky album that is credited to "the sensational guitars of Dan and Dale" that features members of Blood, Sweat and Tears and the Sun Ra Arkestra. Perfect for your next Bat happening!
Nomura Wind Up Batman
The problem with being a collector is that you might not know that something exists, but once you find out it does you can't live without it. Case in point, this groovy wind-up Batman from Japan's Nomura Toys.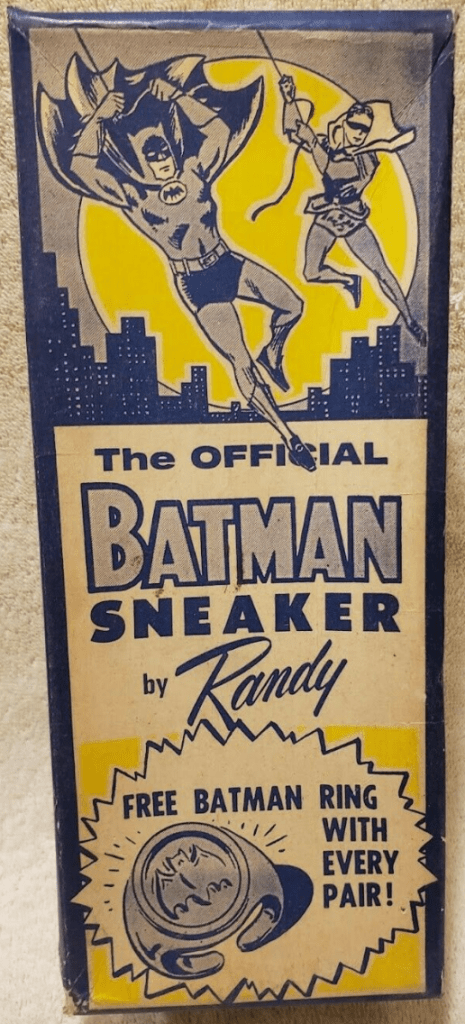 Batman Sneakers
In 1966, the Randy shoe company released "The Official Batman Sneaker." Packaged in an eye-catching box full of great graphics, the shoes themselves were slip-loaf loafer/sneaker hybrids with a circular picture of Batman on them. The mind boggles at what outdoor fun a pair of these kicks could experience.
Mego Batman
In the 1970s, Mego was the ultimate source of superhero toys. This Batman figure, complete with its easy-to-lose soft goods, still makes collectors drool. Simple, perfect and absolute classic, this is what all merch should aspire to be.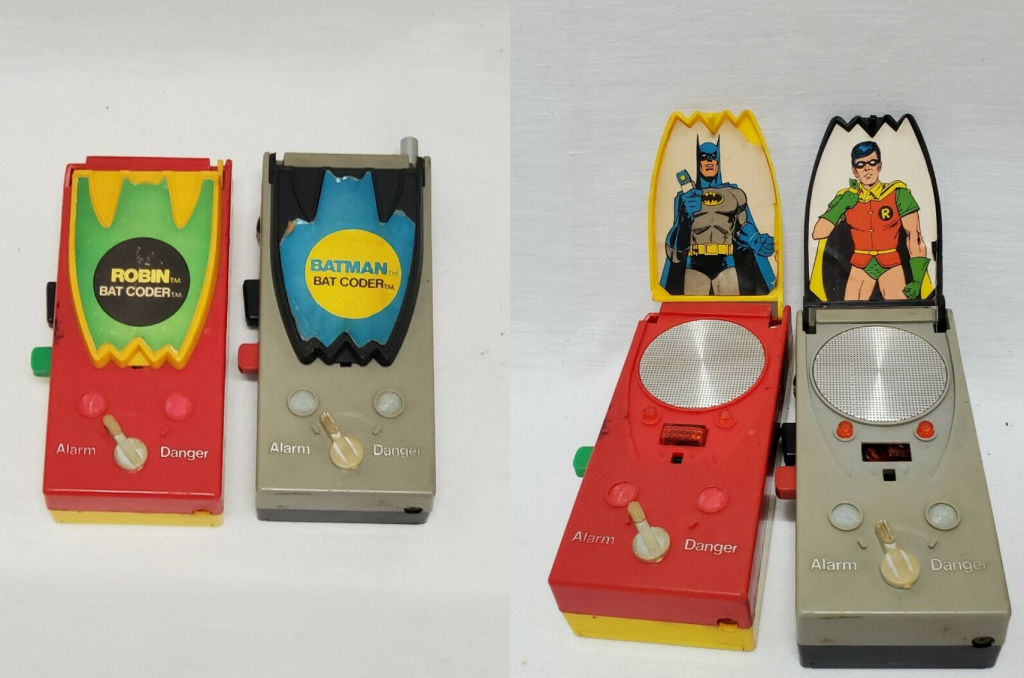 Batman and Robin Bat-coders
Also from Mego, these Bat-coders were fully functional walkie talkies that gave kids of the late '70s the chance to feel like they were assisting the Caped Crusader and Boy Wonder on their latest crime-fighting caper.
Buy Batman and Robin Bat-coders here!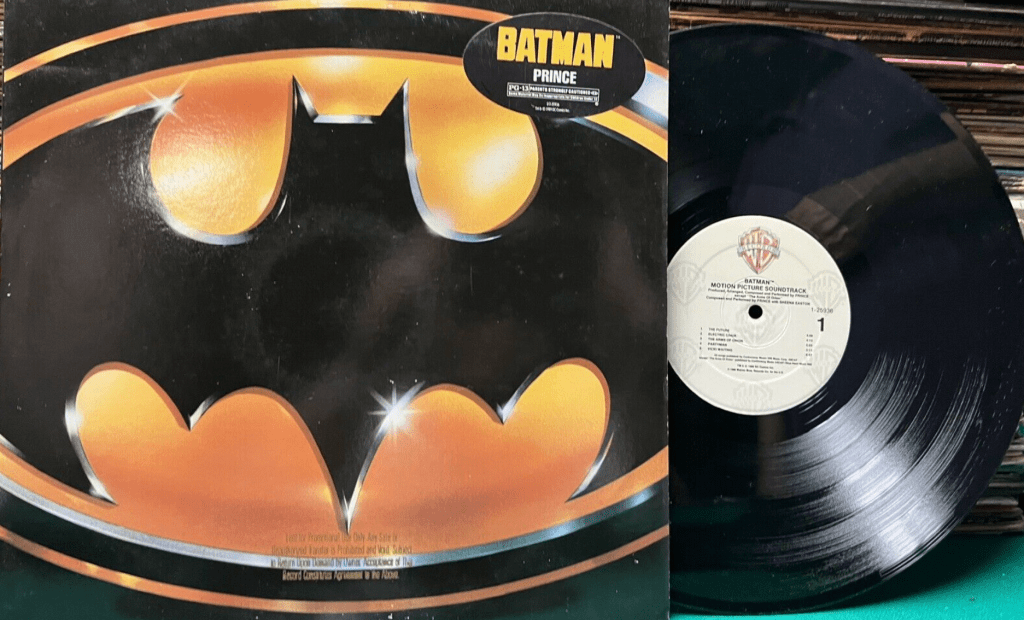 Batman Original Motion Picture Soundtrack
There's an urban legend claiming that Prince was approached to do the Howard the Duck soundtrack but turned it down stating that he would never create music for a comic book movie. Is it false? Almost certainly, but it's still a fun tale in light of how His Purpleness went on to create the coolest comic movie soundtrack ever for Tim Burton's 1989 Batman film. This LP is full of more bangers that a bumper car ride, and it still sounds ahead of its time over 30 years on from it's initial release. Get the funk up!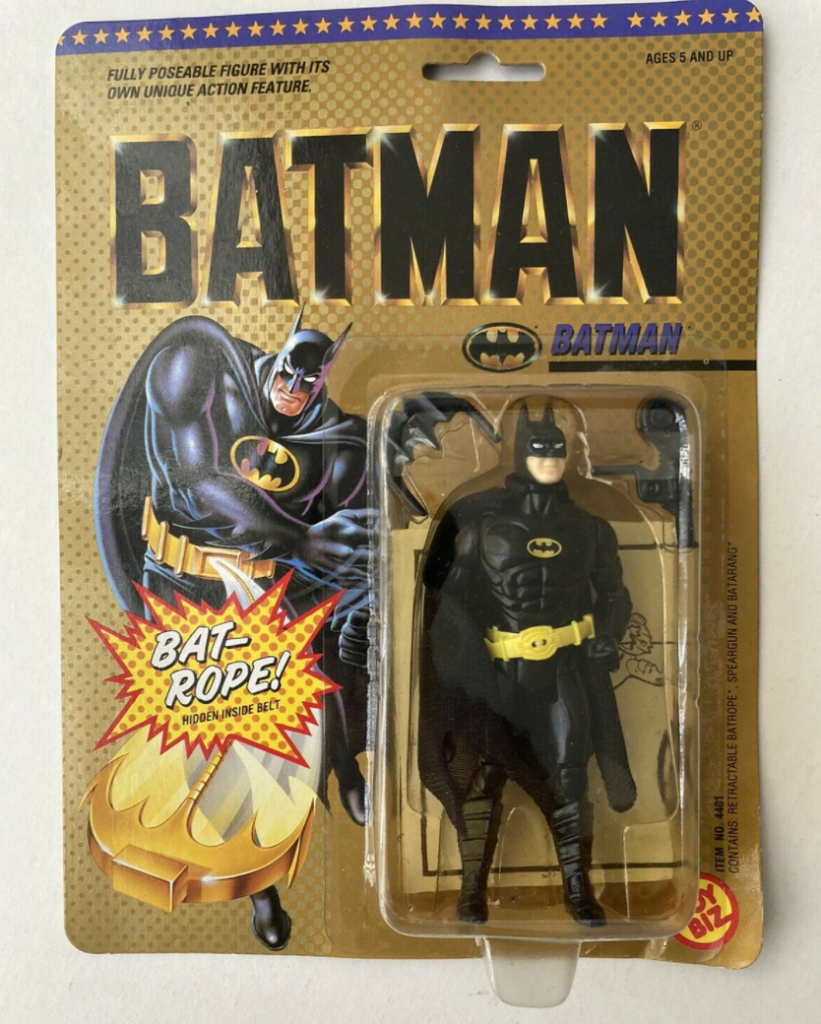 Toy Biz Batman Action Figure
By the late 1980s, the action figure industry was in a bit of a lull. Star Wars was (for the time) over, and old stalwarts like Masters of the Universe and G.I. Joe were spinning their wheels. While Teenage Mutant Ninja Turtles were flying off the shelves, a classic quietly returned to the pegs when Toy Biz's Batman line hit stores in conjunction with the Michael Keaton blockbuster. Make no mistake, the scant figures in this line (Bob the Goon, anyone?) were hardly the greatest, there was an absolute magic that occurred when you walked into a retailer and were greeted by the sight of Batman in his stunning black suit. It evoked a sense of absolute wonder and possibility, one that can only be matched by the imagination of the kids who took this figure home.
Buy the Toy Biz Batman Action FIgure here!
The Batman DC Multiverse Action Figure
Almost 85 years after Batman debuted, kids are still enraptured by his adventures. The latest figure bearing Robert Pattinson's likeness from the new film uses computerized tooling and articulation to enhance play, but at its heart it is simply another great Batman toy. And you know what? That's really comforting.