News
Batman: Black and White Anthology Series Returns in December
The awards bait Batman anthology returns with a killer list of artists.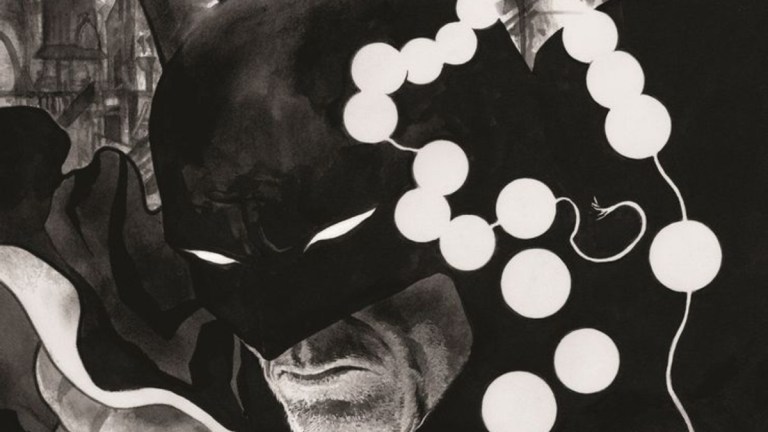 Batman: Black and White is an almost 25-year-old anthology series that gave titans of the industry, brilliant artists and writers, a chance to go wild and show off what they could do with the Dark Knight and his world. While the series has been around since 1996, Batman: Black and White has been on hiatus since 2014, but that's about to change in December.
The anthology returns with a new volume on Dec. 8, as announced by DC Comics. The oversized book will run for six issues and each 48-page issue will feature new short stories from an incredible collection of creators. The first issue features covers from long-time Batman artist and Dark Nights: Death Metalhead Greg Capullo; a Talia cover from Peach Momoko; and one from "The Black Glove"'s JH Williams.
The list of writers is impressive — Paul Dini, Tim Seeley, Tom King, G. Willow Wilson, Chip Zdarsky, and current Bat-scribe James Tynion IV — but if this new volume is anything like prior editions, the art is going to be what makes this a classic. Artists on this new run of Batman: Black and White include:
Andy Kubert
classic horror-tinged Batman artist Kelley Jones
Pretty Deadly's Emma Rios
Gabriel Hardman, recently of the terrific Green Lantern: Earth One books
JH Williams
Guardians of the Galaxy's Nick Bradshaw
Moon Knight's Greg Smallwood
Sophie Campbell, from the excellent Jem and the Holograms and Teenage Mutant Ninja Turtles
Immortal Iron Fist's David Aja
criminally underrated Bilquis Evely, who should have won an armful of awards for The Dreaming
the artist behind one of the best Secret Wars tie ins, Dustin Weaver
Martian Manhunter's mad genius, Riley Rossmo
Silver Surfer Black's totally different mad genius, Tradd Moore
and 12 Angry Batmen's Lee Weeks
Every single artist on that list is bananas and only slightly more bananas than the lineup from the original two runs. The most recent volume from 2014 included folks like Becky Cloonan, Paolo Rivera, Javier Pulido, Mike Allred (WORKING IN BLACK AND WHITE!!!), Damion Scott, Dustin Nguyen, Neal Adams, and Rafael Grampa, among many others. And the first volume was even more ridiculous: Bill Sienkiewicz, Brian Stelfreeze, Matt Wagner, Walter Simonson, Simon Bisley, Joe Kubert, Howard Chaykin, and Akira's Katsuhiro Otomo. It's on DC Universe right now and by reading this, you agree to use whatever free preview you might have to go read those books right now.
Batman: Black and White is one of the best comics ideas anyone's ever had and if this new volume is executed anywhere near as well as past editions, expect multiple Eisner nominations to come from this comic. Just look at these previews: