Sponsored
Zoey Punches the Future in the Dick: The Fast Franchise Meets Diablo Cody
Zoey Punches the Future in the Dick is a fun romp into a world that's just a little bit batshit!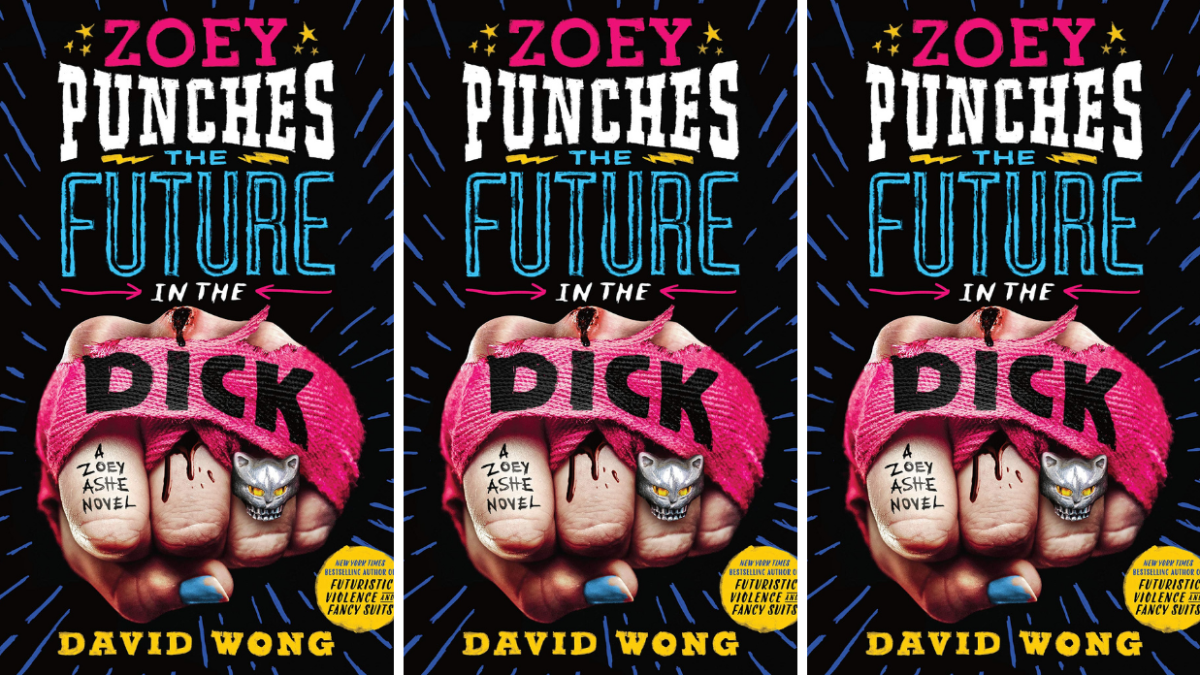 This article is sponsored by St. Martin's Press.
Zoey Punches the Future in the Dick is the fun and fast-paced second book in the Zoey Ashe series by David Wong, writer of the John Dies at the End series. It picks up a year after the events in the first book, 2015's Futuristic Violence and Fancy Suits, and follows Zoey Ashe and her Ashe Security team as the protagonist continues to adjust to her immense wealth and power.
Action-packed and full of humor, Zoey Ashe is Diablo Cody meets the Fast franchise. Fans of snarky protagonists and action that borders on the absurd will delight in this romp through the gaudy, technologically advanced Vegas-like city of Tabula Ra$a, a veritable gangsters paradise. Though this is the second entry in the series, Futuristic Violence isn't a necessary prerequisite to enjoy the story. But it will make you want to go back and find out how we got here.
How did we get here? Zoey Ashe is a small-town barista who inherits a criminal empire after the death of her absentee father, Arthur Livingston. She goes from living in a trailer park with her smelly cat Stench Machine to living in an estate, with billions of ill-gotten dollars at her disposal. She wants to go legit, but it's a daunting task, and she has to continue on with business as usual while she works toward changing her company from inside. Her sudden wealth and overwhelming power have made her a divisive presence in the city of Tabula Ra$a, and she has to deal with trolls and vitriol on a constant basis.
Zoey is constantly harassed by an "anti" group called The Blowback who call her a cow, moo at her in public, and spend an unhealthy amount of time being antagonistic towards her and her company. They see her as a spoiled rich brat whose unearned money and power give her carte blanche to do anything. It's a classic "haves" versus "have-nots" heightened by the always-on cameras in the city that follow Zoey and her detractors, which turn the conflict into theater.
Tabula Ra$a is a near-futuristic wild-west city in Utah that is highly technologically advanced . It is a self-governed city run by the rich, that has loose laws and even looser enforcement, and it's a fun playground for Zoey and her team to operate in. There are functionally few limits to what can be done within the story, and Wong takes full advantage of the setting by putting Zoey and her crew in Grand Theft Auto-like criminal mayhem. With advanced weaponry, biological enhancements, and all manner of gadgetry, Zoey Ashe and her team take on the city with a vast array of toys.
When Zoey inherits her late father's cash and criminal empire, she also gets his top-notch team, which includes Will Blackwater, Echo Ling, Andre Knox, Budd Billingsley, and katana-wielding Wu. They support Zoey, and shelter her from the seedier aspects of her businesses, protecting her both physically and emotionally, though being "kind" is not the point.
After a hostage situation plays out in front of the world's electric eyes, Zoey becomes the target of a smear campaign that includes cannibalism and organ-harvesting conspiracies. She is painted as the enemy of the everyman and embroiled in a battle of reputation against other major players in Tabula Ra$a. Things escalate, and the ensuing battles threaten to destabilize the city. Zoey and her team investigate the people behind the growing animosity aimed at her, and discover a whole world with its own rules that she is now unwittingly entangled with. The team work to quell any dissent that threatens Zoey, but they are playing catch up as The Blowback takes on a life of its own.
As Zoey becomes more involved in the business she's inherited, she's entrenched deeper into the shady inner workings of the city and the criminals who run it. She has to reckon with her late father's nefarious influence and take responsibility for her complicity once gaining control. Zoey is in a fight against trolls and naysayers while having to confront the real possibility that they're right, or at least partially so.
Zoey's newfound power challenges her innate decency, but being decent doesn't make her a pushover. Zoey is a relatable, smartass, self-deprecating, gen-z/millennial threshold dweller. What she lacks in life experience she makes up for in youthful hubris. She wants to make the world a better place while living off the spoils of a man who made it worse. But now with control of his vast criminal enterprise, she has a chance to right his wrongs. But doing that is work.
Zoey Punches the Future in the Dick is an entertaining story that explores wealth and influence through action and humor. In this sequel, Zoey is still coming into her own as the head of a highly successful criminal organization in a near-lawless city, and she's only just beginning to grasp the obscene amount of power she wields. She's confronted with new and worse things her company is responsible for and is always having to examine her and her company's role in contributing to people's suffering. But amidst her existential crisis, Zoey and her team are put in increasingly ludicrous scenarios that play out like GTA missions, which keep the story grounded in fun and absurdity.
Zoey Punches the Future in the Dick is a fun romp into a world that's just a little bit batshit! It's a futuristic dystopia that's far enough removed from real life to offer escape, and its fast pace and action beats make it a thoroughly enjoyable read.
Zoey Punches the Future in the Dick is out now! Find out more about how to purchase here.