Features
Top New Horror Books in July 2020
Here are the horror books we're most anticipating in June 2020. Do you have any to add to the list?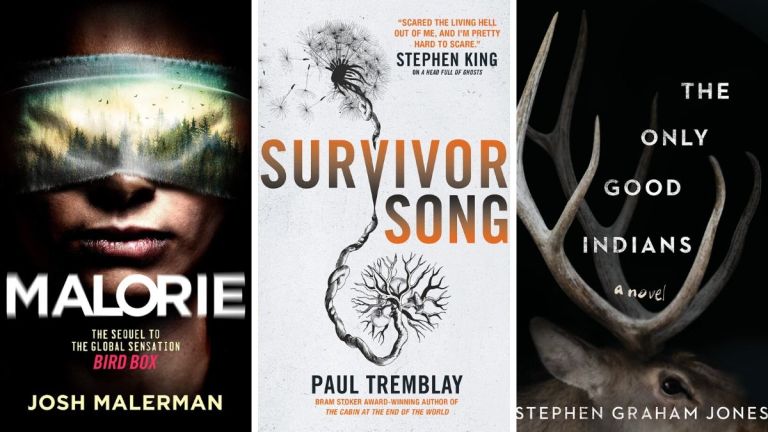 There's so much to look forward to in our speculative fiction future. Here are some of the horror books we're most excited about and/or are currently consuming…
Join the Den of Geek Book Club!
Top New Horror Books In July 2020
Survivor Song by Paul Tremblay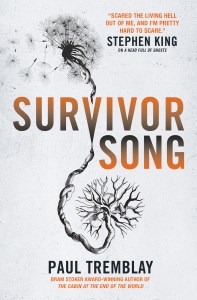 Type: Novel
Publisher: William Morrow/Titan Books
Release Date: July 7
Den of Geek says: The latest from the master of sad horror Paul Tremblay is one of his best yet. It is however, disturbingly prescient. Following an outbreak of fast acting rabies, hospitals are short of PPE and citizens are on lockdown. But when Doctor Ramola's heavily pregnant best friend Natalie is bitten, the two must go on a perilous journey to save her unborn child. It's gorgeously written, very moving and a little bit disturbing during a pandemic.
Publisher's summary: A riveting novel of suspense and terror from the Bram Stoker award-winning author of The Cabin at the End of the World and A Head Full of Ghosts.
When it happens, it happens quickly.
New England is locked down, a strict curfew the only way to stem the wildfire spread of a rabies-like virus. The hospitals cannot cope with the infected, as the pathogen's ferociously quick incubation period overwhelms the state. The veneer of civilization is breaking down as people live in fear of everyone around them. Staying inside is the only way to keep safe.
But paediatrician Ramola Sherman can't stay safe, when her friend Natalie calls, her husband is dead, she's eight months pregnant, and she's been bitten. She is thrust into a desperate race to bring Natalie and her unborn child to a hospital, to try and save both their lives.
Their once familiar home has become a violent and strange place, twisted into a barely recognisable landscape. What should have been a simple, joyous journey becomes a brutal trial.
The Only Good Indians by Stephen Graham Jones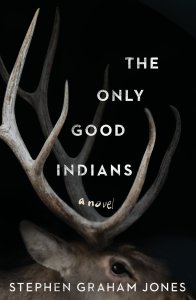 Type: Novel
Publisher: Gallery/Titan Books
Release date: July 21
Den of Geek says: Stephen Graham Jones is being touted as the next big thing in horror circles and while he's had more than 20 books published it's likely this will be his big breakout hit. The Only Good Indians follows a group of Blackfeet Native Americans who are paying the price for an incident during an Elk hunt a decade ago. Social commentary, a supernatural revenge plot and an intimate character study mix in this literary horror with something to say which brings genuine chills.
Publisher's summary: Adam Nevill's The Ritual meets Liane Moriarty's Big Little Lies in this atmospheric gothic literary horror.
Ricky, Gabe, Lewis and Cassidy are men bound to their heritage, bound by society, and trapped in the endless expanses of the landscape. Now, ten years after a fateful elk hunt, which remains a closely guarded secret between them, these men and their children must face a ferocious spirit that is coming for them, one at a time. A spirit which wears the faces of the ones they love, tearing a path into their homes, their families and their most sacred moments of faith.
The Only Good Indians, charts Nature's revenge on a lost generation that maybe never had a chance. Cleaved to their heritage, these parents, husbands, sons and Indians, these men must fight their demons on the fringes of a society that has no place for them.
Malorie by Josh Malerman
Type: Novel
Publisher: Del Rey/Orion
Release date: July 21
Den of Geek says: This is the sequel to Bird Box, the brilliant horror-thriller which spawned a not-that-great Netflix movie that was nonetheless extraordinarily successful. The original imagines a world populated by monsters – if you look at them you instantly lose your mind and harm yourself or others. The sequel finds Malorie and the two children years later – the kids are now teens who've never known a world other than the one behind the blindfold while Malorie still remembers the world before it went mad. A character study as well as a tense, paranoid horror story, this is one of the most anticipated horrors of the year.
Publisher's summary: The much-anticipated Bird Box sequel
In the seventeen years since the 'creatures' appeared, many people have broken that rule. Many have looked. Many have lost their minds, their lives, their loved ones.
In that time, Malorie has raised her two children – Olympia and Tom – on the run or in hiding. Now nearly teenagers, survival is no longer enough. They want freedom.
When a census-taker stops by their refuge, he is not welcome. But he leaves a list of names – of survivors building a future beyond the darkness – and on that list are two names Malorie knows.
Two names for whom she'll break every rule, and take her children across the wilderness, in the hope of becoming a family again.
Top New Horror Books In June 2020
Devolution by Max Brooks
Type: Novel
Publisher: Century
Release date: 06/16/2020
Den of Geek says: If anyone's going to make a book about Bigfoots (Bigfeet?) not only genuinely very scary but also entirely believable it's Max Brooks. The author of widely acclaimed World War Z weaves a found journal, snippets of interviews and the odd real life example together to tell the story of the remote eco-community of Greenloop who is isolated after a volcanic eruption and faces a deadly new threat brought on by changes in the ecosystem. It's a cautionary tale, and a sometimes satirical fable of the dangers of underestimating nature.
Publisher's summary: As the ash and chaos from Mount Rainier's eruption swirled and finally settled, the story of the Greenloop massacre has passed unnoticed, unexamined . . . until now.
But the journals of resident Kate Holland, recovered from the town's bloody wreckage, capture a tale too harrowing – and too earth-shattering in its implications – to be forgotten.
In these pages, Max Brooks brings Kate's extraordinary account to light for the first time, faithfully reproducing her words alongside his own extensive investigations into the massacre and the beasts behind it, once thought legendary but now known to be terrifyingly real.
Kate's is a tale of unexpected strength and resilience, of humanity's defiance in the face of a terrible predator's gaze, and inevitably, of savagery and death.
Yet it is also far more than that.
Because if what Kate Holland saw in those days is real, then we must accept the impossible. We must accept that the creature known as Bigfoot walks among us – and that it is a beast of terrible strength and ferocity.
Part survival narrative, part bloody horror tale, part scientific journey into the boundaries between truth and fiction, this is a Bigfoot story as only Max Brooks could chronicle it – and like none you've ever read before.
The Secret of Cold Hill by Peter James
Type: Novel (paperback)
Publisher: Pan; Main Market edition
Release date: 06/25/2020
Den of Geek says: This is the follow up to 2015's The House on Cold Hill, a supernatural thriller from multi-award winning British crime writer Peter James. It's a modern take on a classic ghost story set in the Sussex countryside – the sequel sees the haunted Georgian mansion of the first book destroyed and new houses built in its place, where new families face malevolent forces from the past.
Publisher's summary: From the number one bestselling author, Peter James, comes The Secret of Cold Hill. The spine-chilling follow-up to The House on Cold Hill. Now a smash-hit stage play.
Cold Hill House has been razed to the ground by fire, replaced with a development of ultra-modern homes. Gone with the flames are the violent memories of the house's history, and a new era has begun.
Although much of Cold Hill Park is still a construction site, the first two families move into their new houses. For Jason and Emily Danes, this is their forever home, and for Maurice and Claudette Penze-Weedell, it's the perfect place to live out retirement. Despite the ever present rumble of cement mixers and diggers, Cold Hill Park appears to be the ideal place to live. But looks are deceptive and it's only a matter of days before both couples start to feel they are not alone in their new homes.
There is one thing that never appears in the estate agent brochures: nobody has ever survived beyond forty in Cold Hill House and no one has ever truly left…
Top New Horror Books In April 2020
The Southern Book Club's Guide to Slaying Vampires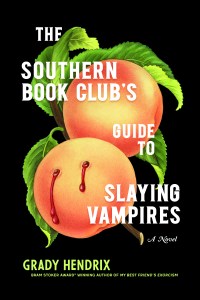 Type: Novel
Publisher: Quirk Books
Release Date: 04/07/2020
Den Of Geek says: The latest novel from Grady Hendrix is set in the same world as his masterful horror My Best Friend's Exorcism, this time focusing on the wives and mothers of Charleston, South Carolina. Occupied with looking after their families and keeping up appearances, one group of women have to step up and fight when a charismatic stranger comes to town. A modern vampire novel packed with heart (and gore) this is another hit from one of the most exciting horror writers around.
Publisher's summary: Steel Magnolias meets Dracula. A haunting, hair-raising, and ultimately heartwarming story set in the 1990s, the novel follows a women's true-crime book club that takes it upon themselves to protect their community when they detect a monster in their midst. Deftly pitting Dracula against a seemingly prim and proper group of moms, Hendrix delivers his most complex, chilling, and exhilarating novel yet.
With Grady's unique comedic timing and adoration of the horror genre, The Southern Book Club's Guide to Slaying Vampires is a pure homage to his upbringing, the most famous horror book of all, and something we can all relate to – the joy of reading.
Eden By Tim Lebbon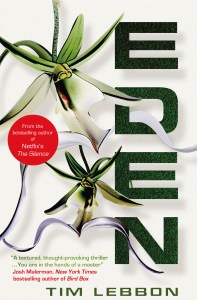 Type: Novel
Publisher: Titan Books
Release Date: 04/07/2020
Den of Geek says: From the author of The Silence (which is basically A Quiet Place, published several years before A Quiet Place came out) comes another eco-horror which sees pollution and climate change force humanity to create locked off zones which are off-limits to people. Eden follows a group of adventurers who break the rules and enter one of the zones where nature has taken hold and begun to rebel. Should appeal to fans of Bird Box and Annihilation.
Publisher's summary: In a time when Earth's rising oceans contain enormous islands of refuse, the Amazon rainforest is all-but destroyed, and countless species edge towards extinction, the Virgin Zones were established in an attempt to combat the change. Off-limits to humanity and given back to nature, these thirteen vast areas of land were intended to become the lungs of the world.
Dylan leads a clandestine team of adventurers into Eden, the oldest of the Zones. Attracted by the challenges and dangers posed by the primal lands, extreme competitors seek to cross them with a minimum of equipment, depending only on their raw skills and courage. Not all survive.
Also in Dylan's team is his daughter Jenn, and she carries a secret – Kat, his wife who abandoned them both years ago, has entered Eden ahead of them. Jenn is determined to find her mother, but neither she nor the rest of their tight-knit team are prepared for what confronts them. Nature has returned to Eden in an elemental, primeval way. And here, nature is no longer humanity's friend.
Eden is a triumphant return to the genre by one of horror's most exciting contemporary voices, as Tim Lebbon offers up a page-turning and adrenaline-fuelled race through the deadly world of Eden, poignantly balanced with observations on humanity's relationship with nature, and each other. Timely and suspenseful, Eden will seed itself in the imagination of the reader and continue to bloom long after the last page.
The Wise Friend By Ramsey Campbell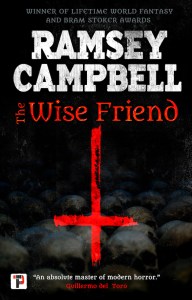 Type: Novel
Publisher: Flame Tree Press
Release date: 04/23/2020
Den Of Geek says: The latest from British horror legend is a mystical tale of the occult which hints at the monstrous. Campbell is regarded by many as one of the most important horror writers of his generation. Influenced by H P Lovecraft and M R James, and influencing many horror writers who came after him, he's published more than 30 novels. His latest sounds like a treat.
Publisher's Summary: Patrick Torrington's aunt Thelma was a successful artist whose late work turned to- wards the occult. While staying with her in his teens he found evidence that she used to visit magical sites. As an adult he discovers her journal of her explorations, and his teenage son Roy becomes fascinated too.
His experiences at the sites scare Patrick away from them, but Roy carries on the search, together with his new girlfriend. Can Patrick convince his son that his increasingly terrible suspicions are real, or will what they've helped to rouse take a new hold on the world?
The Book of Koli – The Rampart Trilogy, Book 1, By M.R. Carey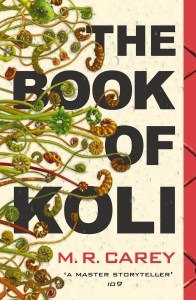 Type: Novel
Publisher: Orbit
Release date: 04/14/2020
Den of Geek says: This is the first book in a new trilogy by M.R. Carey who wrote excellent zombie novel The Girl With All The Gifts. This is an eco-horror/sci-fi which sounds like Tim Lebbon's Eden in reverse – in Carey's book it's everything outside a small village that's a threat – and both books are aimed at fans of Jeff Vandermeer's Southern Reach trilogy. Little surprise that horror writers are turning their attention to the environment in these frightening times and in Carey's careful hands (there was an element of nature evolving in Girl With All The Gifts) this should be a new world worth visiting.
Publisher's summary: EVERYTHING THAT LIVES HATES US . . .
Beyond the walls of the small village of Mythen Rood lies an unrecognisable landscape. A place where overgrown forests are filled with choker trees and deadly seeds that will kill you where you stand. And if they don't get you, the Shunned men will. Koli has lived in Mythen Rood his entire life. He believes the first rule of survival is that you don't venture too far beyond the walls.
He's wrong.
The Book of Koli begins a breathtakingly original new trilogy set in a strange
and deadly world of our own making.
Top New Horror Books In March 2020
The Deep by Alma Katsu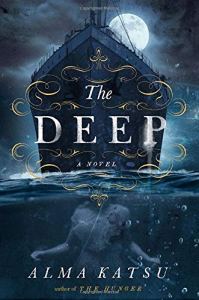 Type: Novel
Publisher: G.P. Putnam's Sons
Release date: 03/10/2020
Den Of Geek says: A ghost story set against the backdrop of the sinking of the Titanic is a strong premise to set out with, from a writer who has good form with mixing horror with history after The Hunger which centres around The Donner Party, a group of pioneers in the middle of the 19th century, some of who resorted to cannibalism when their group got stranded. Alma Katsu is an author who "Makes the supernatural seem possible" according to Publishers Weekly, and the weaving in of real people with this creepy sounding tale of a nurse who survives the Titanic only to meet another passenger who couldn't possibly have made it out is highly appealing.
Publisher's summary: This is the only way to explain the series of misfortunes that have plagued the passengers of the ship from the moment they set sail: mysterious disappearances, sudden deaths. Now suspended in an eerie, unsettling twilight zone during the four days of the liner's illustrious maiden voyage, a number of the passengers – including millionaires Madeleine Astor and Benjamin Guggenheim, the maid Annie Hebbley and Mark Fletcher – are convinced that something sinister is going on . . . And then, as the world knows, disaster strikes.
Years later and the world is at war. And a survivor of that fateful night, Annie, is working as a nurse on the sixth voyage of the Titanic's sister ship, the Britannic, now refitted as a hospital ship. Plagued by the demons of her doomed first and near fatal journey across the Atlantic, Annie comes across an unconscious soldier she recognises while doing her rounds. It is the young man Mark. And she is convinced that he did not – could not – have survived the sinking of the Titanic…
The Faceless Old Woman Who Secretly Lives in Your Home: A Welcome to Night Vale Novel By Joseph Fink and Jeffrey Cranor
Type: Novel
Publisher: Harper Perennial
Release date: 03/24/2020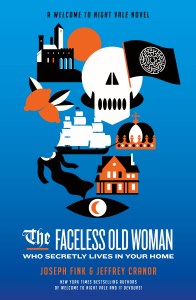 Den Of Geek says: The third novel in the Welcome To Night Vale series, which spun-off the wildly popular podcast of the same name promises more eerie, weird, wistful but wonderful musings delving into the enigmatic character of The Faceless Old Woman and exploring Night Vale's history. It's written by Fink and Cranor, the creators of the podcast, and has already garnered widespread acclaim. Fans of Twin Peaks should definitely check out Night Vale.
Publisher's summary: From the New York Times bestselling authors of Welcome to Night Vale and It Devours! and the creators of the #1 podcast, comes a new novel set in the world of Night Vale and beyond.
In the town of Night Vale, there's a faceless old woman who secretly lives in everyone's home, but no one knows how she got there or where she came from . . . until now. Told in a series of eerie flashbacks, the story of The Woman is revealed, as she guides, haunts and sabotages an unfortunate Night Vale resident named Craig. In the end, her dealings with Craig and her history in nineteenth century Europe will come together in the most unexpected and horrifying way.
Part The Haunting of Hill House, part The Count of Monte Cristo, and 100% about a faceless old woman who secretly lives in your home.
Cursed: An Anthology edited by Marie O'Regan and Paul Kane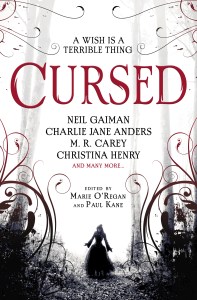 Type: Anthology
Publisher: Titan books
Release date: 03/03/2020
Den Of Geek says: some of our favourite horror writers assemble for this collection of stories surrounding the concept of the curse. Some are updates of well known fairy tales, some are brand new mythologies and all come together in a magical, mythical, mystical collection that should appeal to fans of dark fables and traditional folk horror. Authors include Neil Gaiman, M R Carey, Christina Henry and Tim Lebbon.
Publisher's Summary: It's a prick of blood, the bite of an apple, the evil eye, a wedding ring or a pair of red shoes. Curses come in all shapes and sizes, and they can happen to anyone, not just those of us with unpopular stepparents…
Here you'll find unique twists on curses, from fairy tale classics to brand-new hexes of the modern world – expect new monsters and mythologies as well as twists on well-loved fables. Stories to shock and stories of warning, stories of monsters and stories of magic. Twenty timeless folktales old and new
Top New Horror Books in February 2020
Deathless Divide by Justina Ireland
Type: Novel
Publisher: Balzer + Bray
Release date: 2/4/20
Den of Geek says: Justina Ireland's Dread Nation was one of the most-talked-about YA debuts of 2018, and for good reason! The story of Black zombie hunters in an alternate Reconstruction-era America is already one of the best premises of all time, and Ireland more than follows through on the promise of kickass, sociopolitically cathartic potential—with Dread Nation, and now with Deathless Divide. (We love this one so much, it's also on our Top New YA Books of February 2020 list.)
Publisher's summary: The sequel to the New York Times bestselling epic Dread Nation is an unforgettable journey of revenge and salvation across a divided America.
After the fall of Summerland, Jane McKeene hoped her life would get simpler: Get out of town, stay alive, and head west to California to find her mother.
But nothing is easy when you're a girl trained in putting down the restless dead, and a devastating loss on the road to a protected village called Nicodemus has Jane questioning everything she thought she knew about surviving in 1880s America.
What's more, this safe haven is not what it appears—as Jane discovers when she sees familiar faces from Summerland amid this new society. Caught between mysteries and lies, the undead, and her own inner demons, Jane soon finds herself on a dark path of blood and violence that threatens to consume her.
But she won't be in it alone.
Katherine Deveraux never expected to be allied with Jane McKeene. But after the hell she has endured, she knows friends are hard to come by—and that Jane needs her too, whether Jane wants to admit it or not.
Watching Jane's back, however, is more than she bargained for, and when they both reach a breaking point, it's up to Katherine to keep hope alive—even as she begins to fear that there is no happily-ever-after for girls like her.
Buy Deathless Divide by Justina Ireland on Amazon.
The Boatman's Daughter by Andy Davidson
Type: Novel
Publisher: MCD x FSG
Release date: 2/11/20
Den of Geek says: If it's good enough for Paul Tremblay, it's good enough for us! We love a good atmospheric horror read, and The Boatman's Daughter sounds like it has more atmosphere in one page than most books do in their entirety.
Publisher's summary: A "lush nightmare" (Paul Tremblay) of a supernatural thriller about a young woman facing down ancient forces in the depths of the bayou.
Ever since her father was killed when she was just a child, Miranda Crabtree has kept her head down and her eyes up, ferrying contraband for a mad preacher and his declining band of followers to make ends meet and to protect an old witch and a secret child from harm.
But dark forces are at work in the bayou, both human and supernatural, conspiring to disrupt the rhythms of Miranda's peculiar and precarious life. And when the preacher makes an unthinkable demand, it sets Miranda on a desperate, dangerous path, forcing her to consider what she is willing to sacrifice to keep her loved ones safe.
With the heady mythmaking of Neil Gaiman and the heartrending pacing of Joe Hill, Andy Davidson spins a thrilling tale of love and duty, of loss and discovery. The Boatman's Daughter is a gorgeous, horrifying novel, a journey into the dark corners of human nature, drawing our worst fears and temptations out into the light.
Read The Boatman's Daughter by Andy Davidson on Amazon.
The Sun Down Motel by Simone St. James
Type: Novel
Publisher: Berkley
Release date: 2/18/20
Den of Geek says: Who doesn't love a good creepy motel story? From the author who brought us The Broken Girls, comes another female-driven foray into horror mystery. If you've been digging Nancy Drew or love Sharp Objects, there's more where that came from.
Publisher's summary: Something hasn't been right at the roadside Sun Down Motel for a very long time, and Carly Kirk is about to find out why in this chilling new novel from the USA Today bestselling and award-winning author of The Broken Girls.
Upstate New York, 1982. Viv Delaney wants to move to New York City, and to help pay for it she takes a job as the night clerk at the Sun Down Motel in Fell, New York. But something isn't right at the motel, something haunting and scary.
Upstate New York, 2017. Carly Kirk has never been able to let go of the story of her aunt Viv, who mysteriously disappeared from the Sun Down before she was born. She decides to move to Fell and visit the motel, where she quickly learns that nothing has changed since 1982. And she soon finds herself ensnared in the same mysteries that claimed her aunt.