Features
Top New Science Fiction Books in August 2021
From space opera to near future speculation, science fiction brings us futures beautiful and frightening. Take a look at our top picks for the best new science fiction books to read in August 2021 …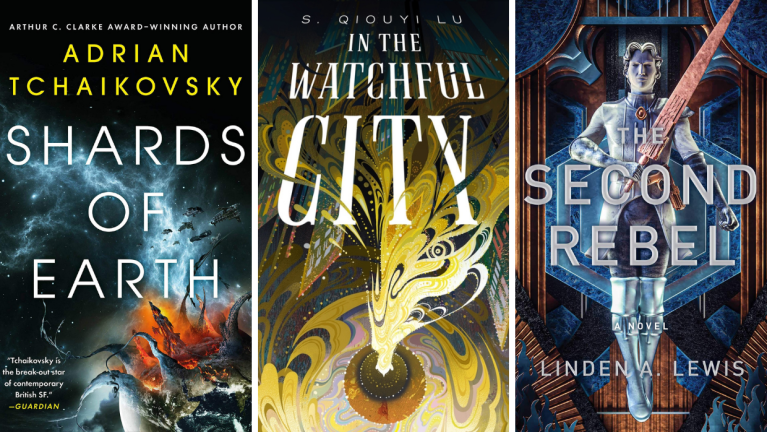 From space opera to near-future speculation, science fiction brings us futures beautiful and frightening. Take a look at our top picks for the best new science fiction books to read in August 2021 …
Shards of Earth by Adrian Tchaikovsky
Type: Novel
Publisher: Orbit
Release date: Aug. 3
Den of Geek says: Tchaikovsky's Children of Time garnered praise and awards for its alien spiders and exploration of big ideas. The beginning of a new series, Shards of Earth looks like a twist on the classic super soldier drama with a focus on what happens after the war.
Publisher's summary: Idris has neither aged nor slept since they remade him in the war. And one of humanity's heroes now scrapes by on a freelance salvage vessel, to avoid the attention of greater powers.
After earth was destroyed, mankind created a fighting elite to save their species, enhanced humans such as Idris. In the silence of space they could communicate, mind-to-mind, with the enemy. Then their alien aggressors, the Architects, simply disappeared—and Idris and his kind became obsolete.
Now, fifty years later, Idris and his crew have discovered something strange abandoned in space. It's clearly the work of the Architects—but are they returning? And if so, why? Hunted by gangsters, cults and governments, Idris and his crew race across the galaxy hunting for answers. For they now possess something of incalculable value, that many would kill to obtain.
Buy Shards of Earth by Adrian Tchaikovsky.
The Second Rebel by Linden A. Lewis
Type: Novel
Publisher: Skybound Books
Release date: Aug. 24
Den of Geek says: The first book in the series, The First Sister, tackled space opera seen through the lens of dangerous women and the dangerous structures that both shape, give power to and restrict them.
Publisher's summary: Astrid has reclaimed her name and her voice, and now seeks to bring down the Sisterhood from within. Throwing herself into the lioness' den, Astrid must confront and challenge the Aunts who run the Gean religious institution, but she quickly discovers that the business of politics is far deadlier than she ever expected.
Meanwhile, on an outlaw colony station deep in space, Hiro val Akira seeks to bring a dangerous ally into the rebellion. Whispers of a digital woman fuel Hiro's search, but they are not the only person looking for this link to the mysterious race of Synthetics.
Lito sol Lucious continues to grow into his role as a lead revolutionary and is tasked with rescuing an Aster operative from deep within an Icarii prison. With danger around every corner, Lito, his partner Ofiera, and the newly freed operative must flee in order to keep dangerous secrets out of enemy hands.
Back on Venus, Lito's sister Lucinia must carry on after her brother's disappearance and accusation of treason by Icarii authorities. Despite being under the thumb of Souji val Akira, Lucinia manages to keep her nose clean…that is until an Aster revolutionary shows up with news about her brother's fate, and an opportunity to join the fight.
Buy The Second Rebel by Linden A. Lewis.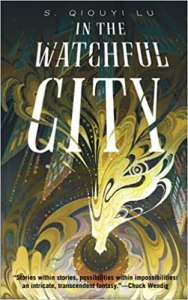 In the Watchful City by S. Qiouyi Lu
Type: Novella
Publisher: Tor.com
Release date: Aug. 31
Den of Geek says: Science-magic that allows people to transform into animals and a city bursting with oddities make this novella stand apart, as does the use of neopronouns.
Publisher's summary: Anima is an extrasensory human tasked with surveilling and protecting Ora's citizens via a complex living network called the Gleaming. Although ær world is restricted to what æ can see and experience through the Gleaming, Anima takes pride and comfort in keeping Ora safe from harm.
When a mysterious outsider enters the city carrying a cabinet of curiosities from around with the world with a story attached to each item, Anima's world expands beyond the borders of Ora to places―and possibilities―æ never before imagined to exist. But such knowledge leaves Anima with a question that throws into doubt ær entire purpose: What good is a city if it can't protect its people?