Features
Top New Fantasy Books in May 2021
Epic fantasy can transport us to entire nations in other worlds, while other stories revisit classic myths. Both are on display in this month's selection of our most anticipated books.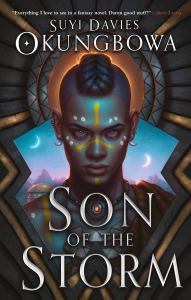 Son of the Storm by Suyi Davies Okungbowa
Type: Novel
Publisher: Orbit
Release date: May 11
Den of Geek says: This Nigerian-inspired fantasy epic from a prolific short fiction author looks bold and inventive. Mysterious warriors and magic bring some spark to a story of a city's mysterious past.
Publisher's summary: In the ancient city of Bassa, Danso is a clever scholar on the cusp of achieving greatness—only he doesn't want it. Instead, he prefers to chase forbidden stories about what lies outside the city walls. The Bassai elite claim there is nothing of interest. The city's immigrants are sworn to secrecy.
But when Danso stumbles across a warrior wielding magic that shouldn't exist, he's put on a collision course with Bassa's darkest secrets. Drawn into the city's hidden history, he sets out on a journey beyond its borders. And the chaos left in the wake of his discovery threatens to destroy the empire.
Buy Son of the Storm by Suyi Davies Okungbowa.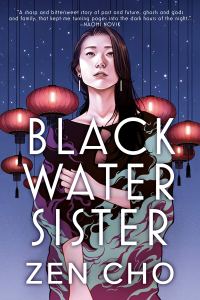 Black Water Sister by Zen Cho
Type: Novel
Publisher: Ace
Release date: May 11

Den of Geek says: Cho's Sorcerer to the Crown was an intriguing debut with a quiet undercurrent of strong characterization. Black Water Sister looks likely to combine that talent for characterization with a more fast-paced story.
Publisher's summary: When Jessamyn Teoh starts hearing a voice in her head, she chalks it up to stress. Closeted, broke and jobless, she's moving back to Malaysia with her parents – a country she last saw when she was a toddler.
She soon learns the new voice isn't even hers, it's the ghost of her estranged grandmother. In life, Ah Ma was a spirit medium, avatar of a mysterious deity called the Black Water Sister. Now she's determined to settle a score against a business magnate who has offended the god—and she's decided Jess is going to help her do it, whether Jess wants to or not.
Drawn into a world of gods, ghosts, and family secrets, Jess finds that making deals with capricious spirits is a dangerous business, but dealing with her grandmother is just as complicated. Especially when Ah Ma tries to spy on her personal life, threatens to spill her secrets to her family and uses her body to commit felonies. As Jess fights for retribution for Ah Ma, she'll also need to regain control of her body and destiny – or the Black Water Sister may finish her off for good.
Buy Black Water Sister by Zen Cho.
Ariadne by Jennifer Saint
Type: Novel
Publisher: Flatiron Books
Release date: May 4
Den of Geek says: The minotaur and labyrinth remain some of the most evocative myths of our time. Saint takes the perspective of the princess in the story to show a new angle on the well-known story of Theseus.

Publisher's summary: Ariadne, Princess of Crete, grows up greeting the dawn from her beautiful dancing floor and listening to her nursemaid's stories of gods and heroes. But beneath her golden palace echo the ever-present hoofbeats of her brother, the Minotaur, a monster who demands blood sacrifice.
When Theseus, Prince of Athens, arrives to vanquish the beast, Ariadne sees in his green eyes not a threat but an escape. Defying the gods, betraying her family and country, and risking everything for love, Ariadne helps Theseus kill the Minotaur. But will Ariadne's decision ensure her happy ending? And what of Phaedra, the beloved younger sister she leaves behind?
Hypnotic, propulsive, and utterly transporting, Jennifer Saint's Ariadne forges a new epic, one that puts the forgotten women of Greek mythology back at the heart of the story, as they strive for a better world.