Features
Jennifer Estep Interview: Kill the Queen & Epic Fantasy
We talked to author Jennifer Estep about moving into the genre of epic fantasy storytelling with Kill the Queen.
Jennifer Estep is no stranger to fantasy. I've been reading her novels since her superhero romance Bigtime novels hit the shelves. She's the author of two young adult urban fantasy series, as well as the Elemental Assassin series, which has already clocked over seventeen novels starring Gin Blanco, an assassin with elemental magic who also runs a barbecue joint.
With Kill the Queen, Estep has released her first novel in the epic fantasy genre. It suits her, as Kill the Queen is her strongest writing yet…
The novel introduces Lady Everleigh "Evie" Blair, distantly in line to the throne of Bellona. But when a Game of Thrones-worthy royal massacre kills nearly every member of the royal family, Evie only narrowly escapes. Not knowing who to trust, she joins a gladiator troupe, determined to never allow herself to be so vulnerable again—and to gain the skills to protect the people she loves. It's a fantastic blend of court intrigue with the epic fantasy tropes of good versus evil, and of the underdog holding the fate of kingdoms in her hands.
In an introduction, Estep dedicates the book to her teenage self.
"Growing up, I always loved books, movies, and TV shows with a lot of action and adventure, like The A-Team (which still remains one of my all-time favorite shows)," Estep told Den of Geek in an interview. "When I was in high school, I discovered epic fantasy books by authors like David Eddings, Terry Brooks, and of course J.R.R. Tolkien."
"I've always liked to read books with a little bit of everything in them—magic, action, adventure, and romance—and most epic fantasy books feature all of those things. The genre is just a perfect blend of everything I love about books, reading, writing, and storytelling. The more epic fantasy books I read, the more that I wanted to write my own epic fantasy books and tell the stories that I wanted to tell."
But though Estep attempted the genre early on, nothing came of those early books. Instead, she found greater success in paranormal romance, urban fantasy, and YA. There, she developed strong heroines, who often prefer to stay in the background, and who tend to have a bit of snark in their narration—Evie among them.
"I always think it's an interesting character and story arc to take someone like Evie who is in the background, who is considered weak and unimportant and is overlooked by everyone around her, and have her grow as a person, learn about her magic, and come into her own as a force to be reckoned with," Estep said.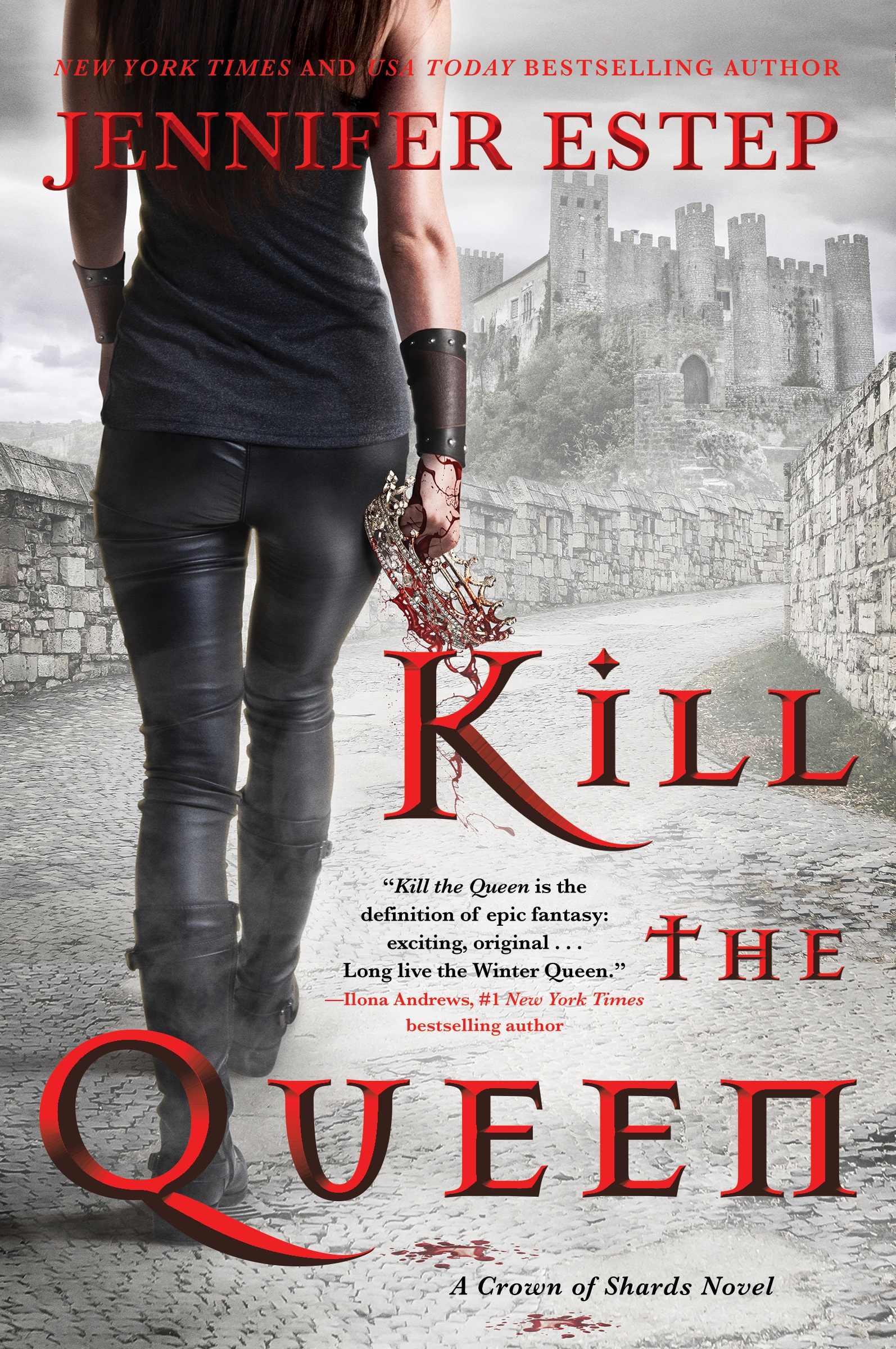 Evie's journey from a person who constantly has to hide her feelings into someone who believes in her own abilities—as well as a person who shies away from friendships, not knowing who to trust, into a person for whom friendship is a driving force behind her decisions, is at the core of the novel. As Estep said, "I always love bringing out a character's inner strength and determination."
Each of Estep's series has required a unique world in which to operate. The modern-set Elemental Assassin series features both elementals and traditional fantasy races. The similarly contemporary Mythos Academy books feature teens who fall into mythological heritages, such as super-fast and strong Spartan and Amazon warriors or Celtic warrior-bards.
The world of Kill the Queen is one built on magic and gladiators, managing to evoke classics like Spartacus while playing with the same themes present in newer series like the recently-concluded Kate Daniels series by Ilona Andrews.
Four types of magic users build the social structure of the kingdom of Bellona: morphs, who can turn into another creature; magiers, who are more traditional casters; masters, who have specific magics in their areas of expertise, such as the human body, food, or stonework; and mutts, who have one or more enhanced senses. ("Mortals" who don't use magic are also given a nod as experts of tactics and weaponry.)
"One of the most satisfying parts [of worldbuilding] is seeing it all come together, and realizing that all your disparate ideas have meshed into one cohesive world, from the characters names, to the scenery/descriptions, to the magic users/creatures and how the magical system works," Estep explained.
For Kill the Queen, she drew on Roman mythology—the kingdom of Bellona shares its name with the goddess of war—and the historical Roman love of gladiatorial combat. On inventing the world's magic, she said: "I would say one of the most challenging parts is creating a magic system that makes sense and has rules, but that also doesn't have too many rules."
The morphs are Estep's first shape shifters, and in a genre populated with werewolves (both friendly and fatal), they're unique: the morphs each have a morph mark, a secondary face, usually somewhere visible, that reveals the kind of creature the morph becomes—and has a certain degree of independence, with its own facial expressions that reveal some of the morph's inner feelings. The magiers mix traditional fantasy spell effects with a heavy does of elemental magic.
"I decided to balance them out with 'masters'—think master craftsmen—and 'mutts'—people with random magical skills, like enhanced senses, speed, strength, etc." Estep explained. "I think four types of magic users is a good number to have. It's not too large that readers lose track of who can do what, and it's not so small that it limits the kind of powers/magic that I can introduce as the series goes along."
While the world is a delight to visit (and would make an excellent role playing game setting, depending on the outcome of Evie's story), it's really Evie who drives the story forward. As she develops into a stronger hero, she's played against the story's villain: Vasilia, from the Summer line of the royal family (as opposed to Evie's winter). Once friends, Evie realized through an early betrayal that Vasilia is manipulative and ruthless who will stop at nothing to reach her goals. Vasilia is all open fire, while Evie nurtures a cold rage.
As a low ranking member of court, Evie "has to keep her feelings to herself, including her anger at how other people belittle and try to use her," Estep explained. "Evie has to be careful and wait for the right moment to strike back against her enemies. Vasilia has a lot of power, and she enjoys showing it off and wielding it, along with her lightning magic. Vasilia doesn't have to internalize anything—she can let people know exactly how angry she is with them."
The two make excellent foils, as well as embodiments of a Bellonan nursery rhyme Estep invented for the series. "One of the first things that popped into my mind when I was writing Kill the Queen was the epigraph that appears in the front of the book talking about the differences between Summer and Winter queens," Estep said. "It fits perfectly with how Vasilia and Evie are opposites in a lot of ways, and how summer and winter are opposite seasons."
Although Estep has several series in the works, she only writes for one series at a time, which helps her keep all her worlds separate. Even though she has two more Elemental Assassin novels on the way, Kill the Queen readers need not worry that Evie's story is ending here: Protect the Prince and Crush the King will continue the story of Bellona's fate—and Evie's.
For this reader, that's excellent news: while Kill the Queen reaches a true conclusion (no cliff-hangers here!), it leaves many questions unanswered, and many relationships unexplored. Getting to spend more time with these characters, in a world on the brink of turmoil, will be a true delight.
For more information on Jennifer and her books, visit www.jenniferestep.com or follow Jennifer on Facebook, Goodreads, and Twitter. You can also sign up for her newsletter.
Alana Joli Abbott writes about books for Den of Geek. Read more of her work here.