Features
Top New Fantasy Books in April 2022
Intrigue, escapism, and wonder abound in this month's new fantasy books. Take a look at our picks for best fantasy books in April 2022.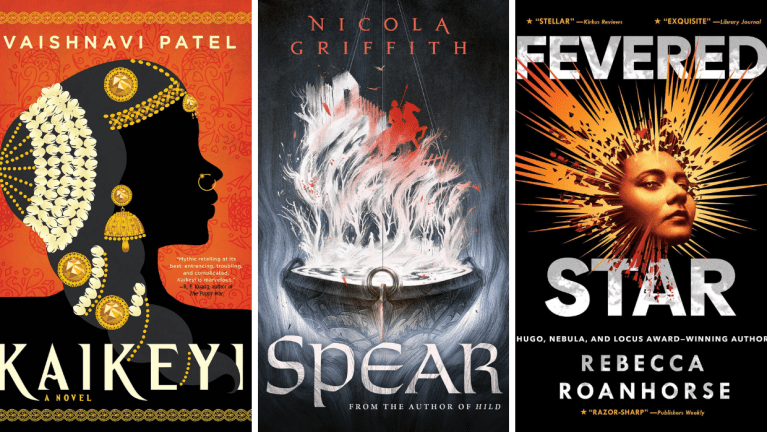 Intrigue, escapism, and wonder abound in this month's new fantasy books. Take a look at our picks for best fantasy books in April 2022.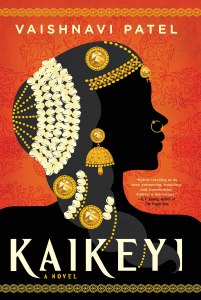 Kaikeyi by Vaishnavi Patel
Type: Novel
Publisher: Redhook
Release date: April 27
Den of Geek says: Palace intrigue and magic combine in this look into an untapped (at least in the West) realm of myth.
Publisher's summary: "I was born on the full moon under an auspicious constellation, the holiest of positions—much good it did me."
So begins Kaikeyi's story. The only daughter of the kingdom of Kekaya, she is raised on tales of the gods: how they churned the vast ocean to obtain the nectar of immortality, how they vanquish evil and ensure the land of Bharat prospers, and how they offer powerful boons to the devout and the wise. Yet she watches as her father unceremoniously banishes her mother, listens as her own worth is reduced to how great a marriage alliance she can secure. And when she calls upon the gods for help, they never seem to hear.
Desperate for some measure of independence, she turns to the texts she once read with her mother and discovers a magic that is hers alone. With this power, Kaikeyi transforms herself from an overlooked princess into a warrior, diplomat, and most favored queen, determined to carve a better world for herself and the women around her.
But as the evil from her childhood stories threatens the cosmic order, the path she has forged clashes with the destiny the gods have chosen for her family. And Kaikeyi must decide if resistance is worth the destruction it will wreak—and what legacy she intends to leave behind.
Spear by Nicola Griffith
Type: Novel
Publisher: Tordotcom
Release date: April 19

Den of Geek says: Griffith's 1992 Ammonite is a stellar example of women's and lesbian science fiction, plus a fine adventure story about humanity adapting to life on an alien planet. Now she turns her pen to Arthurian legend.
Publisher's summary: She grows up in the wild wood, in a cave with her mother, but visions of a faraway lake drift to her on the spring breeze, scented with promise. And when she hears a traveler speak of Artos, king of Caer Leon, she decides her future lies at his court. So, brimming with magic and eager to test her strength, she breaks her covenant with her mother and sets out on her bony gelding for Caer Leon.
With her stolen hunting spear and mended armour, she is an unlikely hero, not a chosen one, but one who forges her own bright path. Aflame with determination, she begins a journey of magic and mystery, love, lust and fights to death. On her adventures, she will steal the hearts of beautiful women, fight warriors and sorcerers, and make a place to call home.
The legendary author of Hild returns with an unforgettable hero and a queer Arthurian masterpiece for the modern era. Nicola Griffith's Spear is a spellbinding vision of the Camelot we've longed for, a Camelot that belongs to us all.
Fevered Star by Rebecca Roanhorse
Type: Novel
Publisher: Gallery/Saga Press
Release date: April 19
Den of Geek says: Black Sun, the first book in this series, introduced an intriguing world. The second installment offers more magic and character-building.
Publisher's summary: The great city of Tova is shattered. The sun is held within the smothering grip of the Crow God's eclipse, but a comet that marks the death of a ruler and heralds the rise of a new order is imminent.
The Meridian: a land where magic has been codified and the worship of gods suppressed. How do you live when legends come to life, and the faith you had is rewarded?
As sea captain Xiala is swept up in the chaos and currents of change, she finds an unexpected ally in the former Priest of Knives. For the Clan Matriarchs of Tova, tense alliances form as far-flung enemies gather and the war in the heavens is reflected upon the earth.
And for Serapio and Naranpa, both now living avatars, the struggle for free will and personhood in the face of destiny rages. How will Serapio stay human when he is steeped in prophecy and surrounded by those who desire only his power? Is there a future for Naranpa in a transformed Tova without her total destruction?