News
Star Wars: The High Republic Delayed to 2021
Star Wars: The High Republic, the book and comic book series set to explore a new era set 200 years before the Skywalker Saga, has been delayed until 2021.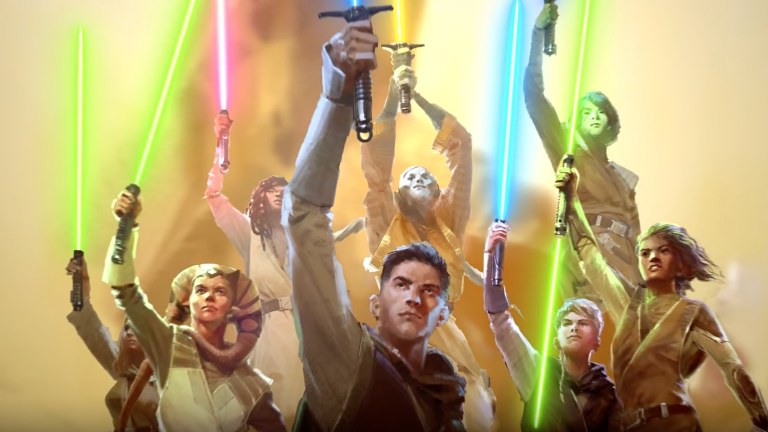 The High Republic, the new series of books and comics set to explore a new era of the Star Wars universe, has been delayed to 2021, according to StarWars.com. In a letter to fans, Lucasfilm Publishing creative director Michael Siglain cited "unprecedented times" as the cause of the delay. While Siglain didn't say as much, it's likely that delays in printing and distribution as a result of the coronavirus pandemic are to blame for the date change.
The first two parts of The High Republic, the adult novel Light of the Jedi by Charles Soule and the middle-grade novel A Test of Courage by Justina Ireland, will now release on Jan. 5. The young adult novel Into the Dark by Claudia Gray will hit shelves on Feb. 2. Dates have yet to be set for the new comics series from Marvel and IDW.
"Now, I know that waiting isn't easy. And I know fans have been excited for this since it was first announced. I'm right there with you. I've also been waiting to tell this story for years," Siglain wrote in the letter. "And while I can't say much about it, I can tell you that our story architects – Claudia Gray, Justina Ireland, Daniel Jose Older, Cavan Scott, and Charles Soule – are continuing to work away on this new era of stories. You'll hear from them this summer, and when you do, be sure to ask them about 'The Hero of Hetzal,' 'the twins,' the 'Blade of Bardotta,' the Starros and San Tekka clans, and the Storms. You're not going to believe what they've got in store for the Jedi and the Republic."
For those who haven't been following the new Star Wars multimedia series, The High Republic is set 200 years before The Phantom Menace during a golden age for the Galactic Republic and the Jedi Order. The series will introduce new characters, like the Jedi Avar Kriss and Stellan Gios, as well as a new faction of villains known as the Nihil, who are described as "space Vikings."
This is also a time when not all of the galaxy has been settled. There are still pockets of the galaxy that haven't joined the Republic, giving the era a "Wild West" quality.
"Expect there to be rich tales of exploration; charting out the galaxy, meeting new cultures, and discovering what pioneer life in the Outer Rim was like," teased Lucasfilm vice president of franchise content and strategy James Waugh during the original announcement in Feb. 2020.
We'll keep you updated as we hear more.