Livestream a Conversation with Star Trek: Picard Showrunner Michael Chabon For a Good Cause
Sign up to hear a conversation between Star Trek: Picard showrunner Michael Chabon and Picard writer Ayelet Waldman for a good cause: independent bookstores.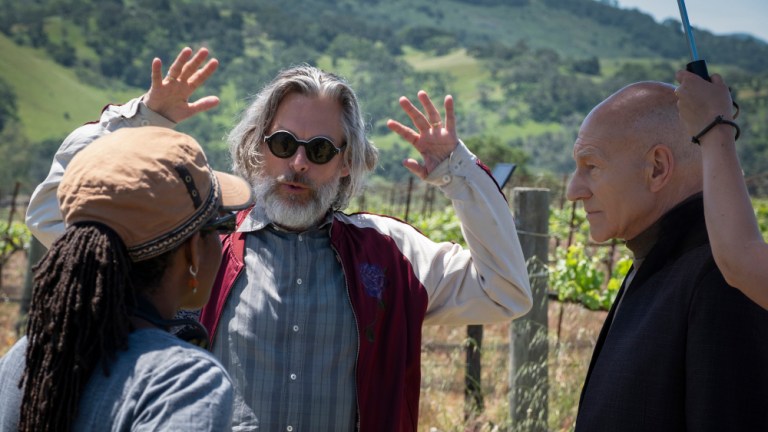 Independent bookstores aren't just places to peruse and buy your new favorite books, they're also community spaces in a time to gather, discuss, and share. And, in this time of "social distancing," they are one of the many vital cultural and community institutions that are in danger.
Some have started taking action to ensure that indie bookstores aren't left behind in this health and economic crisis. Speculative fiction authors, io9 co-founders, and co-hosts of the Hugo Award-winning podcast Our Opinions Are Correct, Charlie Jane Anders and Annalee Newitz are part of a group that is organizing fundraisers for their local (SF/Bay Area) indie bookstores, and they've got some pretty cool events lined up.
First up? A conversation between Star Trek: Picard Season 1 showrunner Michael Chabon and fellow Picard writer Ayelet Waldman. (The two also happen to be married.) Chabon and Ayelet will be chatting on April 8th. They will read via video conference from their work and "talk about writing about real-life experiences through a creative lens."
In addition to their work as novelists, Chabon and Ayelet also worked together on the first season of Star Trek: Picard, and are collaborating on the upcoming Showtime adaptation of Chabon's Pulitzer Prize-winning The Amazing Adventures of Kavalier and Clay, which is part of a multi-year deal with CBS TV for the producing partners.
Other events as part of the We Love Bookstores initiative include a conversation between science journalists Carl Zimmer and Apoorva Mandavilli on April 15th and a conversation with Katherine Applegate (who wrote a bunch of the Animorphs books) on April 17th. You can read a full schedule of planned events here.
The readings and conversations will be live-streamed via Zoom. Interested people can register for specific conversations via Eventbrite, choosing a price tier from a pay-what-you-can model, and will receive information for the video conference upon registering. Each conversation is paired with a different SF/Bay Area indie bookstore, with every penny collected going to that bookstore.
"Bookstores aren't just shops—they're the beating heart of the literary community," said Anders about the project. "They're where we all gather, and where people discover new authors and new worlds. They're petting zoos for stories, where you get to take some of them home with you. If we lose our bookstores, we are truly screwed for good."
There are independent bookstores across the United States that are struggling right now. Other actions you can take to help support your local (or maybe someone else's local!) independent bookstore include buying gift cards and placing preorders or orders. IndieBound is a great resource for finding local independent bookstores.