Little Women Remixed: So Many Beginnings & the Potential of Adaptation
Bethany C. Morrow's So Many Beginnings is the YA story Little Women critics will want to read.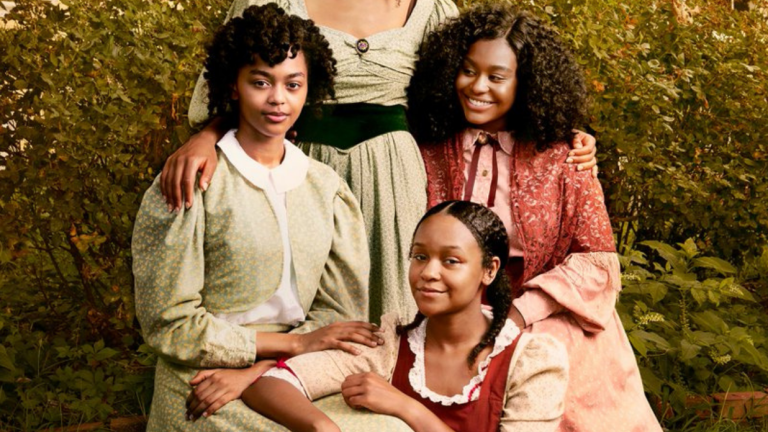 Little Women, Louisa May Alcott's semi-autobiographical 19th century novel about four sisters growing up in Civil War-era New England has become one of the most-adapted American classics. But few retellings have done as much with the potential of adaptation as Bethany C. Morrow's. In novel So Many Beginnings, out on September 7th, Morrow answers a question many readers have had over the years: What if Little Women was written from the African American perspective? The answer is a rich narrative of growing up in challenging times with the promise of a better future ahead that still speaks to what generations of readers loved about the original story.
Although adults will pick up the story for comparisons' sake, Morrow focuses her attention on today's young adults who may not have read Alcott's novel. She also is aware of younger Black readers who may have been exposed to the original story but could not relate to it because Alcott's perspective is overwhelmingly white.
The central focus of the story is still the lives of Joanna "Jo," "Meg," and Bethlehem "Beth" with their adopted sister Amethyst "Amy" March as they navigate through young adulthood in 1863. However, Morrow's narrative goes beyond replicating Alcott's Massachusetts setting with an all-Black cast. The March sisters instead live on Roanoke Island off the coast of North Carolina in the Freedpeople's Colony. This frames their worldview as the opposite of Alcott's, serving to interrogate her on-the-page biases in the process. In Little Women, the Civil War is a distant event that takes the March sisters' father away from home. In So Many Beginnings, the stakes of the Civil War are far higher, as Morrow's worldbuilding sets aside a literal translation of Little Women's plotline and lets the history of these colonies set the course of the story.
Alcott March (an Easter egg!) has left his wife and children to fight the white slaveholders. Soldiers and civilian refugees in town are a constant reminder of the realities of war. The March family have emancipated themselves from slavery and see that the Union losing would mean a loss of freedom. Jo writes a current events newsletter. Meg teaches the colony's children their first formal lessons in a classroom while wishing for a future husband. Beth is a seamstress in high demand. Amy's artistic drive is channeled towards dance.
Although the changes Morrow has made will not please canon purists, they are wholly necessary to portray the African American perspective during this era. Jo adapts selective mutism as a defense mechanism because she cannot trust white people after what she has gone through. In addition, her writing is geared towards gaining white benefactors for the colony who will supply money and materials the Union Army refuses to provide. Meg sees that white people in the colony who are abolitionists and missionary volunteers are not active antiracists. She teaches in a tent while the white teachers teach indoors, and gets last picks on supplies. Marmee, now Mammy, fears that white men will still find a new way to undermine Black families. Beth's chronic illness is seen as "attention-seeking" and "laziness" by white doctors and not something that needs reasonable accommodations.
Some Black reviewers in advance of the 2019 film adaptation of Little Women directed by Greta Gerwig were hoping for Hamilton-style colorblind/color-conscious casting. However, these hopes were inevitably dashed by an all-white cast. The PBS/BBC miniseries from 2018 should have elicited the same reaction, but it is likely that poor advertising prevented more critiques along this vein. Even my own review of the miniseries briefly mentions intersectional perspectives. Morrow's remix of the classic is designed to address the lack of diversity in a more emotionally satisfying way.
Marriage, (or the avoidance of it) depending on the sister, remains a central theme in So Many Beginnings, but the story's new context carries a separate meaning from the original novel. Enslaved people were not allowed to legally marry, and slaveowners sold families apart. While marriage is seen as an aspirational goal, work outside of the home to support the household is seen as necessary for survival. Many in the colony worked for the Union Army for wages, but rent and clothing were deducted from whatever was promised. This places Jo's resistance to developing romantic feelings for Loren "Lorie" in a light that the classic dynamic of Jo and Laurie does not have. Jo values his company as a friend, but a romantic relationship would leave no one Black to advocate for the colony's survival. Meg, on the other hand, is very eager to start a family, and actively seeks courtships. Beth and Amy see marriage as a less urgent future event.
On the outset, the story premise does not seem poised to promise anything other than pain and strife, but Morrow packs in many moments of joy for the March sisters in between the struggles. They attend parties, read books for pleasure, and do other normal teenage girl activities. Adult readers looking for exact analogs of classic moments from Alcott's story, such as the play, are going to be disappointed. However, readers who want to see much more Black joy in historical fiction will be richly rewarded. The realities of the colony erase the predictability for adult readers but, in return, readers develop a relationship with Morrow's characters that is entirely different than the original story. Both teens and adult readers alike will find that the end of the journey for the March sisters brings a whole new perspective of what freedom actually meant for emancipated slaves.
So Many Beginnings brilliantly combines the escapism and relatability of a YA coming-of-age novel with the necessary work of reclaiming narratives and perspectives previously erased from the American literary canon. In fact, it is safe to say adapting the novel for the screen would do a better job of advancing diverse representation in period drama than a race-blind adaptation of Little Women ever could.
So Many Beginnings hits bookshelves on September 7th.