Sponsored
Rhythm of War & Other Best Fantasy Doorstoppers
Brandon Sanderson is a master of the doorstopper fantasy. Let's talk about which fantasy tomes and series make for the most rewarding long reads.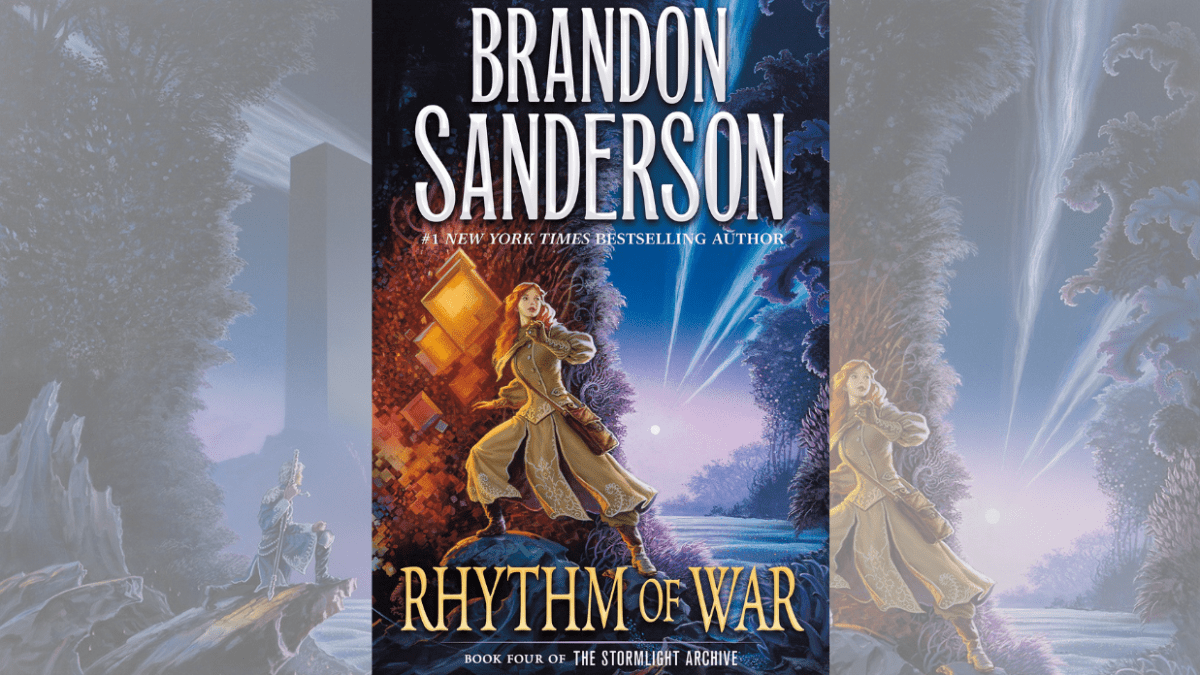 This article is sponsored by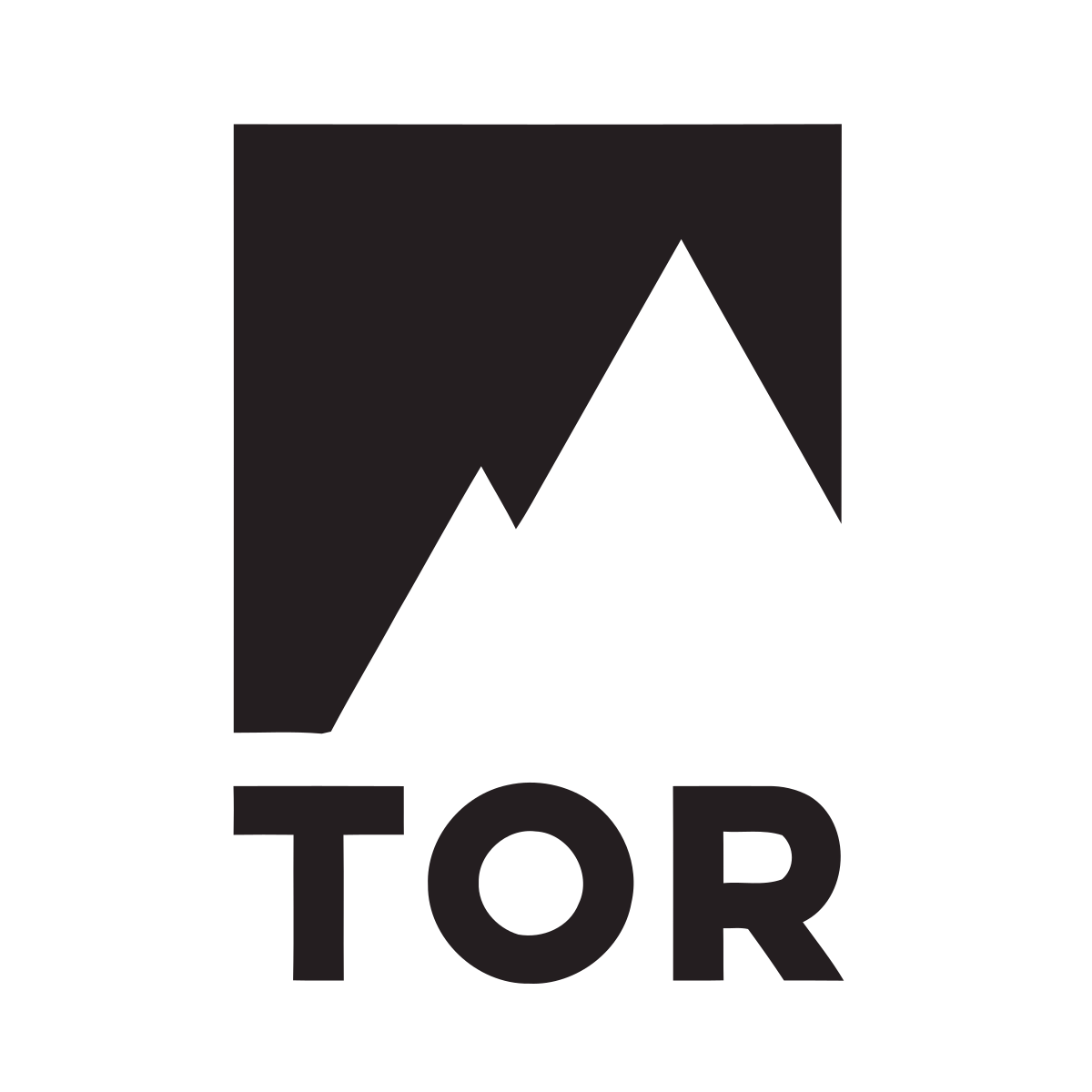 Doorstopper fantasy, sometimes referred to as "big fat fantasy," or even just "big books," are tomes that typically hit over 500 pages, and they're often part of a series of similarly lengthy installments. They can be a challenge to hold, and even more challenging to bind so that they don't fall apart, but they can also be oh-so-satisfying to read. One thing that occasionally makes doorstoppers easier to handle is when they come out in paperback, reducing the sheer weight of the novel, which means that Brandon Sanderson's paperback release of Rhythm of War, which hits bookstore shelves on October 26, is perfectly timed to make the best use of the longer nighttime hours.
Few people would challenge the assertion that Sanderson is a master of doorstopper fantasy. He's long been a fan of big epics: "I grew up on Anne McCaffrey and Robert Jordan and these really great, meaty epic fantasy series, which are my first love," he told Den of Geek in an interview last year. "I always wanted to do one of those myself."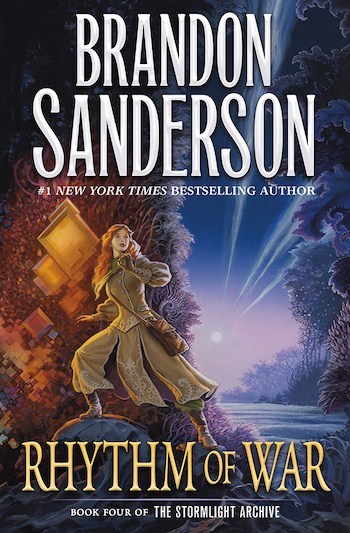 And Sanderson definitely has followed through on that ambition. Rhythm of War is the fourth in The Stormlight Archives, an epic series of the world of Roshar, where humans and parshendi, the indigenous people of the world, are at war. Each novel focuses on an arc of a central character. The 2010 launch of the series, The Way of Kings, introduced Kaladin Stormblessed, a soldier who, through many trials, becomes a leader of the Knights Radiant. Shallan Davar, a woman with dissociative identity disorder and a spy, is the central character in sequel Words of Radiance. A king who'd rather study magic, Dalinar Kholin, leads Oathbringer, while Rhythm of War centers on the parshendi sisters Eshonai and Venli, as Venli makes plans to break free from both human rule and the control of the magical allies who have bonded the parshendi into subservience.
Each of the hardcover novels in The Stormlight Archives clocks in at over a thousand pages; each trade paperback tops 1200. And in great news for lovers of doorstoppers and epic fantasy, Sanderson's not even close to done. The series is planned as two five-book arcs, and each new installment is planned to appear three years after the last. While that means book five, and the conclusion of the first arc, isn't due out until 2023, it gives readers new to the series plenty of time to catch up. And readers just launching in with the paperback editions get to experience the inclusion of gorgeous new original art, commissioned specially for the paperback reprints.
If you're already all caught up with The Stormlight Archive but crave that doorstopper experience, Den of Geek has put together a round up of some classics—and newcomers—that don't shy away from their longer page count.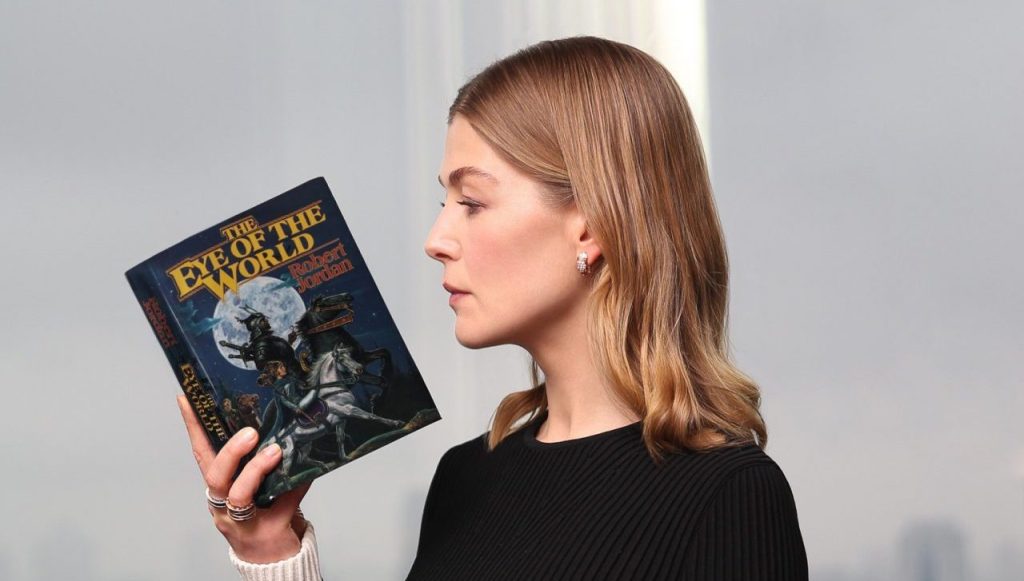 The Adapted Classics
Sanderson's doorstopper experience didn't start with The Stormlight Archives. He also played a hand in making sure that Robert Jordan's epic Wheel of Time series was completed after Jordan's death. The Wheel of Time is the latest in doorstopper series to be adapted for the screen, with episodes streaming on Amazon Prime starting on November 19. While several of these novels neared the thousand page mark, some reached only the mid five-hundreds (and one prequel novel, New Spring, only topped three hundred!). Stretching over fourteen volumes, however, means the entire series run hit over ten thousand pages and almost four and a half million words.
Two other series that have both length and television adaptations are Diana Gabaldon's Outlander and George R. R. Martin's "Song of Ice and Fire," better known by the television series title Game of Thrones. Both series are still going strong, with Gabaldon's ninth title, Go Tell the Bees that I Am Gone releasing in November, 2021, and Martin's sixth, The Winds of Winter, still without a pub date. Martin's novels currently hit over 4000 pages, while Gabaldon's first eight span over more than 7500.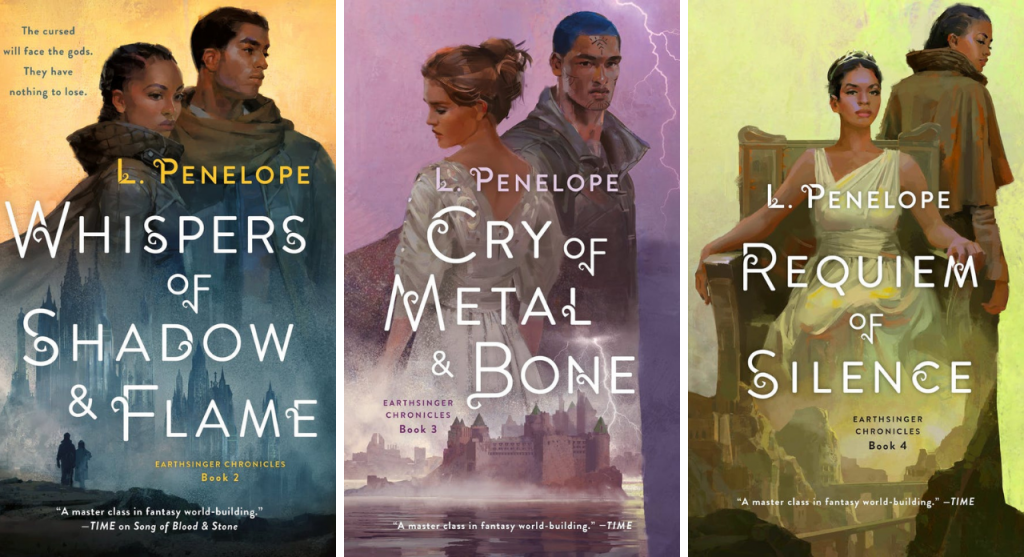 Completed Epics
Say you've already read "Wheel of Time" and you don't want to wait for a series to wrap. You're in luck with some strong doorstopper series that have completed. While these series are shorter (with only three or four books each), they still capture that big book feeling of the large tome and the intricate world you can truly immerse in.
No introduction is needed to N. K. Jemisin's Broken Earth Trilogy, each volume of which won a Hugo Award for best novel. In the novels, Jemisin delves into a world where the lives and bodies of magic users are subject to the whims of a corrupt government—leading a powerful magic user to decide that the only way to be free of the system is to break the whole world. While only the first novel in the series, The Fifth Season, actually tops 500 pages (the other two are in the high 400s), these landmark novels showcase Jemisin's deserved reputation as one of the finest fantasy novelists currently writing.
The Inda series by Sherwood Smith, which begins with a novel of the same name, launches readers into the deeply developed world of Sartorias-deles, in a nation where training for war is a way of life. Even as a child, Inda is a master strategist, but when he is forced to flee his home country and live in exile, he becomes a leader of marine mercenaries—and one day plans to make it home to his family. The books range from 580 to 780 pages each.
Like Jemisin's, two of L. Penelope's Earthsinger Chronicles novels clock in at just under 500 pages, but they're so close (and so worth reading) that it's worth letting those few pages slide. (The series also includes three novellas between volumes, giving readers who love doorstoppers and shorter fantasy the best of both worlds.) Set in a world with more advanced technology (telephones and early automobiles) than most of this list, the series centers on Jasminda, an Earthsinger whose Elsiran mother was disowned by her wealthy family for marrying a former prisoner of war from Lagrimar, an enemy nation. Scorned by the people of her hometown for both the color of her skin and her magic, Jasminda may be the only hope to prevent war from breaking out between the two nations once again—a war that would leave Elsira destroyed. Including the novellas, the entire series hits almost 2500 pages of captivating worldbuilding and magic.
R. F. Kuang's The Poppy War launches an epic military fantasy trilogy inspired by Chinese history. Rin is a dark-skinned peasant girl whose formidable smarts get her into the most elite military academy in the Nikara Empire. But Nikara is on the edge of war as foreign interests threaten to invade—and as Rin develops shamanic powers that link her to the vengeful god, the Phoenix, she has to fight not only for the best interests of her people, but to keep her god from burning it all down. With the second volume hitting almost 700 pages, this series runs about 1800 pages across three novels—with a free download featuring scenes from the first two novels in a different POV adding to the page count.
Unlike the other titles on this list Fonda Lee's Green Bone Saga is set in a more modern world, where submachine guns and magic are equally dangerous. Kekonese jade allows those who wear it to unlock amazing enhanced abilities—but without training, a jade addict quickly burns out. The Kekonese who wear Jade are divided into clans, which operate like organized crime families, giving the series a mixed fantasy, crime, and noir feel that stretches across over 1800 pages and three novels, the final of which, Jade Legacy, hits bookshelves on November 30, 2021.
The Younger Crowd
Tales of a certain boy wizard have paved the way for longer middle grade novels, many of which can be enjoyed by both younger readers and adults. Fans of the Percy Jackson and the Olympians middle grade novels by Rick Riordan, in which a group of Greek demigods save the world from a mad Titan, are sure to have already noticed that the second series set in that world, the Heroes of Olympus quintet features all novels over the 500 page mark. The series, which straddles the middle grade/YA line, jumped from first person narration with a young narrator to third person, multiple perspectives and slightly older characters—all of whom are still involved with saving the world on a deadline.
Riordan's truly excellent "Rick Riordan Presents" middle grade imprint has also introduced some lengthy, though not quite doorstopper, series that feature young demigods and heroes in different world mythologies; of these, J. C. Cervantes's Stormrunner and sequels are the longest in the high 400 pages per book, and Kwame Mbalia's Tristan Strong Punches a Hole in the Sky hits a solid 499 pages, followed by shorter sequels.
Christopher Paolini's The Inheritance Cycle draws on some of the classic doorstoppers (and a healthy does of Star Wars) for inspiration, introducing the quest of a poor farm boy to keep a fledgling dragon safe—and become a legendary Dragon Rider. While Eragon, the first novel, is a mere 528 pages, each book gains length until the finale with Inheritance, which comes in at 882 pages, spanning 2900 pages total.
Alison Goodman's Eon: The Dragon Reborn and Eona: The Last Dragoneye duology is YA rather than middle grade, and it may remind readers of the classic YA "Song of the Lioness" quartet by Tamora Pierce. In both series, a girl disguises as a boy in order to train in her chosen profession—in Eon's case, as a dragoneye, apprentice to one of the twelve energy dragons, and a master of sword and magic. The full duology runs between 1100 and 1300 pages, depending on whether readers pick up the hardcover or paperback editions.
For a longer, ongoing series that's solidly middle grade, Shannon Messenger's Keeper of the Lost Cities and sequels already span eight books, with a book numbered 8.5 that includes multiple perspectives and bonus materials, and a ninth and tenth volume expected before the series concludes. Twelve year old Sophie is a telepath, hidden among humans, but when rebel elves threaten her and her world, she has to put her faith in the shadowy Black Swan organization to save her friends and herself. Though the first installment starts at just under 500 pages, the rest keep ramping up to a peak in book 7 (878 pages), giving the series over 6000 pages to date.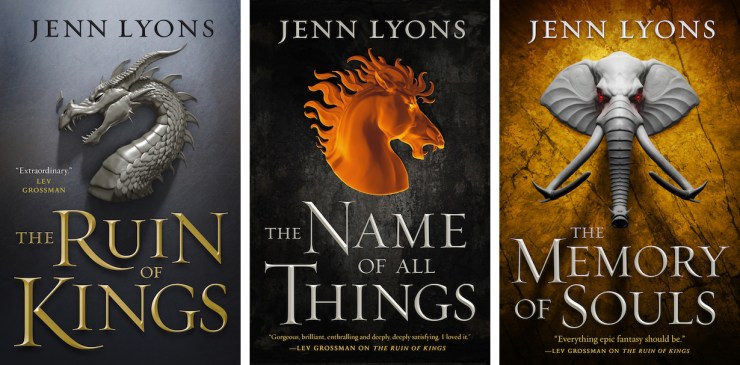 Tales In Progress
Of course, while some people prefer to binge watch, others prefer to savor a series an episode at a time, and that's no less true for reading than streaming. If you're looking for doorstoppers with installments yet to come—or that have just begun—these might be your cup of tea.
Ken Liu's Dandelion Dynasty novels are tales of an Empire in transition, opening with a gorgeously written assassination attempt by a kite-bourne rebel. The novels span decades—and over 2700 pages in the first three—as an unrepentant rascal rises from poverty to becoming the emperor, then faces his own struggles as the nation threatens to shatter beneath him. The third novel in the series, The Veiled Throne, appears on bookshelves in November, while the fourth and concluding volume, Speaking Bones, is scheduled for 2022.
Jenn Lyons's A Chorus of Dragons is also nearing its conclusion, with the fifth novel in a series about a bastard royal whose destiny isn't to save his kingdom, but to lead it into ruin, due out in 2022. Launching with Ruin of Kings, the series has already topped 2200 pages over its first four books.
In The Drowning Empire series by Andrea Stewart, the daughter of a failing emperor seeks to inherit his throne, but an illness that stole the memories of her youth prevent her father from giving her his full trust. In Bone Shard Daughter (just under 500 pages) she begins to take matters into her own hands—only to discover that things in the empire are worse than she'd imagined, and the enemies threatening their borders are anything but imaginary. The sequel, Bone Shard Emperor, comes out in November, and adds another 561 pages to the series, with a third installment expected in 2022.
But say you want to get in on the ground floor with series that have just launched. You're in luck, because two epic trilogies began in 2021, with the promise of more adventure to come. Tasha Suri, known for her "Books of Ambha" duology, launched a brand new epic fantasy trilogy with the 577 page The Jasmine Throne. Together, a powerful priestess desperate to save her family and a princess in exile intent on capturing the throne set out to achieve their goals, no matter what the cost. Debut author C.L. Clark's The Unbroken, which clocks in at 544 pages, centers on Touraine, who is back in the land of her birth as a soldier for the nation that now occupies her homeland. Luca, a princess who seeks to regain her claim to the throne, must quell the rising rebellions of Touraine's home nation—and she sees Touraine as exactly the tool she needs. Both of these fantasies feature powerful women embroiled in the intrigue of nations (and a healthy dose of sapphic romance), and readers can anticipate the second installments for each in 2022.
Whether you're rereading a favorite (by, say, snagging a new paperback edition of Rhythm of War for the glorious new art) or starting a new series destined to become a favorite, it's the perfect season for doorstoppers. Dive into a series and be immersed in its world, countering those longer hours of darkness with the power of imagination.
Rhythm of War is out in paperback on October 26th. Find out more here.
What is your favorite fantasy doorstopper? Let us know in the comments below…