News
Giveaway: Zoey Punches The Future in The Dick by David Wong
We're giving away FIVE copies of David Wong's second entry in the Zoey Ashe series, a dystopian, speculative fiction thriller that's fun (and funny!) to read.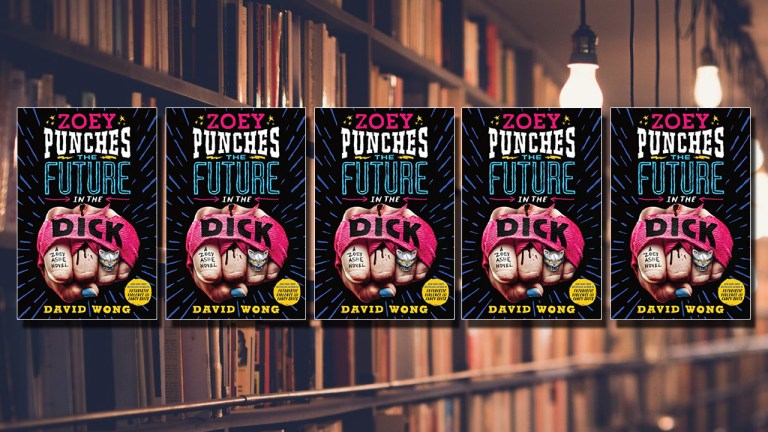 Zoey Ashe is a small-town barista with a big destiny ahead of her. When her absentee father dies, she inherits a criminal empire from a dad she never knew. This empire comes with all the perks you'd expect: money, power, a top-notch crew with very specific skills, and of course, a group of bullies called The Blowback who find it necessary to call Zoey a cow and moo at her.
In this second book of the Zoey Ashe series, Zoey Punches The Future in The Dick, Zoey must come to terms with her father's immoral legacy, while also trying to run the family business.
Click here to enter via our official giveaway page!
In celebration of the book's new release, we're choosing five lucky winners to receive a copy of this latest entry in the Zoey Ashe series. This story follows up on the first book in the series that was released in 2015, Futuristic Violence and Fancy Suits, which establishes the world seen in Wong's second book. With motifs of class divide and a social network that monitors your every move, Wong expertly crafts a thrilling yet perilous world. Zoey must survive, and retain her sense of humor, while managing the highest ranks of her father's criminal empire.
Following this Grand Theft Auto-style action series in a semi-futuristic dystopia makes Zoey Punches The Future in The Dick an entertaining story full of action. It's got hostages, trolls, a smelly cat, self-love, and it really delves into what it means to have influence. Enter this giveaway and you'll not only flex your brain a bit by reading actual words, but you'll also trade one dystopia for another.
Click here to enter via our official giveaway page!

Entries will be accepted until November 1st. Five (5) lucky winners will be chosen and then notified via email. The winner must reply to the email within 48 hours with shipping information in order to accept the prize, otherwise another winner will be chosen. Good luck!