Giveaway: Win a Legend of Korra Limited Edition Art Book Prize Pack!
Master all four elements of the Avatar universe with this awesome Legend of Korra Limited Edition SteelBook prize package!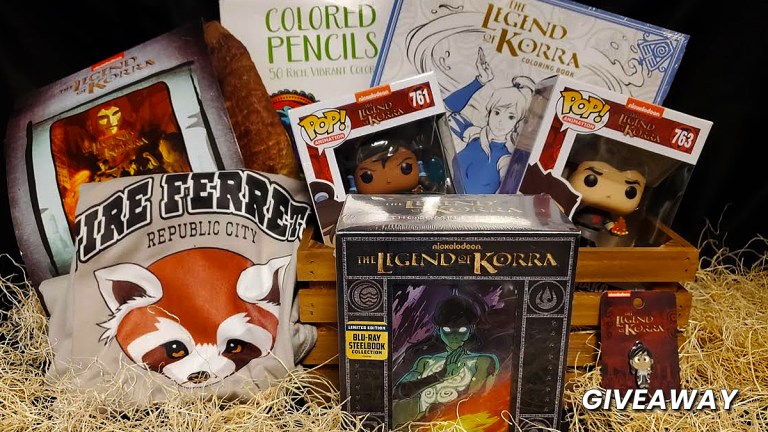 Earth. Fire. Air. Water.
The Legend of Korra, the sequel series to the acclaimed Avatar: The Last Airbender, is getting the SteelBook® treatment! This means all four seasons are available with awe-inspiring artwork by Caleb Thomas. And Den of Geek is hosting a giveaway to celebrate!
On each season (book) cover, is a stunning work of art highlighting a different element in the Avatar universe. Following the footsteps of the previous Avatar, Aang, Korra must master the four elements of earth, fire, air, and water. Only by mastering all four will she be able to bring balance to the world. The four pieces cover this "physical" journey, saving the most difficult element for last, to Korra's chagrin.
That art alone would be a great item in anyone's collection, but Thomas takes it a step further by illustrating Korra's spiritual journey on the back covers. While Avatar Aang had his share of mental and philosophical troubles, in Korra's story it's turned up to eleven. Aang was inherently gifted at connecting to his spirituality through his monk upbringing and lighthearted nature, but Korra is the opposite. To achieve peak Avatar, she had to go through a new journey of enlightenment all her own, and the four covers acknowledge this feat.
Enter this giveaway using our official Gleam entry form below!
Legend of Korra Limited Edition SteelBook Prize Package Giveaway
Cover one covers Korra's acceptance of her past and past selves, reflected by her connection to Avatar Aang.
Cover two covers Korra's acceptance of her present, at a crossroads seeing the different pathways an Avatar can become.
Cover three covers Korra's acceptance of her future, reflected by the hopeful and bright relationship that will blossom between her and Asami.
Cover four covers it all. Past, present, future, all the things that Avatar was, is, and can be. Avatar Korra at her finest.
Thomas captures the major themes of Korra so beautifully, and Den of Geek is pleased to host a giveaway of this masterful artwork, both the illustrations, and the series itself. The Legend of Korra is a treat for anyone looking to explore the Avatar universe further, and a great step forward in exploring themes for a slightly older audience.
The Legend of Korra – The Complete Series Limited Edition Steelbook Collection has been available since March 16, 2021 from Paramount Home Entertainment and Nickelodeon Home Entertainment.
Entries will be accepted until midnight of April 4. One (1) lucky winner will be chosen and then notified via email. The winner must reply to the email within 48 hours with shipping information in order to accept the prize, otherwise another winner will be chosen. Good luck!