Features
Best New Young Adult Books to Read in April 2022
See our picks for the top YA novels coming out in April 2022.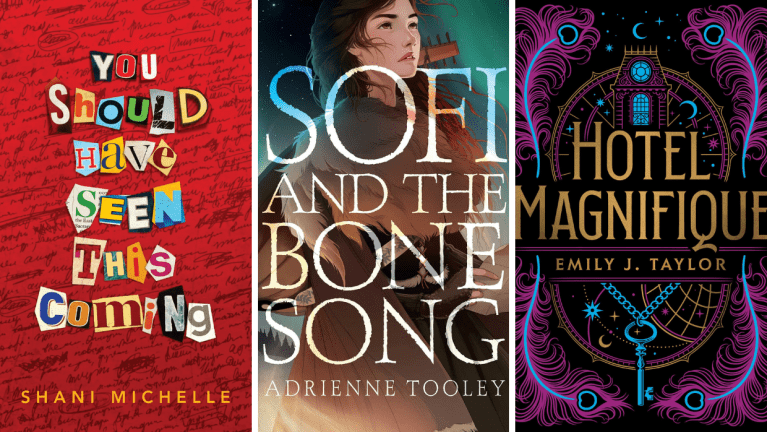 Find stories of going out into the world for the first time (or returning home a different person) in today's trendy YA. Take a look at our top picks for new YA books in April 2022.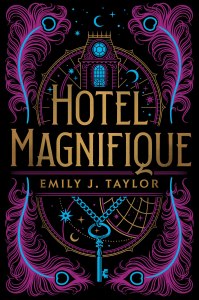 Hotel Magnifique by Emily J. Taylor
Type: Novel
Publisher: Razorbill
Release date: April 5
Den of Geek says: An uncanny hotel that moves to a different location every night sounds like a rich setting for a world-hopping fantasy adventure.
Publisher's summary: "Decadent and darkly enchanting, this lavish YA fantasy debut follows seventeen-year-old Jani as she uncovers the deeply disturbing secrets of the legendary Hotel Magnifique."

All her life, Jani has dreamed of Elsewhere. Just barely scraping by with her job at a tannery, she's resigned to a dreary life in the port town of Durc, caring for her younger sister Zosa. That is, until the Hotel Magnifique comes to town.
 
The hotel is legendary not only for its whimsical enchantments, but also for its ability to travel—appearing in a different destination every morning. While Jani and Zosa can't afford the exorbitant costs of a guest's stay, they can interview to join the staff, and are soon whisked away on the greatest adventure of their lives. But once inside, Jani quickly discovers their contracts are unbreakable and that beneath the marvelous glamour, the hotel is hiding dangerous secrets.
 
With the vexingly handsome doorman Bel as her only ally, Jani embarks on a mission to unravel the mystery of the magic at the heart of the hotel and free Zosa—and the other staff—from the cruelty of the ruthless maître d'hôtel. To succeed, she'll have to risk everything she loves, but failure would mean a fate far worse than never returning home.
You Should Have Seen This Coming by Shani Michelle
Type: Novel
Publisher: Swoon Reads
Release date: April 12
Den of Geek says: The combination of thriller and fantasy is intriguing in this contemporary novel about a teenage con artist who uses her powers for her own profit.
Publisher's summary: Hayden sees the past. Just touching an object will occasionally give her flashes of the previous owner's memories. And if that memory happens to be a deeply hidden secret, then she has no problem making you pay for your crime, in cash.
Cassie sees the future, and it sucks. Her dreams are filled with disasters that she feels compelled to stop, and could she please stop watching her boyfriend fall in love with someone else?!
But when Cassie tries to warn Hayden that her latest blackmailing scheme is a trap, she knows she's really in trouble. Suddenly the upcoming kidnapping is all she can see, yet nothing she does stops it. And it's all Hayden's fault!
Can Hayden's gift help her find Cassie before it's too late?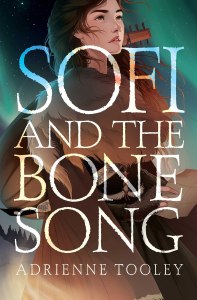 Sofi and the Bone Song by Adrienne Tooley
Type: Novel
Publisher: Margaret K. McElderry Books
Release date: April 19
Den of Geek says: It's a YA trope to set up a world in which a particular skill is both forbidden and highly coveted, but Tooley sets hers apart with musical magic and a lesbian rivals-to-lovers story.
Publisher's summary: Music runs in Sofi's blood.
Her father is a Musik, one of only five musicians in the country licensed to compose and perform original songs. In the kingdom of Aell, where winter is endless and magic is accessible to all, there are strict anti-magic laws ensuring music remains the last untouched art.
Sofi has spent her entire life training to inherit her father's title. But on the day of the auditions, she is presented with unexpected competition in the form of Lara, a girl who has never before played the lute. Yet somehow, to Sofi's horror, Lara puts on a performance that thoroughly enchants the judges.
Almost like magic.
The same day Lara wins the title of Musik, Sofi's father dies, and a grieving Sofi sets out to prove Lara is using illegal magic in her performances. But the more time she spends with Lara, the more Sofi begins to doubt everything she knows about her family, her music, and the girl she thought was her enemy.
As Sofi works to reclaim her rightful place as a Musik, she is forced to face the dark secrets of her past and the magic she was trained to avoid—all while trying not to fall for the girl who stole her future.