Features
Best New Horror Books to Read in March 2022
Fans of Stephen King, The Thing, and comic books may want to check out these new horror books out in March.
Desolate landscapes could hold monsters or redemption (or both) in this month's new bone-chilling reads. Take a look at our picks for top horror books in March 2022.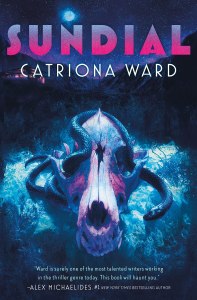 Sundial by Catriona Ward
Type: Novel
Publisher: Tor Nightfire
Release date: March 1

Den of Geek says: One of this month's most anticipated horror releases, Sundial has been praised as "authentically terrifying" by Stephen King.
Publisher's summary: You can't escape what's in your blood…
All Rob wanted was a normal life. She almost got it, too: a husband, two kids, a nice house in the suburbs. But Rob fears for her oldest daughter, Callie, who collects tiny bones and whispers to imaginary friends. Rob sees a darkness in Callie, one that reminds her too much of the family she left behind.
She decides to take Callie back to her childhood home, to Sundial, deep in the Mojave Desert. And there she will have to make a terrible choice.
Callie is worried about her mother. Rob has begun to look at her strangely, and speaks of past secrets. And Callie fears that only one of them will leave Sundial alive…
The mother and daughter embark on a dark, desert journey to the past in the hopes of redeeming their future.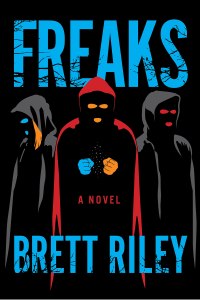 Freaks by Brett Riley
Type: Novel
Publisher: Imbrifex Books
Release date: March 1

Den of Geek says: Horror is about power, and this novel explores the type of power superheroes and underdogs might harness…for good or ill.
Publisher's summary: Four high-school friends suffer daily humiliation at the hands of three bullies. When the friends accidentally open a portal to another dimension, they unintentionally allow terrifying, other-worldly creatures to invade their small Arkansas town. Discovering that they are now endowed with strange superpowers, the four teens dub themselves "Freaks," the very name their tormentors used to ridicule them. The Freaks must fight to save the lives of family and friends now in mortal peril and thwart a secret government task force that appears to be hunting them.

Buy Freaks by Brett Riley.
All the White Spaces by Ally Wilkes
Type: Novel
Publisher: Atria/Emily Bestler Books
Release date: March 29

Den of Geek says: The desolation of the Arctic and human desperation add flavor to this book that might intrigue fans of The Terror or The Thing.

Publisher's summary: In the wake of the First World War, Jonathan Morgan stows away on an Antarctic expedition, determined to find his rightful place in the world of men. Aboard the expeditionary ship of his hero, the world-famous explorer James "Australis" Randall, Jonathan may live as his true self—and true gender—and have the adventures he has always been denied. But not all is smooth sailing: the war casts its long shadow over them all, and grief, guilt, and mistrust skulk among the explorers.
When disaster strikes in Antarctica's frozen Weddell Sea, the men must take to the land and overwinter somewhere which immediately seems both eerie and wrong; a place not marked on any of their part-drawn mapsof the vast white continent. Now completely isolated, Randall's expedition has no ability to contact the outside world. And no one is coming to rescue them.
In the freezing darkness of the Polar night, where the aurora creeps across the sky, something terrible has been waiting to lure them out into its deadly landscape…
As the harsh Antarctic winter descends, this supernatural force will prey on their deepest desires and deepest fears to pick them off one by one. It is up to Jonathan to overcome his own ghosts before he and the expedition are utterly destroyed.