Features
Y: The Last Man – Ampersand the Monkey is TV's Next Little Buddy
Talk about Yorick, Hero, or Agent 355 all you want. Everyone knows the monkey Ampersand is the real star of Y: The Last Man.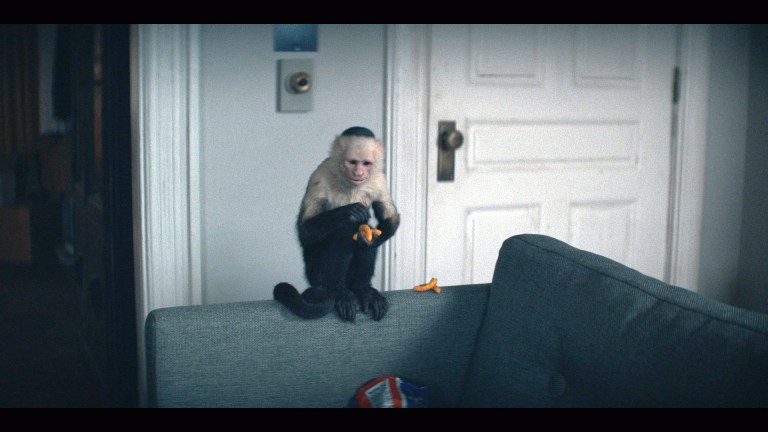 This article contains light spoilers for Y: The Last Man episodes 1-3.
The television landscape must always have a little buddy. 
You know what I'm talking about. At any given moment, at least one show must play host to a cuddly little critter – whether that be Grogu a.k.a. Baby Yoda on The Mandalorian, Alligator Loki on Loki, or really any Pokémon on Pokémon (except for Lickitung, that absolute freak). Now, thankfully, TV's next little buddy has arrived and it's one of the fall season's unlikeliest series: Y: The Last Man.
FX on Hulu's Y: The Last Man is based on the early 2000s comic series of the same name from Brian K. Vaughan and Pia Guerra. It takes in a dystopian post-apocalyptic universe in which every mammal with a Y-chromosome is killed by an unknown event, leaving the planet's women, trans men, and non-binary folk behind the pick up the pieces. It's as bleak a set up as any other apocalypse concept like The Walking Dead or Snowpiercer. But it also has a little ray of sunshine in the form of a capuchin monkey named Ampersand.
Ampersand is a major part of the original comic series. For, while lead character Yorick Brown is the last male human on Earth, Ampersand is the last male monkey. Together Yorick and Ampersand are the only two creatures left with Y-chromosomes, which makes them basically co-equal partners in navigating the post-apocalypse.
Ampersand is every bit as important to the ultimate survival of life as Yorrick is. So of course he had to be a part of the TV series. According to Y: The Last Man showrunner Eliza Clark, however, there were some complications in bringing Ampersand to life.
"Disney, who owns FX, has a no primates policy," Clark tells Den of Geek. "I think it's because working with monkeys is not particularly humane. So it's the right decision from a morality point of view."
This meant that introducing Ampersand into the show would require the use of visual effects to create a fully CGI character. Naturally, Clark had some concerns about the process.
"It's a tough decision for me because I was very afraid of using a VFX monkey," she says. "But Steve Pugh, our VFX supervisor, is incredible. He was like, 'I promise you, we will make this awesome.' And I think it really works."
Fans get a chance to see how a CGI Ampersand fares early and often in Y: The Last Man's first three episodes, all of which were released via Hulu on Monday, Sept. 13. Ampersand factors heavily into the show's first scene with Yorrick having to rescue the little dummy from a falling helicopter. Later on he remains a lovable scamp as he endures a flooded subway and then takes up in a White House bunker with Yorrick.
Clark and the show's VFX team will have to wait to hear Y: The Last Man fans' impressions on this version of the Ampersand. But they've already gotten one positive "review" of sorts.
"I've been told that the American Humane Society has to sign off on any use of animals on screen," Clark says. "Apparently they watched the pilot and said, 'Well, we can sign off on the horse, and we can sign off on the dog. But we weren't there when you shot with the monkey.' That's the best comment we've ever received."
Y: The Last Man premieres new episodes every Monday on Hulu.