Features
Wynonna Earp Recap: What to Remember For Season 4
What happened in the Wynonna Earp Season 3 finale again? Here's your recap before heading into Season 4...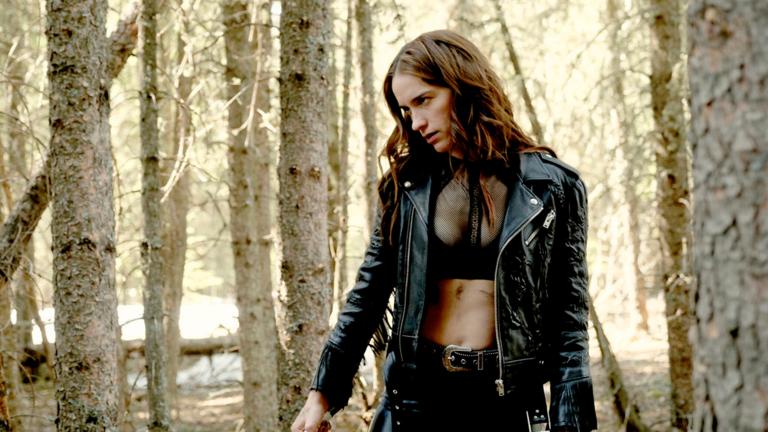 Guys. It's been two years since the Wynonna Earp Season 3 finale and, if you're anything like me, you have probably forgotten some of the finer points of the show's recent plot past: omg, Waverly and Nicole are (basically) engaged! With the Wynonna Earp Season 4 premiere just around the corner (it hits Sunday, July 26th), let us all go over what was going down in the Ghost River Triangle (and beyond) when we last left it back in 2018, A Simpler Time.
The Earp Curse is Broken
The Earp curse is no more. In the Season 3 finale, Wynonna teams up with the Revenants in an attempt to take down Bulshar (aka Sheriff Clootie), the man-demon who started this whole Earp Curse business to begin with. As a counter move, Bulshar breaks the curse, disappearing the Revenants presumably back to hell and leaving Wynonna without her supernatural backup. Enter Waverly, Wynonna's half-angel sister who names Wynonna the new guardian of The Gate, granting Wynonna the power to wield Peacemaker (now, a flaming sword!) and take down Bulshar before he can enter The Garden.
On a meta level, this is a pretty exciting development for the show. The Earp Curse was a major narrative driver in the first three seasons of the show; it will be interesting to see what replaces the curse, which had major ties to Wynonna's family past, as the in-universe narrative structure for this show. My money is on something to do with angels and demons. As showrunner Emily Andras told THR back in 2018: "There's always another demon, another battle, another curse." Petition to make this the official tagline for 2020?
Waverly & Doc Are in The Garden
Wynonna and Waverly didn't have long to celebrate the fall of Bulshar, as Waverly is almost immediately pulled into The Garden by some seriously epic vines (generally, Season 3 involved a lot of trees eating people). Mortals are not able to enter The Garden, which means Wynonna is unable to follow her baby sister through The Gate. But do you know who is? Gentleman vampire Doc Holliday, who shows up just in time to make the heroic play of going after Waverly before The Gate closes.
"I think the Garden was determined to take the spiciest half-angel for its own. I'm not sure that makes her its new protector. More like its prisoner." Andras told THR in 2018, answering the question of whether Waverly would be replacing her angel father Charlie/Julian (R.I.P.) as the protector of The Garden of Eden.
Season 3 saw half-angel Waverly slowly starting to recognize her powers, which have mostly been of the healing variety so far. In the finale, Waverly heals Julian after he is killed by blood-mad Doc and also seems to calm Doc's angel-specific bloodlust, which later enables Doc to be sane enough to follow her into Eden. She also heals Mercedes' face. At this point, it's unclear what the extent of Waverly's angel powers might be.
(Almost) Everyone is Missing From Purgatory
After Waverly and Doc left for The Garden, Wynonna heads back to town to find reinforcements (she had previously drugged her friends and family to keep them from following her into battle with Bulshar). Mysteriously, the town is abandoned, save for one Randy Nedley. The only clue as to what may have happened to everyone else? The name "Valdez" scrawled onto a homestead wall.
Valdez is a thousand-year-old Mayan warrior princess-turned-Black Badge agent from the comic books. Talking to TV Guide (circa 2018) about what role Valdez might play in Season 4, Andras said: "All I would say is that Valdez has big implications next year and will shake things up in a way that will be pretty interesting for the gang."
Waverly and Nicole Are (Basically) Engaged!
I mean… one can never mention this development too many times. Amidst all of the life-or-death shenanigans that went down in the Season 3 finale, Waverly also proposes to Nicole with her angel ring. While they are interrupted before Nicole can properly answer, we all know she was going to say yes.
"I think it was so important of Waverly to realize even in the face of all this danger that the thing that's important to her was Nicole, that she loved her and that life is short and maybe you've got to grab it by the horns now, so to speak," Andras told TV Guide of the Wayhaught moment. "Not to imply that we're giving [Nicole] horns, but it is that type of show. So yes, love that moment between them. I think it speaks, again, to the chemistry between those two performers, Dominique and Kat, and WayHaught. They're still fighting for each other and we're going to fight for them too."
Wynonna Earp Season 4 premieres Sunday at 10pm ET on Syfy.