News
Wynonna Earp Season 4: Melanie Scrofano to Direct
The series star will step behind the camera for one of Season 4's 12 episodes.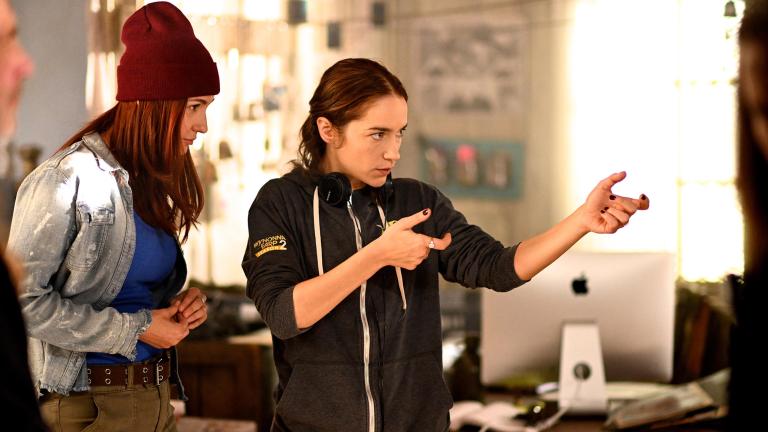 Melanie Scrofano has always been one of the elements integral to making Wynonna Earp so damn good, but she's diversifying her contributions even further in Season 4 by stepping behind the camera to direct an episode.
"I'm very excited to bring my experience as Wynonna Earp to the director's chair for an episode of Season 4," said Scrofano in an official press release. "I've had the great luck to learn from some of the best directors and showrunners in the business and hope that viewers will enjoy the episode as much as I've enjoyed directing it."
We get more insight into her directing process and how the rest of the cast has been responding to having their co-star take on the new role in a behind-the-scenes featurette Syfy released alongside the official announcement.
"I've never felt so supported by people. But I've also never trusted myself more," Scrofano shared. "I really thought I'd be scared — and I was — but it was like, well this could go either way: I could be scared and really fall on my face or I could be scared and trust myself and just do it. And that's what happened. It was really fun to be able to tell the story of Wynonna and of these characters from a female perspective."
"There is literally no one else who knows what makes Wynonna Earp tick better than Melanie Scrofano," said showrunner Emily Andras. "Her enthusiasm, ingenuity, and diligence—not to mention the fierce loyalty of her cast and crew—make her a natural fit for the director's chair. I am so excited to watch her shine in this new role."
Scrofano, who has been playing eponymous character Wynonna, Wyatt Earp's heir, since Season 1, will direct an episode in the upcoming fourth season, which has 12 episodes and is set to premiere sometime this summer. Heading into the fourth season, all bets are off as the Earp curse has been broken, Waverly and Doc are in the Garden, and everyone but Wynonna and Nedley have disappeared from town. We cannot wait to find out what happens next.
If you weren't on Syfy this morning (March 6th), the channel ran a Wynonna Earp "Fan-Favorites" Marathon, which began at 9:30am ET and ran through 12:30pm (Season 3, Episodes 1-3). Further Wynonna Earp marathons will take place on Friday, March 20th from 9:30am to 1:30pm (Season 3, Episodes 4-7), and Friday, March 27th from 9am to 12pm (Season 3, Episodes 8-10). On Friday, March 27th, Syfy will debut an exclusive behind-the-scenes look at Season 4 during the network's "20 Women to Watch in 2020" documentary special (airing following the Vagrant Queen premiere), which kicks off at 11 p.m. ET.
See you there!