Features
Why The Walking Dead fans need to visit Thorpe Park
Get ready for the first ever rollercoaster based on The Walking Dead...
How do you know if you're a seriously big Walking Dead fan? Sure, you can watch the TV show, its spinoff Fear The Walking Dead and dive back into Robert Kirkman's original comic book series – but have you actually experienced what it's like to be thrown into the white-knuckle terror of the blockbuster zombie franchise? You can test your mettle in front of the blood-thirsty undead by heading down to Surrey's Thorpe Park Resort, which has just launched the first ever rollercoaster based on The Walking Dead. Theme park rides inspired by film and TV have kept us entertained for decades, but none of them will deliver bloody-thirsty thrills quite like this. Here's why Walking Dead fans need to make the trip to Thorpe Park Resort…
Experience The Walking Dead: The Ride
The headline attraction. The main event. The Walking Dead: The Ride is the centrepiece of Thorpe Park Resort's Year of The Walking Dead celebrations for 2018. It's the world's first Walking Dead-themed rollercoaster, and it'll take you hurtling through eerie, dark tunnels featuring recreations of The Walking Dead's most iconic moments. Expect to see a replica of the show's prison tower en route to sanctuary in the Safe Zane. Oh, and there will be Walkers. Lots of them.
Get lost in The Walking Dead: Living Nightmare Extreme
If you fancy pitting yourself against baseball bat-wielding lunatic Negan then this live-action maze, running from May 25th to June 3rd, is just the attraction you need. Battle through Walkers on your way to safety, and just hope you don't end up anywhere near Lucille…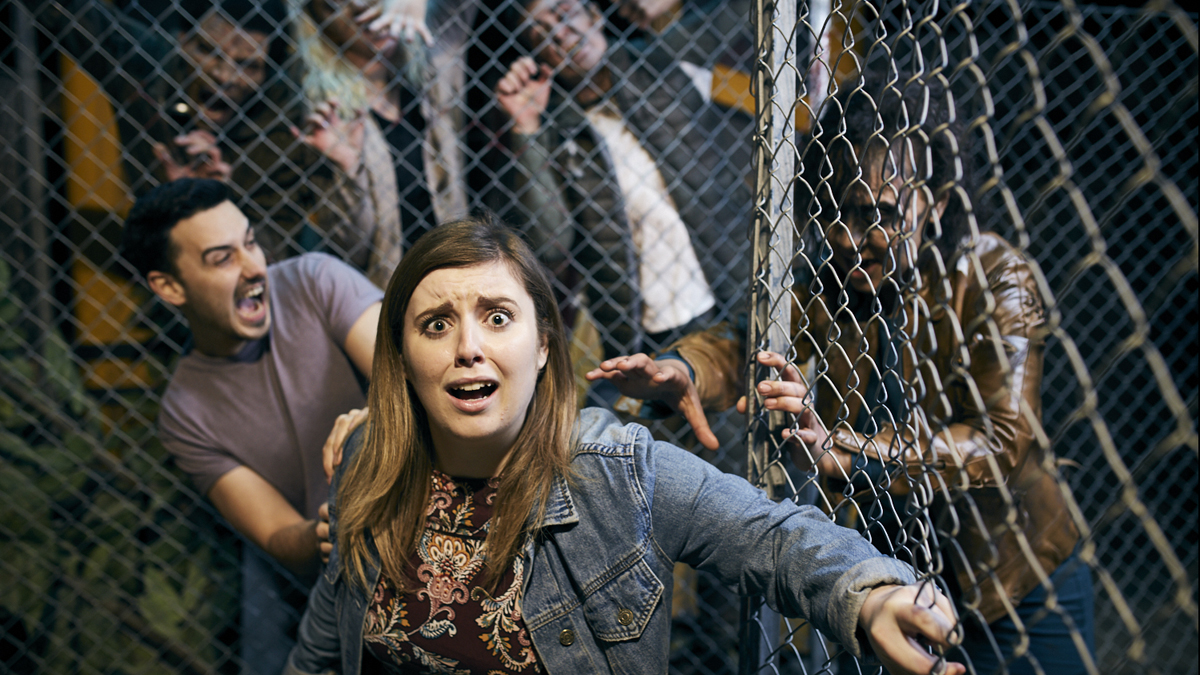 Hone your zombie hunting skills
Picture the scene: a horde of zombies has been unleashed on the outskirts of Thorpe Park and it's down to you to stop them before they overrun the resort. You'll need to arm yourself with a weapon and make sure your zombie-slaying skills are up to scratch as you head into the woods. Running from July 21st to September 3rd, this has been dubbed an "extreme battle for survival", so brace yourself for a challenge.
Spot the Easter eggs
Eagle-eyed visitors to The Walking Dead attractions will notice a host of Easter eggs nestled across the resort. Memorable quotes from the series are scattered around the area housing The Walking Dead: The Ride, while the show's unmistakable theme tune blasts out over the speakers as you queue to get in. This attention to detail is truly impressive, and pretty much the icing on the cake for Walking Dead aficionados. It's probably worth mentioning that all this comes at a bargain price of £49 – that will get you entry for the day, but also allow you to come back for a full year at no extra cost.
Feast on flesh
Fighting off zombies is strenuous work, so it won't be a surprise if hunger strikes during your stay at Thorpe Park. Fortunately, sustenance is at hand in the form of a Walking Dead-themed Terminus Burger, available during Apocalypse Weekends which run throughout May from the 12th of this month. Created by Thorpe Park's head chef, it may look like a gruesome, blood-soaked concoction, but don't panic, you won't actually be chowing down on 'tainted meat'. The Terminus Burger is made from pork, turkey and 'blood clot' relish – perfect to get those energy levels up after a day battling the undead.
Explore a wider horror world
It's not just about The Walking Dead at Thorpe Park, the resort is also known for Saw: The Ride, an attraction based on the grisly horror classic and its sequels. Jump aboard and you'll experience a close shave with swinging pendulum blades before careening down a near-vertical drop. This is a must-visit for fans of trap-setting psychopath Jigsaw – and make sure to keep an eye out for Easter eggs from the films, like an appearance from a certain Billy the Puppet…
Terror into the night
To get the most out of Thorpe Park Resort's horror-themed events, it may be best to wait until the sun goes down. You're in luck this summer, because every Thursday, Friday and Saturday, from July 26th to September 1st, Thorpe Park will be open late until 10pm. In addition, from October 5th to 31st the annual Fright Nights will be Walking Dead-themed to coincide with Halloween. With a mix of exclusive events, horror mazes and attendees dressed to the nines in horror get-up, Fright Nights are not to be missed.
More information and ticket details for The Walking Dead: The Ride can be found here. You can purchase a £49 Thorpe Park Annual Pass – pay for a day, come back for a year – here.