Features
When US TV shows take a trip to England
A look back when Channel 4 invited the cast and crew of Friends to film here in the UK, and other US shows that made the trip...
Granted, if you're reading this site then you already know that TV productions routinely use locations to double as other places. Due South was set in Chicago but filmed in Toronto. Community was set in Colorado but filmed in Los Angeles. But sometimes they wear their locations on their sleeves; for example, when they take a trip abroad to London. In this feature, we take a look at the reasons why several US TV shows have filmed over the pond and showcased England in all its glory.
One reason for productions to film over here is that they could qualify for substantial tax breaks. For example, if a TV production's core spending is all in the UK, they can claim back a part of 80% of the total expenditure. Tax breaks might not make much of a difference to the average working person, but these are major television and movie studios who have millions of dollars to play with. What they can claim back is part of that 80% or a chunk of the actual UK portion of the budget, whichever is lower. 
Of course, there are other reasons to produce a show in Britain. During the summer hiatus of 1997, the bods at Channel 4 came up with an idea: invite the producers of the massively successful Friends to film an episode in London. "The London trip was our valentine to our British fans. London called us. And we called it right back," co-creator David Crane said in a Channel 4 press conference. (These quotes are drawn from a 1998 book called Making Friends In The UK which promises to "enable you to look at Friends with its knickers down".)
According to Executive Producer Greg Malins: "We had to come up with a storyline that would cause all the Friends to go to London. And, so, that ended up being Ross getting married because then they all would have to go to his wedding." NBC decided that it should be an hour-long special (which added significantly to the workload) and after the script was finalised they all flew out to London. To sort out any unforeseen circumstances which would require script alterations, the writers' room moved to London with the crew for a few weeks. The new location allowed them filming access to iconic hotspots like London Bridge, Buckingham Palace, Big Ben and the top of an open-deck tourist bus; while the interiors were mostly filmed at Wembley's Fountain Studios in late March 1998 in front of a live studio audience. The period of March 25 to April 2 1998 contained a table read, several rehearsal days, a network and producer run-through of the episodes, three filming sessions at Fountain Studios, as well as other location filming.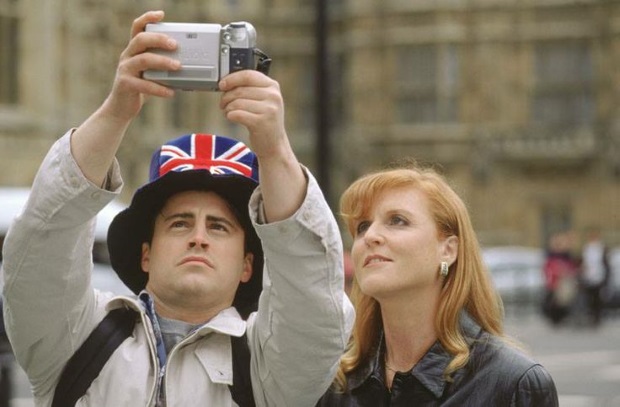 Filming here can also allow for a different class of guest star. For instance, Sarah Ferguson, Duchess of York. Featuring a genuine royal family member in an American TV show was a pretty good get. She gushed that "Matt Le Blanc, with his deep, dark brown eyes, was like a knight in shining armour, and lulled me into a quiet confidence so I was no longer visibly shaking as I stood in front of the 30-person production team". They also managed to get Richard Branson involved for a memorable cameo as a street trader. He had his own difficulty with acting, but it wasn't related to nerves. Adam Chase revealed that "[Branson] had just come back from a meeting with, literally, the Prime Minister of Israel and he didn't have time to completely memorise the script."
As part of the hubbub, Channel 4 were also able to fill airtime with a special programme, The One Where Johnny Makes Friends. This was an interview show where Johnny Vaughan spoke with the six cast members (including Lisa Kudrow, whose pregnancy prevented her journeying to London). He bought the cast gifts, most of which they didn't like (for example, he bought a can of paint for ex-carpenter Matt Le Blanc, and a book of poetry for David Schwimmer).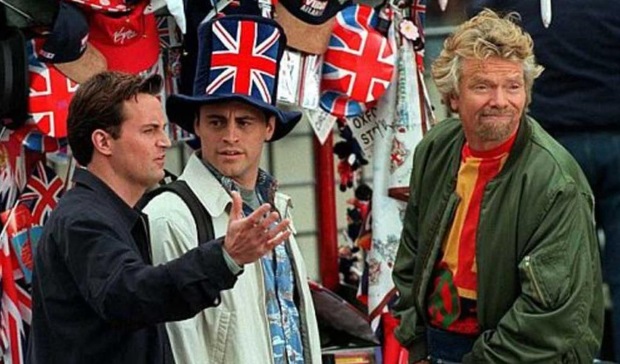 The co-production was also an opportunity for some killer product placement. In series 5, episode 2, Joey says "I'd walk back to London for another frosty one of those bad boys" about Boddingtons Beer – who were advertising on Channel 4 at the time. If it felt weird that the main characters spent 30 seconds crowing about Boddingtons, now you know why.
One thing that you notice when watching these episodes is that for all they're touted as 'location' pieces, they spend very little time outdoors. In a similar vein, when Parks And Recreation filmed a two-part episode in London, it's 8 minutes into the first episode before London is even mentioned. Then Aziz Ansari's character Tom is involved in a legal dispute that eats into the London time. But then, they didn't really go to London for the location. From an outsider's point of view, they had the most ridiculous reason to go to London: Chris Pratt was filming Guardians Of The Galaxy there, and they wanted him to make an appearance in the season premiere.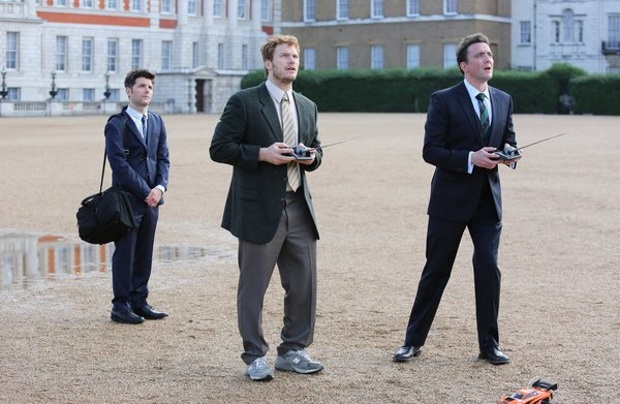 The writers also used the opportunity to 'explain' why Pratt's character had lost weight and toned up. Peter Serafinowicz joined the cast for a brief period, as he was also filming Guardians with Pratt and the two enjoyed spending time together. They filmed at the end of July 2013 at the usual tourist hotspots including Trafalgar Square, Buckingham Palace and the London Eye.
2013 was a busy time for London filming. On July 10, Elementary stars Jonny Lee Miller and Lucy Liu were spotted filming for the season 2 premiere, Step Nine, an episode which also featured Rhys Ifans and Sean Pertwee. The writers were still locking down this script as late as mid-May. It gave them an opportunity to, as showrunner Robert Doherty said, "see Sherlock's old stomping grounds and take a closer look at a life that, until now, we've only been able to glimpse through the lens of his recovery". They filmed in locations around Central and East London, like across the river from St. Paul's Cathedral and at Greenwich's Trafalgar Tavern, though not all locations were as they appeared to be. The exterior of 221b Baker Street, for example, is nowhere near the real Baker Street – it's actually 85 Redchurch Street in Bethnal Green.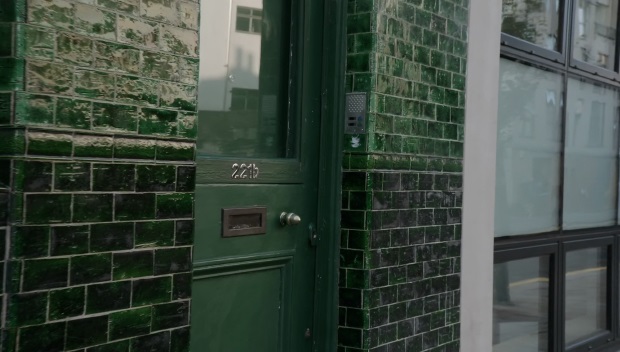 Actual filming locations weren't an issue for the producers of The Simpsons when they took their own trip to the UK for the season 15 episode The Regina Monologues. The main draw for this episode was the sheer calibre of guest stars including then-Prime Minister Tony Blair. He managed to find 10 minutes in his schedule in April 2003 to accommodate recording his lines; the producers were told that they needed to get the recording done at short notice, and in under fifteen minutes. The story clearly came second, as they admitted starting out with a list of British celebrities they wanted to record. They also managed to get Ian McKellen and JK Rowling, who both recorded their parts by phone. (Sadly, Judi Dench of Judi Dench's Fish & Chips is played by Tress Macneille.)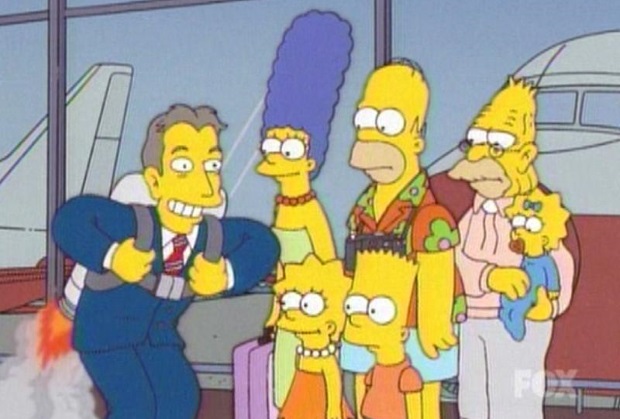 When that episode of The Simpsons aired, it was criticised for a shallow portrayal of London and the English. But we can take the hit, if it means that shows like Parks And Rec and Elementary film here and showcase the appeal of London.