Features
Westworld: What Golden Age Means for the Future of Delos
Everything old is new again as Delos launches yet another immersive guest experience. Just what exactly is William's vaunted Golden Age, anyway? Aaron Paul shares his thoughts.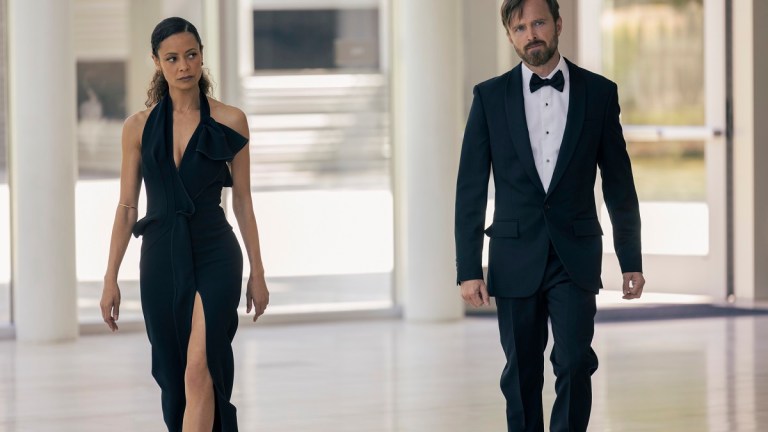 This Westworld article contains spoilers.
William, in his customary black suit, is giving a speech in front of a group of high-rollers at the end of Westworld season 4's second episode, "Well Enough Alone." He commands the stage, cracks a few jokes, then announces not just a resumption of theme park activities, but a new golden age. For Delos? Perhaps. Or maybe, William is just giving away the theme of Delos' newest historical attraction.
While William speaks to the assembled, Maeve and Caleb step off of the train that sped them from Los Angeles to the middle of nowhere, exiting the dystopian future and stepping back in time and into a town called Temperance. If the awesome selection of cool hats didn't give the game away immediately, the environment Maeve and Caleb enter should. Temperance is nothing short of a full-scale recreation of pop culture's version of the Roaring '20s, from flappers doing the Charleston to gangsters brandishing Tommy guns.
In the shadow of the first Great War, a globe torn apart by fighting and a worldwide pandemic, desperate weary people sought relief. It was humanity's darkest hour, but we came roaring back, much like Delos itself. For one of the actors, the Golden Age was the thrill of a lifetime.
"Man, it was incredible, everything that I hoped it would be and so much more," Caleb actor Aaron Paul tells Den of Geek. "When it was revealed that I was getting on the train, and I got to choose a white hat or a black hat, it was really exciting. Just being there, in the moment, it was very cool. Stepping off that train, you were stepping into that world. It's incredible what they do."
The two junior detectives are in an entirely new world unlike anything Delos has ever put together. It's larger in scale and scope; rather than a pastiche, William promises that it's a full-scale recreation of the past, a living, breathing trip into history for the wealthy and bored looking to smoke in bars and shoot at robots who (supposedly) can't hurt you back.
Strangely enough, as Maeve and Caleb enter the '20s, some familiar things start to occur. A goon bumps into Caleb's shoulder hard. A pretty girl drops a can that rolls suspiciously to Caleb's feet. A group of men are attempting to organize a bounty on a notorious criminal. Delos has a new setting, but the stories are all the same. It's Sweetwater with a modern upgrade, right down to a Maeve-alike host running the gambling den/brothel of Temperance, The Butterfly Club, rather than the Mariposa Saloon. Maeve knows exactly what's going to happen at every step of the narrative, and she waits until the Golden Age version of Hector storms in to rob the place before springing into action for the second part of her plan. She kills the Hosts, with a little help from Caleb, and as the bodies are gathered in the back of a truck to be taken away, Maeve and Caleb hop on board, leaving the Golden Age behind to head into the subterranean maintenance level.
Or so they thought.
In the maintenance level, Maeve feels as though something is wrong. She and Caleb wander through familiar corridors, watching people in white lab coats run diagnostics on Hosts, repairing "dead" Hosts, and testing out various movements on the Hosts of Temperance. It's as creepy and voyeuristic as the labs under the Mesa were, and Maeve and Caleb wander around the lab until Maeve realizes they're not in an actual maintenance facility. Golden Age has an easter egg, and this is it. Nothing is being controlled by this level. Red lights start flashing, a security alert is announced over the loud speakers, guards scramble, and rather than throwing Caleb and Maeve into a future jail, they warn them to get out. It's not safe. Then a group of people from the upper level of Golden Age start streaming in, all armed to the teeth. From the darkness, here comes the new versions of Dolores/Wyatt and her crew, and the gun battle kicks off in earnest.
Not only did Delos rip off the original narrative of Sweetwater for Golden Age (and Shogunworld, for that matter), they're also recreating the very massacre that nearly brought their whole empire down, turning a real-life tragedy into toothless entertainment for the masses. While the original experience was horrifying and scary, the paying customers of Golden Age seem to really be enjoying themselves as they square off with both security personnel and "rogue Hosts" indiscriminately.
Amusingly enough, Delos turning their own history into an attraction validates some of Aaron Paul's wilder theories about Westworld.
"All of last season, I truly thought that we were living within the park. You know, I thought we were in Futureworld. I was convinced. I kept throwing my theories out to anyone who would listen."
While it's not Futureworld yet, it's a game within a game. Clearly, William learned a few lessons from Ford's design, even if he's not as dedicated to sprucing up the narratives outside of mining tragedy for dollars. Perhaps the so-called Golden Age isn't actually the bootlegging and pandering of Temperance, but the world-shattering moment in which a collection of abused Hosts gained sentience and decided to wreak bloody vengeance on the people who spent years torturing them for fun. The Golden Age isn't the rise of post-World War America, but the rise of Charlotte Hale aka Dolores' new world order.
Westworld season 4 airs on HBO on Sunday nights at 9 pm.