News
Westworld Season 4 Confirmed by HBO
HBO has renewed Westworld for a fourth season, continuing the ever-evolving sci-fi suspense series.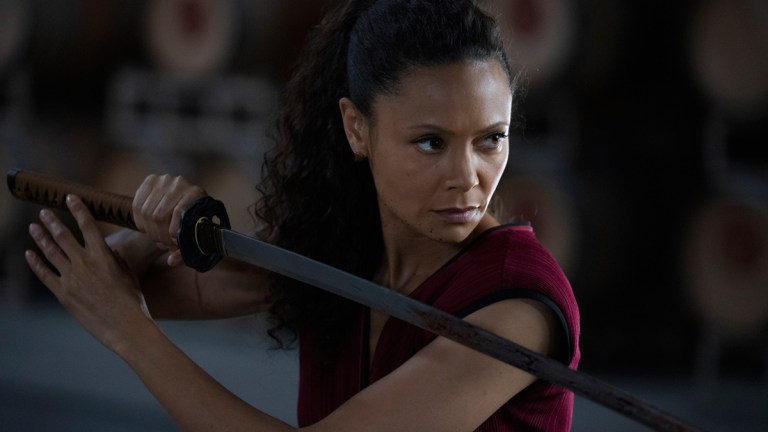 Westworld Season 4 has been officially set by HBO, which has also confirmed the return of its creative team of Jonathan Nolan and Lisa Joy.
HBO's renewal of the prestige sci-fi series—and retention of its spousal showrunners—won't likely come across as surprising, even amid prevailing coronavirus-conjured uncertainty. While Amazon signed Nolan and Joy last year for a reported nine-figure overall deal, one that's estimated to be worth as much as $30 million a year for its five-year duration, said deal allows them to continue their current gig. Consequently, while the series doesn't exactly bring in Game of Thrones-like numbers—with Season 3's premiere draw of 1.7 million viewers down from Season 2's 2.1 million—Westworld's proverbial pearl was always secure, ratings or pandemic be damned.
As Casey Bloys, president, HBO Programming, expresses of Westworld's fourth season order:
"From the western theme park to the technocratic metropolis of the near future, we've thoroughly enjoyed every twist and turn from the minds of master storytellers Jonathan Nolan and Lisa Joy," adding, "We can't wait to see where their inspired vision takes us next."
Westworld's current Season 3 run kicked off back on March 15, representing a radical departure for the series, which—in a manner akin to androids such as Dolores (Evan Rachel Wood) and Maeve (Thandie Newton)—has freed itself from the arid Old West confines of the eponymous theme park, having changed its very setting to the outside world during the show's near-future time period. Moreover, said new setting has yielded a newly-delineated dynamic, with Dolores planning a radical robot revolution with the help of an alienated human companion in Caleb Nichols (Aaron Paul). Thus, a new grandiose struggle has been established for the series, primarily between Dolores and her diversely-disguised android copies against enigmatic technocrat entrepreneur Engerraund Serac (Vincent Cassel), who has forced a liberated Maeve into servitude in his quest to protect his giant quantum computer A.I. creation, Rehoboam, which has attained a disturbing global reach, coldly calculating the fates of individuals.
Indeed, Westworld has experienced quite the evolution from its 2016 launch, which saw the show manifest as a cast-stacked intriguing remake of writer/director Michael Crichton's 1973 film of the same name (famously headlined by Yul Brynner). However, the Nolan/Joy team turned the basic premise of deadly malfunctioning androids in an Old West theme park as the thematic backdrop to an introspective story dealing with heavy themes steeped in ethical and metaphysical quandaries, presenting its complex story in a non-linear fashion for the first two seasons.
With HBO's renewal of Westworld Season 4, viewers will be assured that the evolution of this monumentally thought-provoking series rife with sci-fi action will be allowed to continue. However, like with anything in these days of quarantine, it's difficult to determine exactly when we'll get to see the fourth frame. After all, the show's current season arrived after having skipped the entirety of 2019, and that was on a pre-COVID-19 schedule.
We will, nevertheless, keep you apprised on the status of Westworld Season 4 as the news arrives!