News
Warrior Nun Season 2 Confirmed by Netflix
Netflix is moving forward with a second season of Warrior Nun, continuing its sacred duty to the destruction of demons.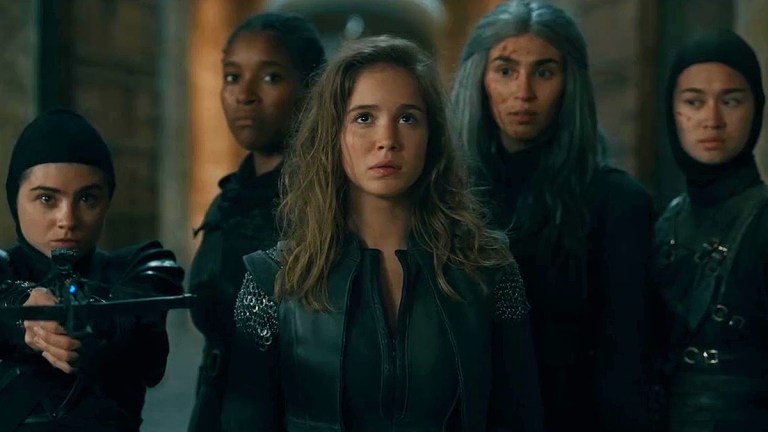 Warrior Nun Season 2 is officially in the works at Netflix, allowing Ava and the rest of the Order of the Cruciform Sword to carry on in their increasingly-murky war against demonkind and other deceitful celestials.
Netflix took a more personal approach to its renewal announcement for Warrior Nun by posting a COVID-era-indicative video conference conducted by showrunner Simon Barry and cast members Alba Baptista, Toya Turner, Lorena Andrea, Kristina Tonteri-Young and Olivia Delcan. While seemingly held under the pretense of reflecting on happy memories of the show's spring 2019 shoot, Barry is shown dropping the renewal news to the bunch in a cheeky, trolling fashion.
The sophomore season renewal arrives after Warrior Nun premiered its 10-episode inaugural frame on Netflix this past July 2. The series centers on the ordeal of a 19-year-old paraplegic woman named Ava (Baptista), whose desire for death's liberation from the confines of her body yields the twisted turn of waking up in a morgue, rendered completely mobile by an angelic artifact of a halo. She is thusly tasked to fight for secret organization the Order of the Cruciform Sword (OCS), since her successful joining with said artifact indicates she's been chosen as the Warrior Nun, a dispatcher of demons in the name of the divine. However, as Ava adjusts to her new existence, joined by fellow members of the OCS, it starts to become clear that powerful forces from Hell and Heaven are manipulating her newfound role.
The series, an adaptation of the manga-styled Canadian comic book title, Warrior Nun Areala, created by Ben Dunn, was adapted for television by showrunner and credited creator Barry, who also served as writer and directed two episodes in Season 1. Much like its comic book source material, Warrior Nun showcases a subversive, modern-parlance-pushing action story steeped—some might say sacrilegiously—in Judeo-Christian iconography. The series also mixes genre-conventional chosen-one-type tropes with a serious-but-sardonic sensibility that invites Buffy the Vampire Slayer comparisons. However, it seems to have uniquely carved out its own fandom.
Notably, Warrior Nun has become a clear breakout platform for its star, Portuguese actress Alba Baptista, who made her English language debut on the series while serving as its lead, no less. Having only appeared in productions in her native Portugal, Baptista comes into the series after a run on television series Jogo Duplo and 2019 film Patrick, and will next be seen keeping things Biblical-adjacent as part of the cast of the late-August-scheduled Portuguese film, Fatima, a period piece of a religious epic centered on the fact-based ordeal of three young shepherds in the titular town who experience divine visions. Interestingly enough, Baptista (who is not the headliner,) is joined in that cast by the likes of Harvey Keitel and Goran Visnjic.
With Warrior Nun's first season having ended on a most frustrating cliffhanger that also shook up the mission of Ava and the Order of the Cruciform Sword to the very core, fans of the burgeoning series can at least breathe a sigh of relief knowing that the show will keep swinging its proverbial ruler to the sinning hand of incomplete plot points. However, no production or release window has been revealed for Season 2 as of yet.