News
WandaVision Episode 5 Trailer, Release Date, and Details
Now that SWORD is on the case of the missing Westview, New Jersey, where will WandaVision episode 5 take the show?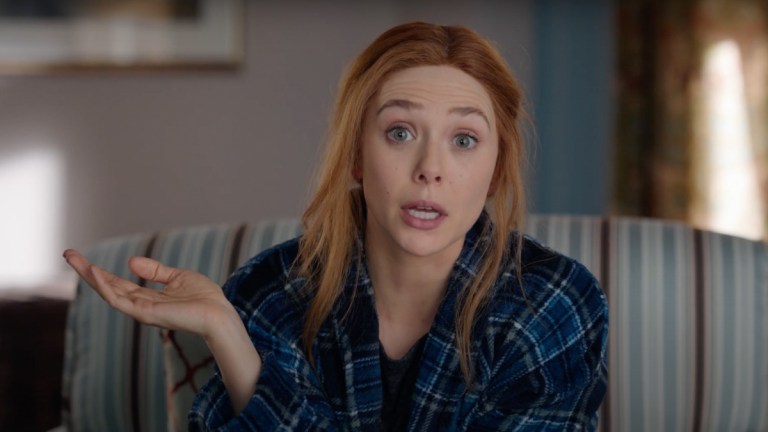 For those of us wanting some storytelling clarity, WandaVision's fourth episode arrived with good tidings. Thanks to the tireless work of Monica Rambeau, Dr. Darcy Lewis, and Agent Jimmy Woo, we now know that Wanda Maximoff's TV sitcom world is a comfy prison of her own making.
What will WandaVision episode 5 do with this information? Thankfully, Marvel and Disney+ have released an uncommonly revealing teaser to give us some ideas. Give it a watch below.
There is certainly plenty to unpack here. SWORD now has first person intel inside what they're calling the "Westview Anomaly" thanks to the return of Monica Rambeau. After the clip pauses to share Darcy's episode 4 theory that this is a sitcom (you are correct, Darcy!), we get some more tantalizing glimpses into Wanda and Vision's four-camera world.
"Life moves fast out in the suburbs," Wanda says as we see a Roseanne-ified version of her hoisting up a laundry basket. Wanda and Vision share a very '70s bike ride and then Vis heads down a neighborhood road in a distinctive Vision comic Halloween costume. Through it all, the Westview residents' sense of unease continues. "Should we take it from the top?" Agnes (Kathryn Hahn) wants to know after a presumably flubbed line.
Of course, however, the most tragic moment finds Vision on his knees, in duress, and seemingly recreating the tragic circumstances of his death scene in Avengers: Infinity War. The brief moment is intense enough that the trailer's tagline makes perfect sense in context. "Life could be perfect when it's made just for you." Yes it could be. No wonder Wanda wants to live in a sitcom world. In this clip she even makes it all the way through to a Modern Family-style mockumentary interview.
WandaVision episode 5 does not yet have a title or synopsis but it does have its usual release date. The next installment will arrive to Disney+ on Friday, Feb. 5 at its usual 3:01 a.m. ET/12:01 a.m. PT time slot.
WandaVision will feature nine episodes, which means that sometime during next week's episode five will mark the halfway point. Though Marvel intended to kick off its new Disney+ TV universe with perhaps the more fan friendly The Falcon and The Winter Soldier, COVID production delays moved WandaVision to the top. And isn't it just fitting that a show partially about television is opening up the next era of Marvel storytelling on television? Well, we think it is at least.
Stay tuned for the latest WandaVision and Marvel news.