Reviews
Vikings Season 6 Episode 7 Review: The Ice Maiden
Vikings focuses on Kattegat's solemn farewell to its beloved shieldmaiden amid tensions facing the Lothbrok brothers.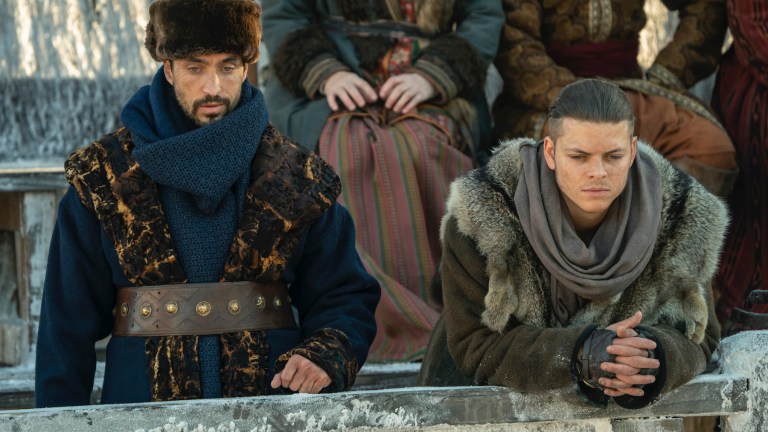 This Vikings review contains spoilers.
Vikings Season 6 Episode 7
"In my dreams we are always together."
After Lagertha's shocking death last week, Vikings regroups and gives Scandinavia's most revered shieldmaiden a sendoff worthy of her status in the Viking world and her importance to the series. Pushing King Harald's new crown and Ivar's schemes in Kiev temporarily off to the side, "The Ice Maiden" hones in on the deeply personal connections Lagertha made during her storied life and the impact her death will now have on the increasingly complex narrative. Will her death be the catalyst that brings the sons of Ragnar Lothbrok together or drive them further apart?
With King Harald Finehair now firmly ensconced on Norway's unified throne, it's up to the other kings and jarls to form their own opinions as to whether this is how they truly envisioned this scenario playing out. Not unexpectedly, Harald tells Olaf that "I must do to you what you did to me," and promptly throws the mercurial ruler in prison until he either pledges allegiance or dies. Since it appears Harald has little intention of following through on promises made to insure his election, it will be interesting to watch how the others handle the early stages of his reign.  Will Harald govern as a true man of the people or resort to the despotic tactics so often seen in men who achieve greatness through deceit and subterfuge? More to the point, however, It seems highly unlikely that Bjorn will simply walk away from the crown he allowed to slip from his fingers, so his reaction and that of his brothers will be paramount.
No less complicated is Ivar's situation in Rus, and while his decision to bring young Prince Igor into the plot to overthrow Oleg brings with it certain risks, he appears to handle the Katia problem as well as can be expected. Ivar senses that Oleg has no intention of accompanying him to Kattegat to regain his crown, and manipulations with Katia continue as winter sets in precluding any significant journeys. Nevertheless, Ivar receives word that Dir is safe and intends to honor his word to back Ivar and Igor, prompting the young prince to view the news with an eye to divine support. "Then he is an angel sent from God." Unfortunately, in this house of lies, it's difficult to know who to trust, and it's unlikely that Ivar and Oleg underestimate each other.
Read more: Vikings Season 6 Episode 6 Review: Death and the Serpent
On the heels of Oleg's demand that Ivar watch his sexual encounter with Katia comes the new bride's admission that her present desire is to bathe naked in a hot spring. It's clear she and the prince are mocking Ivar's contention that the princess looks alarmingly similar to the wife he murdered back in Kattegat, but for now, he keeps his emotions in check. That said, the interesting exchange he has with Oleg regarding his wish to be able to walk produces some fascinating possibilities. When Oleg ridicules Ivar's dream, the northman brings up Jesus and his miracles to which the prince responds that "I want the impossible." Oleg desires to return to his mother's womb so that he may be reborn and contends that we are all constantly reborn. At this point it's unclear whether he actually believes this or merely extends his devious plan to explain Katia's uncanny resemblance to Freydis and further the awkwardness her presence causes Ivar.
Still, this is Lagertha's tale, and the impact her life and recent death have on those in and around Kattegat drives this reflective episode. The connection between mother and son is nicely drawn as Bjorn physically senses something amiss back home as the opening shot shows Lagertha's body lying peacefully in the snow, an ironic precursor to the chaos sure to follow. And while the narrative has placed an emphasis on the visual delusions of Hvitserk, even Ubbe catches a glimpse of The Seer who reminds us that Ragnar's death was fated to bring with it calamity, and that a son of Ragnar would kill Lagertha. Though it may seem cryptic to Ubbe, The Seer's pronouncement that Lagertha's killer "was Ivar yet it was not Ivar," makes perfect sense to viewers and will undoubtedly point him in the direction of Hvitserk. 
Now that Bjorn has returned to Kattegat, he and Ubbe must not only face the prospect of their younger brother's rapidly deteriorating mental state, but once they consider the facts, decide how to handle Hvitserk's participation in the accidental killing of Lagertha. The fours sons of Ragnar and Aslaug have always enjoyed an uneasy relationship with Lagertha, and whether it's borne out of a fear of Bjorn or a respect for her shieldmaiden status, Hvitserk and Ubbe generally back off whenever she's involved. Ubbe acknowledges Lagertha killed his mother, but that doesn't preclude him from seeing to it that she deserves a burial commensurate with her standing. Faced with the prospect that Hvitserk may have, for all intents and purposes, avenged their mother's murder, Ubbe knows he'll have to answer to Bjorn setting up an emotional tug of war for Aslaug's oldest. 
And while there are certainly plenty of personal issues to work out once the Lothbrok men convene, it's the burial ceremony and events leading up to it that dominate "The Ice Maiden." Understandably, Ubbe regrets preventing Torvi from going to Lagertha even though there's probably nothing she could have done to prevent the heartbreaking death of Hali , but it's her announcement that sets the tone for the episode. "This must be a magnificent funeral; greater than anything in the memory of our folk." As much as Ragnar's passing altered the political and spiritual landscape, Lagertha's death delivers a crushing blow to a community still recovering from Ivar's time on the throne. 
As with all significant Viking ceremonies, a meaningful sacrifice to the gods becomes part of the story, but here, the act takes on even more importance when Gunnhild asks for a willing volunteer to accompany Lagertha to Valhalla. Even though there's never really been any doubt as to how Lagertha is perceived by those around her, the emotion evoked in the scene during which every woman in the room raises her hand as a sacrificial volunteer speaks volumes about Kattegat's queen and her importance as a role model and heroic figure. We don't really know whether it's simply a matter of Torvi getting caught up in the emotion of the moment, but when the pregnant mother informs the crowd that "I will go," we're both momentarily stunned and then strangely comforted. 
With The Seer periodically appearing to various characters, it's entirely reasonable to buy into the gods' involvement here. Prophetically, when a crow lands on the shoulder of a young woman named Gyda, Lagertha's journey appears to come full circle. Named after the dead daughter of Ragnar and Lagertha, Gyda gladly accepts her fate and the honor that accompanies it. The funeral details embody all that is Viking, and while the large solemn crowd of mourners exudes the proper reverence Lagertha's death deserves, the priests in their robes and face paint coupled with the severed horses' heads remind us of the supernatural and mystical elements that make the Norse religion so compelling.
Vikings: What Did The Seer Predict For Season 6?
Losing Lagertha from the narrative will be difficult for some to accept, and while that's completely understandable, there's still enough political and personal intrigue in play to carry us through to the end. Despite the visual spectacle of the funeral boat being set ablaze and then dragged through the frozen river by a group of shieldmaidens, it's Bjorn's reaction that sets the tone for events to come. "Nothing will ever be the same," he tells Ubbe, but acknowledges that he will avenge his mother's death just before her body sinks into the water amidst images of the Valkyries ready to accompany her to Valhalla. And if that's not enough to get the emotions flowing, the moving final shot finally reunites Ragnar and Lagertha when their images appear as sand sculptures which quickly fade and scatter into the air. Short of bringing Travis Fimmel back for a brief cameo, we'll simply have to be content with the knowledge that they're together among the gods.
We've reached the end of an era with Vikings, and while it may feel there's nowhere meaningful left to go at this point in the narrative, "The Ice Maiden" now leaves things up to the Lothbrok brothers and their wives. Ivar continues to plot in Kiev and Bjorn vows revenge for his mother's death, but let's not overlook the setup with the despondent Torvi and how her relationship with Ubbe might change. Funerals are always sad, but there's a lot to look forward to. It's always difficult to let go of loved ones, and none was more beloved than Lagertha.
Dave Vitagliano has been writing and podcasting about science fiction television since 2012. You can read more of his work here. He presently hosts the Sci Fi Fidelity podcast.