Reviews
Vikings Season 6 Episode 12 Review: All Change
Vikings explores the power vacuum that pits the shieldmaiden Gunnhild against Ingrid in a quest to wear Kattegat's crown.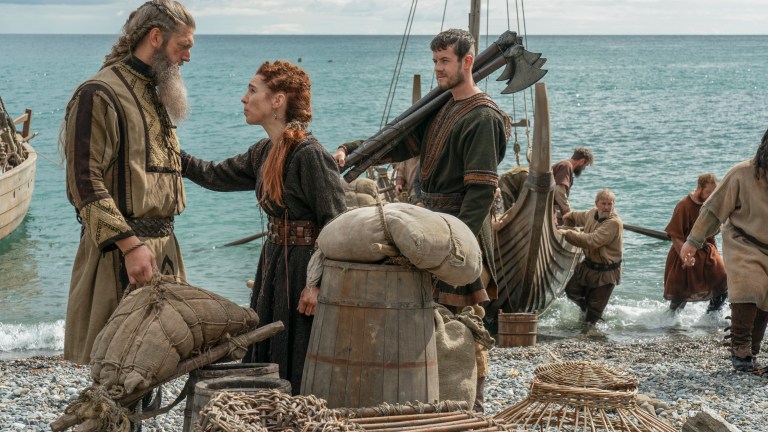 This Vikings review contains spoilers.
Vikings Season 6 Episode 12
"We were defeated by a dead man."
Three different lands; three different political situations. The natural heir to Kattegat's throne doesn't want it. Prince Igor is still too young to take the crown that is rightfully his to wear, and the presumptive favorite in Iceland rose to prominence by savagely slaughtering his opposition. The desire for power remains a potent aspect of the human condition, and like so many before him, Michael Hirst examines the motivations these men and women possess and the depths to which they'll go to seize control. Never short of diplomatic intrigue, Vikings charges forward as the three Lothbrok brothers occupy vastly different world views.
While Ubbe, Gunnhild, and Kjetill all face their fair share of problems, the most fascinating arc that "All Change" explores is that of Ivar and the Rus princes. Ivar's endgame with Prince Igor remains unclear, and we witness his crestfallen mood as the defeated troops return to Kiev. Peering down on the soldiers and their officers, Katia sets up her later confrontation with Ivar. However, it's Oleg's puzzling actions that drive this aspect of the narrative, and when he orders Igor's room destroyed before the terrified boy's eyes, the young prince's demise seems likely to follow. "I have destroyed your innocence," his uncle explains. "How else are you ever to be king." This attitudinal turn feels out of place, and it's only reasonable to assume Oleg has other, more devious plans for the boy who stands in his way.
It doesn't seem as if Ivar desires the Rus throne, but it does make sense to develop a relationship with an ally who one day may prove beneficial to his potential rule in Norway. However, as time goes on, Ivar recognizes Prince Oleg's despotic behavior in a way that only someone of Ivar's stature and experience can. Oleg's brutal acts continue to shock even Ivar whose connection to Igor grows stronger. Once again, Oleg insists his nephew execute a man, and it's only when Ivar gives the boy his assent that Igor is emotionally able to comply. Does each act of violence strengthen or weaken the legitimate Rus heir?
But here's where things really start to get complicated. The surreptitious return of Prince Dir escalates the timetable to oust Oleg, but also puts Ivar and Hvitserk in a precarious position. It's also not clear why Hvitserk so easily falls prey to Oleg's introduction to the opium pipe, and even though we don't see how their evening transpires, it seems likely that Oleg seeks information rather than companionship. It's terribly disappointing to see Hvitserk in such a state, a state that can only make an already tenuous situation more volatile as Ivar's brother becomes a pawn in this high stakes chess match.
The fragile political triangle that exists between Ivar, Oleg, and Igor now faces an unexpected challenge after the sexual encounter Katia initiates with Ivar. Forget that he can't extricate himself from the fact that she looks exactly like his dead wife Freydis whom he executes at the end of season five. Okay, there's no doubt Alicia Agneson (Katia) looks much better with dark hair, but hey, she's trying to get Ivar into bed, so if a blonde wig and Viking garb are required, so be it. Nevertheless, this isn't about physical attraction for her, and while Ivar rises to the occasion, we can't ignore the sense that there's more to Katia than meets the eye. Has she been sent by Oleg to extract information from Ivar? While that's certainly possible, his willingness to reveal the details of his plan with Dir and Igor may ultimately prove his undoing. It's not like Ivar to leave himself so exposed.
Though the Icelandic storyline remains the weakest of the three main arcs, Ubbe's cunning manipulation of Kjetill gives this piece of the puzzle new life. Ubbe knows he's the logical successor to Bjorn, but he's seen how the crown changes a man, and he and Torvi make the decision to provide a different lifestyle for their family. Viking blood still courses through his veins, but at this point he's content to explore the world. That said, he also feels some responsibility for the Icelandic settlers, and when Kjetill admits he wants to lead this new colony, Flatnose's past cannot be escaped. The loyalty Torvi and Ubbe exude toward the settlers is exemplary, and we can only wonder what he has planned for Kjetill now that he's learned the truth about what really happened here. Despite Kjetill's apparent desire for redemption and willingness to put in the work required to make Iceland a viable colony, it appears he'll never again walk on its stone covered ground.
Still, despite the triumph over Prince Oleg and the Rus, Bjorn's death leaves a gaping leadership hole that so many have fought to possess in the past. Since Ubbe has abdicated any responsibility here, Bjorn's shieldmaiden wife Gunnhild stands as the natural choice to succeed her husband, but Hirst introduces a compelling twist when Ingrid announces she carries Bjorn's child. The relationship between Bjorn's wife and his mistress can't help but be affected now that the seemingly meek Ingrid makes a bold move to push Gunnhild aside. Of course, the identity of the baby's father isn't totally clear either since Ingrid previously admits to Gunnhild that Harald raped her.
We've seen this storyline play out many times before, but what continues to make it viable is the pressure it puts on the characters to act, or in some cases stand down. Will Gunnhild support the woman who may or may not be carrying Bjorn's child, or will she act in her own self-interest? What makes this thread even more interesting is that we instinctively know that Gunnhild has the best interests of the people Kattegat in mind, while in the background, Eric and Ingrid conspire to their own selfish ends. Gunnhild does bed Eric, but she is neither stupid nor naive. "Eric, what is it you really want?" she asks. Maybe Gunnhild will simply remove both from the equation.
"All Change" brings a sense of finality not only to Bjorn Ironside's saga but to the fact that the only son of Ragnar Lothbrok and the shieldmaiden Lagertha now resides in Valhalla with his parents. And though three sons of Ragnar still live, whether their exploits are enough to carry Vikings to a satisfying conclusion, only the gods know.